You read that right … apparently I made a bathtub.
I originally wanted to make a little container to hold some knit/crochet tools and intended to make a lid for it.  However, the sides aren't strong enough and it would have collapsed too easily.  I thought about adding a plastic canvas insert to stiffen it.  Before I could get to the store to purchase PC … it was "stolen".  It's now a bathtub/swimming pool for dolls and other toys.  Oh well.  At least it's being used.
I haven't had much to show in the finished dept lately because I've been busy working on a sweater design.
I'm making it for a design competition. The criteria was to make a cardigan that fits a Spring theme and has small holes/yarn-overs. It needs to be done by the end of the month. I actually have one of the sleeves done too but haven't taken a more recent picture.
Earlier this week I got caught up on my weather afghan – finishing the March block and starting April.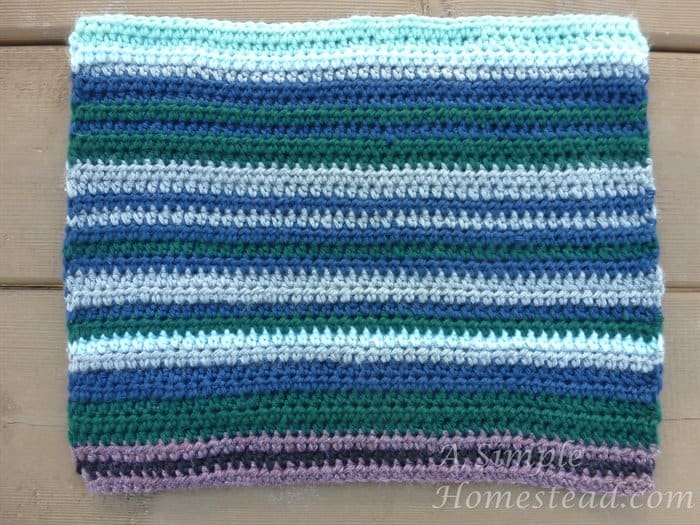 I like how March turned out – especially since it starts into the lighter colors at the end of the month!
The only other craft-related project I've finished recently was to organize my yarn scraps.
Last year sometime, I took my small balls of yarn and put them all into a 5-gallon bucket.  However, I've used some of those scraps, and each time I sorted through and pulled some out, some of the other balls would come unraveled.  It didn't take long before it started to become a big mess…
I saw a tip a while ago that suggested using clothespins to wrap the yarn around, and then the clothespin would secure the ends so they wouldn't come undone. Here it is in much better shape!
Maybe I'll have more crafty finishes to show off next week…