Are you sensing a theme lately? All I've been able to accomplish are my afghan squares!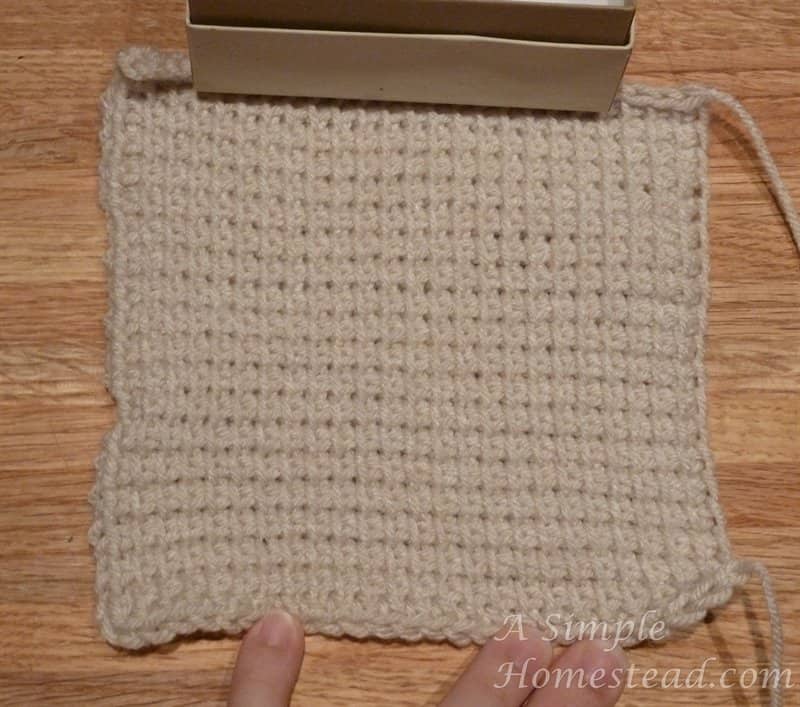 Stitch Pattern: Tunisian simple stitch (tss), aka the Afghan stitch.
Yarn: Hobby Lobby's I Love This Yarn
Colorway: 240 Linen
My Rav project page
This square curls like the dickens – it's a hazard when working in Tunisian crochet. But it won't matter once I get it incorporated into my afghan. If I were going to use this as a washcloth or dishcloth, I would have used a different stitch for the edges to help prevent the curling. I just think this stitch pattern is so pretty, I had to make it as one of my squares.
I am just one sleeve away from finishing my daughter's sweater that I showed last week:
In other words, all I've accomplished on it this week is the other sleeve. But I realized when I'm working with double-point needles (which I HATE, btw), I either need to finish that section in a single night – or put it up where little fingers can't find it. She's too fond of finding my projects and wanting to go "knitting" herself. Circulars keep the stitches on well enough and I can always pick up pulled out crochet stitches, but picking up stitches because she pulled them off my dpns? Not fun. So, I'm using my daughter as an excuse as to why the sweater isn't finished – our nights have been too busy to complete a whole sleeve. That and someone "stole" my pattern so I had to print it out again.
If I don't get this sweater done, I probably won't have anything to share this next week. It's going to be another crazy week coming up.
I've also started a new project … oh, this is probably the tenth time, if you count all the times I started over the last several years. My sister wants me to make her a bath mat, using this beautiful colored yarn.
It reminds me of the color of my second car, Ms. Cranberry – only a little darker. The color name is actually Aubergine. I also have a few skeins of black in the same yarn to use as an accent color.
I was originally supposed to make a duplicate of the bath mat I made my mother (was that really back in 2008?!)
It turned out beautifully in the end but it was a pain in the rear to try and get the stitch correct so the loops would stay on the front side. For some reason I had even more trouble working on the new bath mat's loops. Then, I learned this summer that after several years of washing and use, half the loops were on the back of the mat anyway! Time for a new plan….
I've tried four or five different stitch techniques so far and haven't been happy with any of them. I felt it needed to have two strands of yarn to help bulk it up a bit, but you also don't want it too bulky or it will never dry. I'm currently testing out a treble crochet criss-cross stitch pattern I found in the latest Interweave Crochet magazine – as a scarf pattern of all things. We'll see if this one meets my high standards when I get past a couple of rows.