I have some yarn leaving my house this weekend. I decided to get rid of all my "scratchy" acrylic yarn. I don't like working with it anyway and the only reason I was hanging on to it was because I wanted to make some play food for Little Chick. However, when I started straightening out the craft room closet this month, I grabbed a 5-gallon bucket, started winding up some of my odds and ends.
It's practically overflowing! Which means I should be able to get rid of my larger skeins and still have have enough scraps if I want to knit or crochet food.
My mother likes to make hats to donate to charity and occasionally some afghans. She's currently working on an afghan motif that is leaves knit in multiple colors of green. I think it's going to turn out beautifully (I don't think this one will be donated). Because of that project, my mother is getting the greens. When you don't see in the box is several skeins of country blue – enough to make an entire afghan (they're peeking at us from under the greens).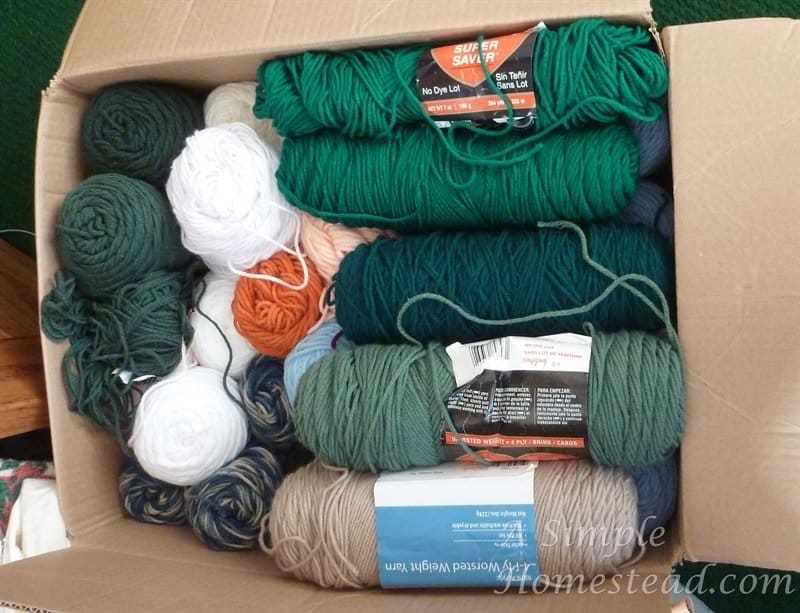 The second box will be going to my mother-in-law in a couple of weeks.
She only uses worsted-weight acrylic in her knitting.  She makes dozens of mittens each year for charity.  Usually around this time of year, she'll have accumulated an entire garbage bag full of them – usually around 75 to 100 pairs.  It sounds like a lot, but it's really only one or two pairs per week, worked on throughout the year.  She has made so many she doesn't really use the pattern much anymore and even has it down to a science where she can weigh a ball of yarn and determine if she can make a small, medium or large-sized mitten.
Just so you know, I'm not playing favorites. My mother is getting a larger box because 1/2 of it is that afghan yarn (my MIL doesn't make afghans anymore). Also, my mother-in-law gets yarn all the time from various other sources – church, the hairdresser, or just someone that heard she can use it. She probably hasn't purchased yarn in years!
Want to see a before and after picture of my yarn closet? (tough! you're going to see it anyway!)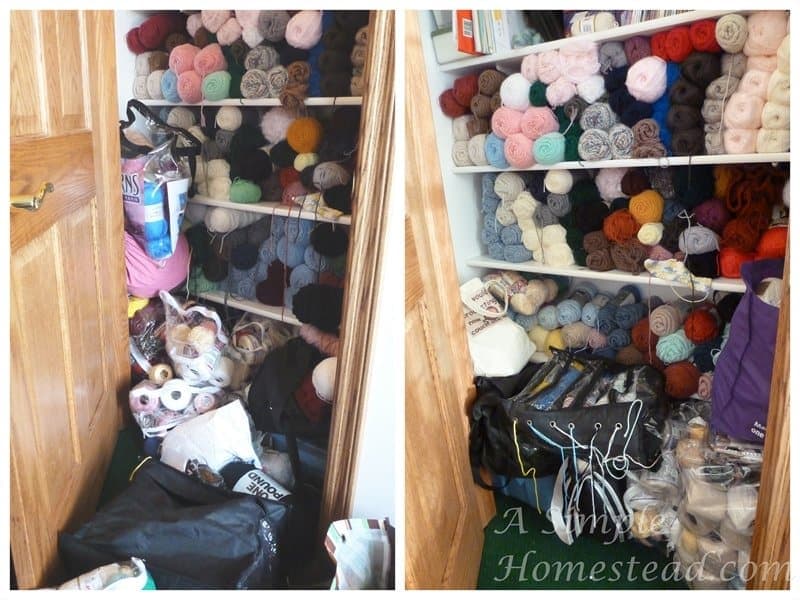 I suppose at first glance it doesn't look like much changed, but it has for me!
All the yarn fits inside the closet now instead of spilling out onto the floor
The projects and bags on the floor of the closet no longer hide the yarn behind (well, except for the other bags on the floor).
There is space on one of the shelves
Several old projects have now been frogged so the yarn can be reused.
Yes, I still have way too much yarn. I still have another major purging to go through to figure out what if any of the fuzzy type yarns I still want to keep – if any. I also need to figure out a better method for organizing my balls of thread. Right now they're all in clear zippered bags so I can at least easily see what I have, but it would still be nice to get them off the floor and better organized. Any suggestions?
And just so you don't think I only moved the excess to another location, I even organized my "stash" next to the couch downstairs, so I only have the yarn and supplies for my two current active projects down there. Everything else is in the closet.