It's amazing what you can find when you go through old boxes. Just this week as I was going through a box that had been sitting in my craft room for ages, I found a stack of paint cards and in them were the colors that we had purchased to originally work on Little Chick's room. So, if you're interested, the original navy blue on the canvas boards is color 51B-6 Brilliant Blue.
Today I want to share the next stage of what we did to bring some color into her room (almost two years later).
Backstory: We have a full bedroom set that I inherited from my aunt – a tall dresser, a short but wide dresser with a mirror, 2 bedside tables and a headboard. While it's a nice set, put altogether this set is almost too big to fit all in one room. I've realized I'm more of a mis-matched furniture kind of person, then I can move items from room to room as I want. Little Chick has a full-sized bed but we aren't using the headboard for her room anyway. So … I'd like to sell the complete set. We can easily do that and *still* have enough bedroom furniture for all the rooms!
Up until a couple weeks ago we were using the tall dresser in Little Chick's room. The upper drawers were out of reach for her without a step-stool and she didn't need all those drawers anyway.
We had a dresser that had been in our possession for several years, and had been used as a stand to hold a changing pad and diaper supplies. All that time it really needed to be stripped and refinished as the varnish was cracked and peeling. I knew the size would be perfect, but first it needed an overhaul.
The first plan was to use a low-chemical stripper on the drawers. I've never had much luck with strippers – and it probably didn't help that this bottle wasn't brand-new (I won't say how old I think it was). I applied a thick coat of the stripper and even covered it with plastic wrap to keep it wet longer. There was a tiny difference after the first stripping, but it would have taken days (weeks?) to complete the process. Time for the big tools!
Papa went and found me his random orbiting sander. I had barely used one before and so my first attempts were slow and rather timid, but it was definitely a lot faster than applying coat after coat of stripping solution!
Papa had read that a good way to remove stripping solution is to sprinkle it with sawdust and rubbing it in. For one, the sawdust soaks up the solution and rubbing the sawdust acts as an abrasive to clean up a bit more. We did do that, and this stripper was a "safe" variety, but even so we thought it was best to err on the caution side and wear protection so I wouldn't breathe in any of the sawdust and sanded material.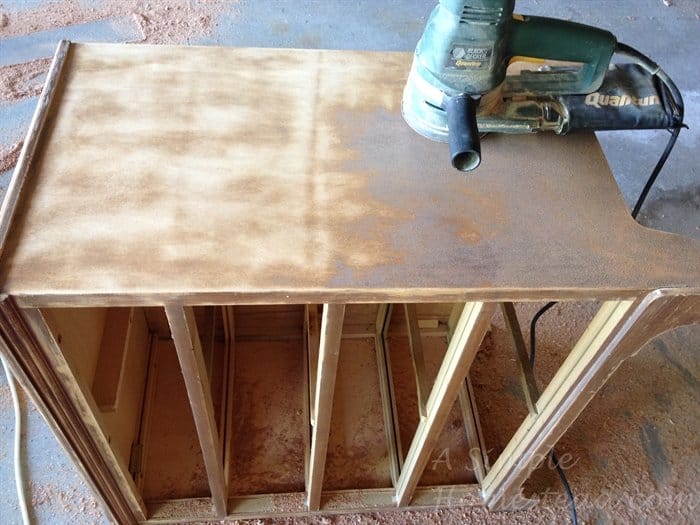 It took me 3-4 hours to completely sand down the whole dresser, and I was pushing it. I'd take breaks every once in a while – get some water and stretch, but towards the end I could feel myself getting really tired and was afraid if I sat down I wouldn't get up and finish that day! I really wanted to paint on Sunday so I was determined to get it done.
Some of the dresser – like the edges, corners and trim pieces all had to be sanded by hand which slowed down the process. By the end, I felt like a pro! I had a good feel as to the right pressure and speed I could work and that last side didn't take long at all.
I mentioned last time that we already had purchased some half-pints of paint for her room to add color. I hadn't decided whether we should re-stain close to the original color or if I should paint it white with colorful drawers. Since I wasn't going to paint that day, I had Facebook friends and family vote with their thoughts on how the new dresser should look. Colorful drawers won hands-down, especially since it was for a little girl.
It turns out, I wasn't able to paint that next day – I had to wait a whole week because temperatures dropped to below 60°F, it was raining, or we were busy. So, the following Saturday I started to work. I wondered how it would go, because again that day was a partially rainy day but I wasn't willing to wait any longer. Even with the humidity I was able to get two coats on each of the drawers and dresser that day.
(Sorry, I don't have any mid-painting pictures)
We waiting until the following day to put the hardware back on the dresser just to be sure everything was dry.
We were trying to get by as cheaply as possible on this project. I knew we needed to pick up another navy blue half-pint and thought perhaps we could find some fun new drawer pulls and knobs for the dresser without going to too much expense.
Great idea, but unfortunately the pulls were 2 1/2″ wide and most in-stock pulls at the hardware store were 3″ or larger. Little Chick had picked out two possibilities for pulls – either some cute ones with animals or what seemed to me to be an odd choice, some lion heads with rings. Then we realized that we could just replace these ugly, worn knobs
With the awesome lions heads, and they would coordinate well with the existing drawer pulls!
Little Chick was happy. Papa and Mama were happy. A good deal all around!
A fun addition to a cute room!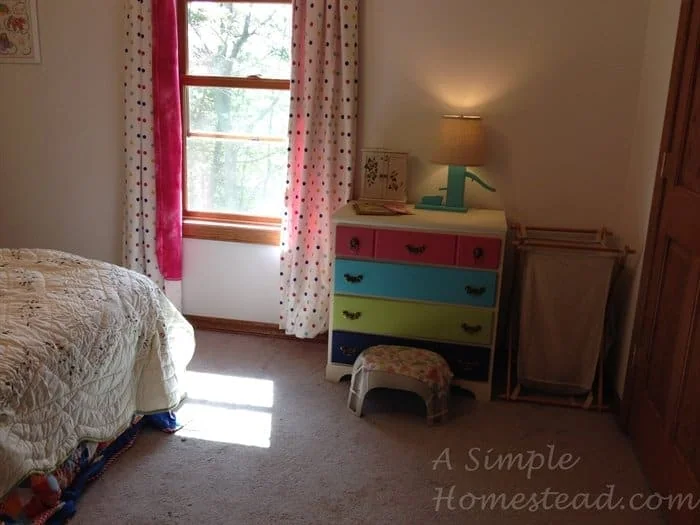 Now, I just have to decide if I'm going to paint some new canvas boards for a slightly older girl…