I'm pooped today. Yesterday (Friday) I took a vacation day but left the house around normal time. I picked up Mom and we headed out to hit 5 different shops in SE Minnesota. This shop-hop is called Yarnventure and this is the 5th annual event. Five shops doesn't sound like much, but there are over 100 miles between the first and last stop!
The official map says 2 hours and 12 min from start to finish – but that's if you live near one of the shops (we are 30 min away), you don't have to make any restroom / gas /food stops along the way, and you don't run into any road construction detours. And then of course, you have to add in shopping time! After all, you need to make time for at least window shopping after that long trip.
We participated in the 1st Yarnventure once before, back in 2012. That trip we had Da (Grandpa/my dad) as our chauffeur and Little Chick riding along. I remembered it as being an all-day event and very tiring – especially for one traveler.
I love this picture of Da holding her, but this was one tired child after our 4th of 6 stops. She was such a good traveler back then, it wasn't a big deal – she took a couple naps in the car and played the rest of the time. This year however, our not-so-little one is slightly less of a great traveler and I knew she wouldn't enjoy the trip – even if she loves to be with her Mama. So as far as she knew, Mom went to work Friday morning.
Living close to Winona, MN we decided to go clear to the other end of the route and start with Northfield Yarns, working our way back to Winona as our last stop. I think the first year I managed to not spend at every shop. This year, Mom and I both splurged. We both came home with 6 bags, plus a cooler with ice and the leftovers of our lunch.

I said there were only 5 stops though, right? Why were there 6 bags? I'll get to that.
Our first stop was Northfield Yarns in Northfield, MN. We left Mom's house just after 8am but didn't make it to Northfield until close to 10:45am. Northfield is the home to Carleton College as well as St. Olaf Collage (although I didn't realize the latter until I looked it up just now). Traveling into town you drive by Carleton College before you get to a great downtown shopping area on Division Street.
Northfield Yarns was full of several different brands of yarns that I don't have immediate access to – and even some I'd never heard of. I ended up coming home with a hand-dyed "Lady Slipper" yarn made especially for the shop-hop. I tried to pass it up but they were good salespeople … "it'll never be available again". Plus, it went so perfectly with the lovely shade of green Sweet Georgia yarn I wanted 🙂 Mom also got the limited-edition yarn along with some Ito yarns to make a free-with-purchase shawl pattern they had. Ito Yarns were a brand I'd never seen before – the yarns come on mini cones!
In the same block as Northfield Yarns is a little kitchen supply store called The Measuring Cup. I remember stopping there the first year we visited and Mom and I were both looking for something. My hubby got the replacement cookie turner that broke a few weeks ago and we've really missed; I also picked up a small pair of tongs.
Next stop… Cannon Falls for the What in Yarnation! shop.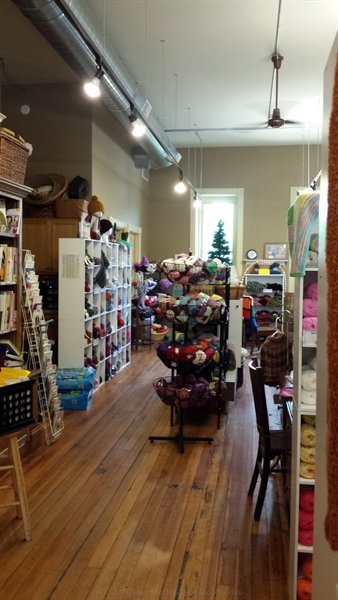 What in Yarnation! (now closed) is a great little shop in an old brick building with creaky hardwood floors.  Wonderful character :-).  Most of the yarns they had I was familiar with.  One thing I like about their shop is the wide selection of Lily Sugar'n Cream yarns they have.  I know I can get SnC yarns cheaper when Michaels or other stores have them on sale, but I've never seen such a wide variety of colors – unless you go to the Yarnspirations website directly.  I came home with 4 balls even though I probably have quite a bit in my stash already.
By this time it was after noon already.  We decided to continue on since we had a few snacks in the car to tide us over.   We also knew there would be a lot of wider variety of food choices in Rochester.  Our third stop was Kelley's Quality Sewing Center (unfortunately closed as of April 2019).  I forgot to take a picture there, but most of the store is filled with sewing machines and other sewing tools.  Knitting/crochet is more of an after-thought and tucked in the back of the store, but both Mom and I found a couple of regular and Tunisian crochet stitch books to pick up.
Just a couple doors down was a Chinese buffet place. Mom and I don't get to eat Chinese very often because of family members' food preferences, so it's always a good choice for the two of us. It 1:45pm at this point and the buffet part closed at 1:30pm so we just had to order off the lunch menu. It didn't occur to us how big the portions would be, otherwise we could have just ordered one meal. We had all this leftover food that seemed a shame to waste, so we went a short distance to a big-box store to pick up a styrofoam cooler and a small bag of ice so we could eat leftovers today. It cost us ~$4 for both and I have to say I really enjoyed those leftovers today.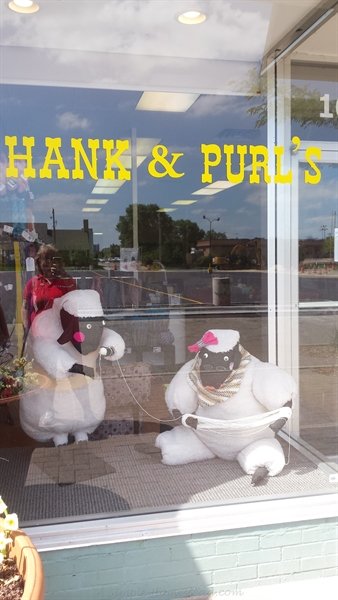 There was a second stop in Rochester, MN – a place called Hank & Purl's. Again, I forgot to take a picture inside. I guess I was too busy shopping. It's a small store, but they still have a wide variety of choices. Mom discovered they had Ito yarns at 50% off, so she bought enough to make a couple more shawls. I bought 3 skeins of Berroco Modern Cotton in varying shades of pink; I'm hoping to make a colorblock / ombre dress for Little Chick since she loves pink (and dresses) so much.
Our final stop was back in Winona to my favorite shop, yarnology.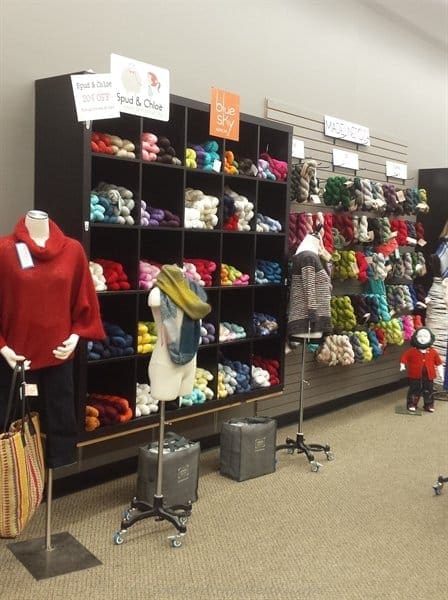 I fully intended to skip spending any money at yarnology when we arrived. I spend enough there on the other months of the year. I never can pass up a chance to hit The Underground – their basement section were everything is on discounted at least 30% off. I found two things down there – one was a chicken pattern (CHICKENS!) and the other was this beautiful Dream in Color yarn called Jilly. I haven't tried this yarn, but it's so soft! I just had to snag it.
I told Mom I felt like I was on a green and pink kick that day. Anyone else ever go shopping – for clothes, yarn, or whatever, and keep "seeing" the same colors that draw them in? I do all the time.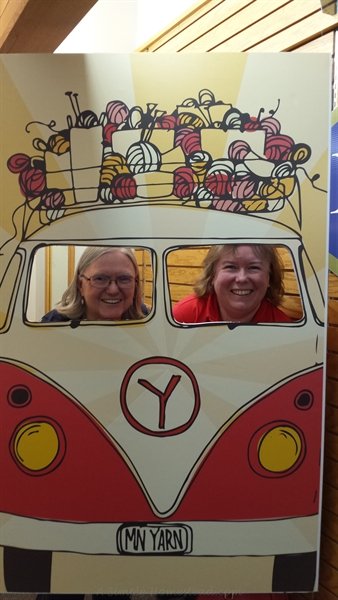 All-in-all it was a great day spent with my mother. I spent over 10 hours on the road by the time I dropped her off and arrived back home. I was also quite dehydrated. We had plenty of beverages in the car, but I think it was all that extra talking that did me in :-).
I'm hoping one (or both) of us wins a prize from the shop hop. Each store had their own door prize and if you turned in a card punched from all 5 you were entered to win one of the grand prize packages. I won't hold my breath though 🙂
Have you ever gone on a shop-hop in your area?