This is an exciting time of the year: getting to harvest our first produce from the garden. Although, it didn't go exactly as planned.
A week ago I had checked one section of the garden where I thought I had planted radishes, but when testing, I pulled up long, tiny threads. Then I assumed it was turnips or one of the other root vegetables I planted. This is why I have to write it all down, people!! Because this week I checked the garden again and those same plants were blossoming. Wha?!? I checked my chart and sure enough, those were radishes. I went back and pulled up that entire section, minus two tiny plants that were hiding. Some of the radishes were just tossed to the chickens because they had turned woody, they were so old.
I did manage to salvage around 25-30 radishes, which was plenty for my little experiment. You see, we don't care much for radishes in our household. We'll eat a couple a year but have a low tolerance limit for radish flavor and spiciness. I know they're easy to grow and they get harvested so quickly; it's hard not to plant them.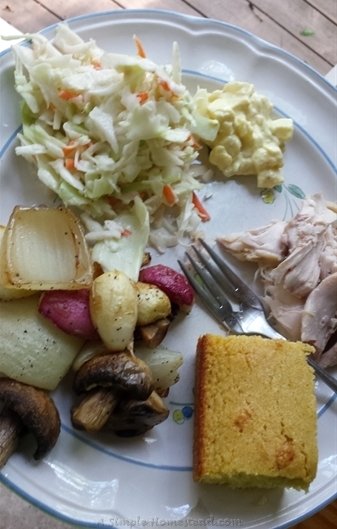 I wanted grow a few this year to experiment roasting them. I'd heard rave reviews on how they are so much milder when roasted … and let's face it, what vegetables don't come out better after roasting? I roasted our little batch with onions and mushrooms. Little Chick refused to try them … but that's normal of late (when did we get a picky child?!) Papa and I thought they were ok. I think they would taste better in the fall with other roasted root vegetables … not on a humid, hot afternoon. For now, I replanted that area with some carrots. Closer to fall I think I'm going to find a patch in the garden to plant a couple of rows again.
Anyone else keep an old butcher knife in their garden cupboard? 🙂 I've found it invaluable!
The rest of our first harvest consisted of some mesclun salad plants. Some were starting to bolt, so I knew they needed to be picked and used right away. I was a bit leery when I was cutting them because they had a strong smell. I should have been suspicious when the chickens didn't come running to eat the bolt-ed ones I tossed to them.
I chalked that up to the fact that Papa was in the chicken yard changing things up (chickens do not like change!). In truth, that still may have been the case.
I was just about to mix up the salad for dinner when I decided to taste a little … just to be sure. Man, were they awful!! I tried a couple of different looking plants, just be sure it wasn't one plant that was older or one type of lettuce leaf I didn't like. Nope, they were all this odd, peppery, bitter taste. I'm pretty sure it wasn't because of the bolting – most of what I harvested was still fine. Papa tried it too … and immediately spit it out.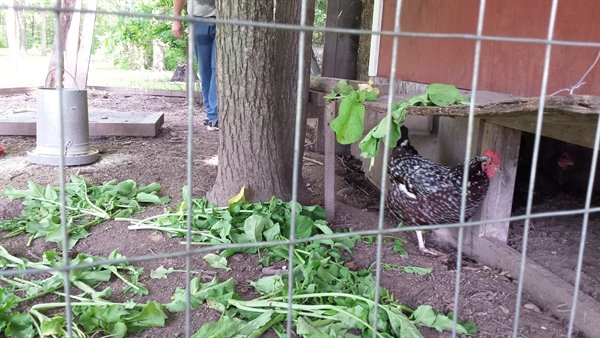 We tossed the rest to the chickens. This time I put the scraps in the unchanged and semi-protected run where they were hiding. All that lettuce disappeared. At least they got a good treat. As for us, we had to go to Dinner Plan B.
So what is Papa doing? He has two goals: 1) put a permanent roof on the chicken run and 2) move the run and coop to a new area. The roof tarps on the run lasted 6 years, but now there are quite a few holes. Plus, the bottom plate was regular non-treated, unpainted wood and was disintegrating. The coop is really heavy and we're still not quite sure how it's going to get moved. In the meantime, he dismantling the old run – taking off the storm windows and breaking down the wood to reuse most of it. He has part of it rebuilt already and a plan for the roof. Good thing he received a new cordless drill for Father's Day 🙂