Norskedalen Nature & Heritage Center is one of my favorite places in Wisconsin. Norskedalen means "Norwegian Valley". Given our Norwegian ancestry, it's not surprising we enjoy the place. But don't think it's only for Norwegians. It's a great place to enjoy nature – and learn about our ancestors and their history.
Papa loves history.  In fact, when we were first dating and then married, we participated in pre-1840 Rendezvous.  After a while, he decided he preferred fishing to sitting in the hot sun or rain (or both) during our Rendezvous camp-outs. Now, he prefers playing cribbage all weekend to fishing.  But I digress…
Every fall, Norskedalen hosts their annual Threshing Bee. It's a time to reflect and show the younger generations how the farmers used to come together during this special time to thresh the oats, harvest the crops – and of course, have a big meal.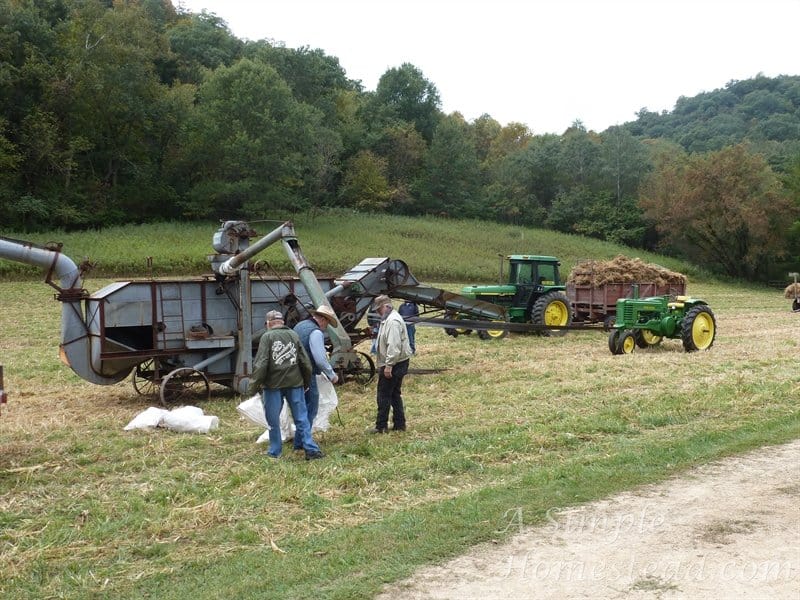 Here are the men preparing the machines for the demonstrations. Notice anything in the pictures? They are all of an older generation. Later, they had some younger helpers, but I hope this knowledge doesn't pass when they leave this earth.
Here's a far-off shot from them running the threshing machines. We never did get to see it up close this year – whenever they were doing the demonstrations we were on another part of the homestead.
Even with the machines, it still looks like hot, dusty work. Good thing it was a nice cool fall day!
When they are finished you end up with a nice pile of oats to eat.
This is part of what I love about the activities they have at Norskedalen.  They are hands-on.  When they can't be hands-on they at least have some volunteers around to answer questions.
There was also an old tractor and hay wagon with corn that needed to be harvested.
But then Mama went and stole the Ford 8N tractor they used to run the husking machine.
Ok, not really. But isn't that tractor so CUTE?! It's at the top of my wish list if we ever buy a real farm.
Here's Papa lamenting how rusted and ill-used this old Farmall A looks – and wishing he had one.  We'll have to be a two-tractor family until Little Chick finds her favorite.
We took Little Chick to Threshing Bee last year but I'm sure she doesn't remember much if any of it. Her favorite part this year? The animals! Especially the "camels".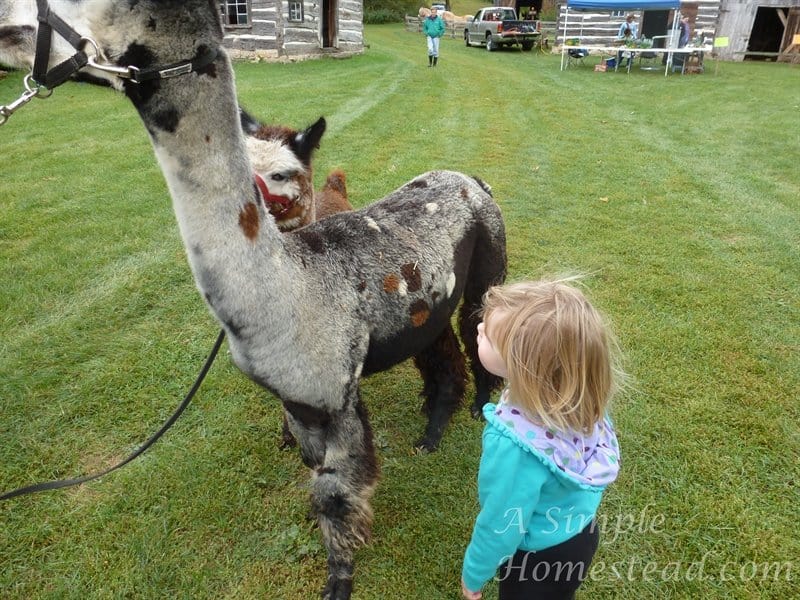 Uh, sorry sweetie. Those are Alpacas! (Another item on my wish list – they are so soft! And they make yarn material!) I love the spotted coloration on the mother. Did I mention there was also someone doing a spinning demonstration? Guess where Mama wanted to be!
There were two Norwegian Fjord horses again this year. They are much shorter than what you'd expect in "American" horses, but they are very stocky and look like they'd get the job done!
We had to make several trips back and forth to see the animals 🙂
At noon, they started serving a big threshing bee-styled meal.  LOTS of food.  We had roast beef, potatoes, rutabaga, squash, fresh tomatoes, corn, bread, milk or coffee, and homemade pies.  Enough to easily fill up someone who'd been working hard all day (I think the three of us could have shared one meal!)
There are several old buildings on this property. All were moved here from other locations. At the top of this post is the main house of the "Bekkum Homestead". They also have a summer kitchen, spring house, corn crib, granary, outhouse, chicken coop, machine shed, stable, barn, blacksmith's shop, and storage shed. Most are open and fully accessible to the public during special events.
I just love the timber frame construction of these buildings. You wouldn't believe how steep the stairs are in the houses. And the upstairs was often just one big room where everyone slept because the downstairs was just big enough for eating and your daily routine.
A couple of years ago they added a church to the local scenery. This is the Benrud Little White chapel.
Sigh. I just love old churches. The interior reminds me a lot of our old "home" church in rural Western Wisconsin.
What was my favorite part of the day? The walking trails!
As I said in my Living and Active – week 1 update, I would love to live closer to Norskedalen. Then I'd walk the trails as much as possible.
First, you have to make sure you have your walking shoes on … and take the opportunity to snap a cute picture.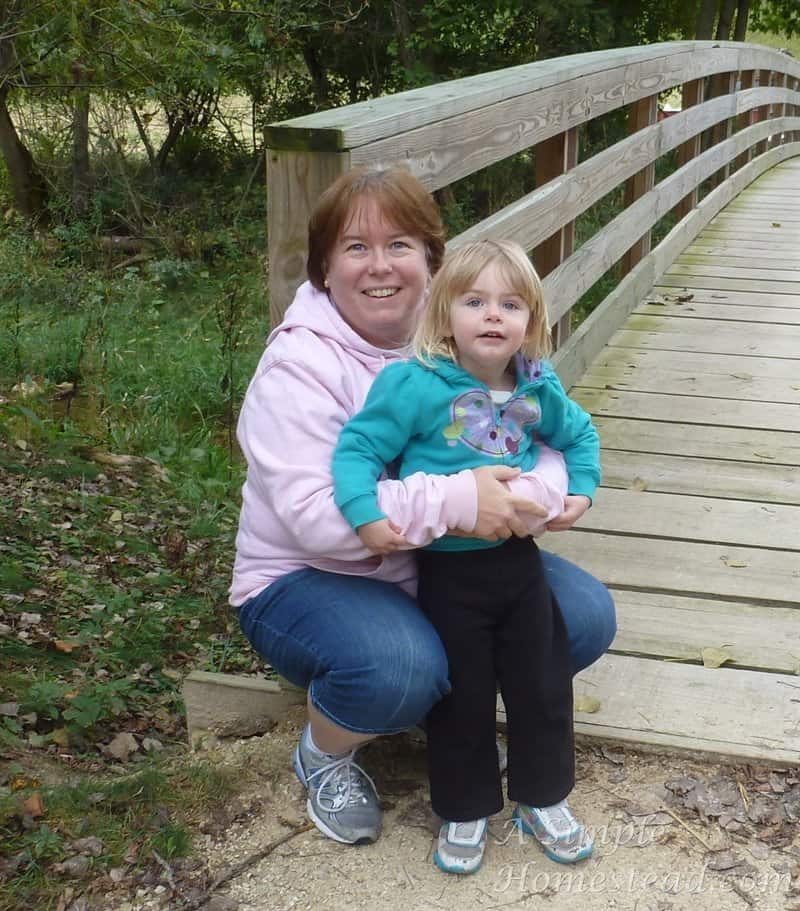 Then you have to pick a trail. We've only traveled a couple – one short one called the Troll Trail where you're supposed to find the troll.
This was our post-dinner walk as we needed to wear off a little more of what we ate.
Oops! Looks like we found the troll … but some meany chopped his head off.
On our pre-dinner, longer walk we encountered streams
Creepy crawly box elder bugs (they were all over the tree AND the ground!) *shudder*
Moss, sticks, lots of trees, and leaves.  Who needs toys when you have sticks to play with?!
And well-groomed walking paths
Overall, we had a beautiful day to spend outdoors, relive history and spend some quality time together.