What is up with our weather?! I've heard this is supposed to be an El Niño year but I don't remember a year this mild and warm.
We had one day of snow – back on the 2nd of December. I'm not even sure it lasted 24 hours before it melted. Just check out our forecast – especially for Christmas Eve and Christmas Day. Wow. Just … wow.
Lately we have been seeing constant temperatures in the 40°F + range. Last Sunday it made it to 50°! And then it rained. And rained. And rained.
This time of year we have our rain gauge turned upside down so it doesn't get moisture, freeze and crack … so it we don't know how much we got overnight and into Sunday morning, but from Sunday 11am until Monday night it rained 4 inches! There are flood warnings all over. It feels more like March than the start of winter.
The chickens are loving being able to still free-range and graze. All that rain made it good for worm-picking too. I just wish that meant more than 2 eggs a day, but I'll take what I can get this time of year.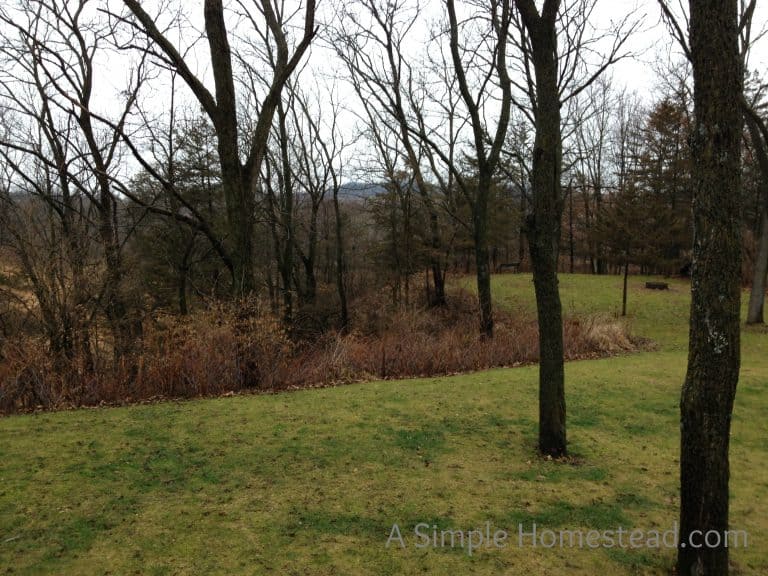 I suppose we can thankful it's rain, and not snow. I've read that the average conversion of rainfall to snow is 13″. So if we got over 4″ of rain that turned to snow, we could have over 4 feet of snow! Not sure if we could handle that much snow plowing and shoveling!
Alright enough about the weather…
Despite our warm temps and the outlook of a very green December 25th, Christmas will still come this year and we have been doing some prep-work. No, I don't have all the gifts wrapped yet (let alone purchased!).
A couple weeks ago we made cut-out cookies. Papa was kind enough to bake them during the day so Little Chick and I could decorate them that night. As you can see there was liberal use of the green sugars and sprinkles this year. More is better, right? 🙂
Last night I finished wrapping up the 2nd double-batch of homemade caramels we give to family and friends each year. I don't think I've made two double-batches in a long time because there are an awful lot of them!! I used up an entire roll of wax paper in wrapping. It won't take long to disperse them and get them out of the house (thank goodness). And it will probably taken even less time for them to be eaten.
I have also been busying knitting and crocheting some gifts. However, I can't show them yet because too many friends and family read the blog :-). Soon they will be revealed…