I love spring: the promise of warmer weather, the first signs of new life – in gardens, flower beds and pastures, and longer, sunnier days, and Easter. This week ends the first quarter of 2018 and I have no idea how that happened!! I bet you're wondering if we fell off the face of the earth or something. Let's see if I can recall everything that happened this month:
1) The shop has been updated! I still have a few more stitch marker sets to add but there are plenty of fun items to check out!
I have been playing with polymer clay lately so you may see more appear in the shop, but I also found a great source for some cute metal charms. Currently stocked are sheep, tractors, pigs, I Love You hearts and a set of fairy tale themed charms: princess, castle, and pumpkin carriages
2) Designing: I have a hat pattern that is about to be released as soon as testing is complete – which hopefully will be next week.
I am currently looking for testers for this knit bag pattern.
If you're interested, be sure to let me know over on Ravelry! I do have some rules for testing to help prevent people receiving my pattern for free and then disappearing (it does still happen) but the test itself is fairly laid-back.
And if you're a La Crosse, Wisconsin area resident, be sure to check out the Market Bag-Along (this pattern would qualify!) happening at the Unwound Artisan Yarn Shop group (sadly, Unwound closed in 2021). Truthfully, anyone can enter, but the prize is a gift certificate to the local Cameron Park Farmer's Market so it would really only be of use to those that are local.
3) If you missed it, I posted a great cookie recipe this week: Cream Cheese Cutout Cookies
We made up a bunch for Easter and gave most of them away to our neighbors so Mom wouldn't eat them ALL! *ahem*
4) We lost another chicken: Sparkle. That means we're now down to 5. We're not quite sure what happened. Papa thought she seemed lethargic one day and she was dead the next. The other chickens seem to be doing ok. Fortunately the weather has been milder and the snow is almost completely gone so they've been spending a lot of their time outdoors in the fresh air.
Papa and I have talked about the future of our chickens. He's at the point where he wants to wait until all (most?) die off so we can start fresh. We'll see if I can tolerate having so few eggs around…
5) As I mentioned, most of our snow is gone. We did have a good dumping at the beginning of this month. Papa and Little Chick made some awesome figures: a unicorn, a frog and a rocket. They looked like guardians lining our driveway. They lasted more than a week before the sun (and a little help) knocked them down.
6) I was looking at Little Chick's first grade picture the other day – the one taken just 6 months ago. It's amazing how much growth – physically and mentally, has taken place. Some days we think she's 7 going 17…
She had her first "date" this past week: a Daddy/Daughter Dance at school. She was tickled pink that Papa even bought her a corsage. It doesn't sound like there was much dancing though – more of a barely controlled chaos as kids ran around the gym chasing each other.
This week she was asked to help out at church during Holy Week. She assisted with Communion (she's seen Mama and Papa do it numerous times) and Good Friday she was acolyte – mainly to put out the candles throughout the service. So many changes happening so fast!
7) Papa has been busy, busy, busy. He was elected to our church's Property & Grounds committee. What he didn't know at the time is that it basically is an unpaid handyman position. You see, our church has been going through some painful transitions the last few years. Many members have left the church and some feel it's only a matter of time before our church completely dies. On the other hand, we have a new pastor starting next month so we're hoping things will turn around. Plus, it's amazing to see those that are left becoming much more involved in sustaining the church – including us*. I guess it's a blessing that Papa is a SAHD so he can devote the time that's needed. Personally, I think he's getting a kick out of having so much to do and being able to use his fix-it talents!
(* on the other hand, now that our church is smaller I'm seeing first-hand how much infighting continues to go on between members. It really is sad how some would rather complain and bicker than support one another.)
8) Although my gardening cheat sheets say it's time to prep the garden and even plant peas and onions, the ground is completely frozen so I don't know how that's supposed to work. Papa and I were laughing at our potatoes from last year: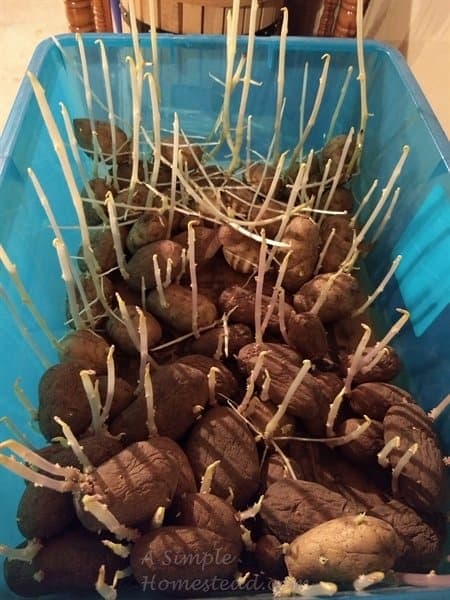 They are more than ready to be planted! I found an article just last week from Mother Earth News: Why Do Potatoes Sprout? What we didn't do is "cure" the potatoes before harvesting. It's too late to fix for the potatoes in storage, but good to know for the future.
9) I signed up again for the Three Rivers 5K Run/Walk, the first weekend in May … and then I lost all motivation. Well, actually I suddenly became extremely exhausted. 9pm bedtimes each night for a week and I still felt worn out. I wasn't just tired, there was a total lack of energy. I still feel like I'm trying to recover. As a result, I'm still stuck in week 4 of Couch-to-5K. My goal had been to run the full 5K this year but I may have to be satisfied with beating my time from a couple of years ago (I ran/walked then too). That is if I can figure out why I occasionally have pain in my ankle; it's completely random and unexplained at this point.
10) It's official now – that I have lost 20 lbs!!! from my highest point last year. I've been rather stagnant the last couple of months, but for me that is a good thing. Typically this is the time of year that I gain back some (or ALL) of the weight I lost the previous year. So to maintain this time year is a huge step forward (no pun intended 🙂 )
I'm looking forward to the next coming months – the spring thaw, 2nd quarter, warmer weather, birthdays, my parents returning to their northern home, gardening, the end of the school year…
So much to look forward to, I hope it doesn't fly by too fast.
What is new in your neck of the woods?! Are the seasons still changing or have you turned on the a/c (or furnace) yet?