They are finally here! The Hearts Aplenty hat and mittens patterns… just in time for warmer weather (as I write this while sitting outdoors!). Oh well.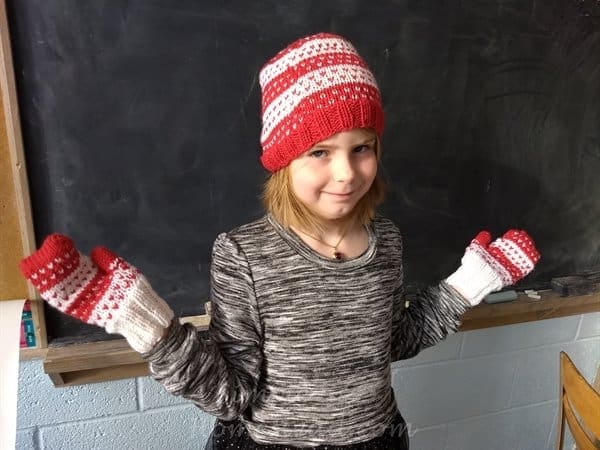 In my opinion, it's never the wrong time of year to make hats or mittens. They're great portable projects for the months when you're traveling more. And this way you can get a jump-start on your fall and/or holiday knitting! In fact, I know I need to make a PILE of mittens for Little Chick for this fall. Mittens had a tendency to get wet – and sometimes even lost throughout the snowy season.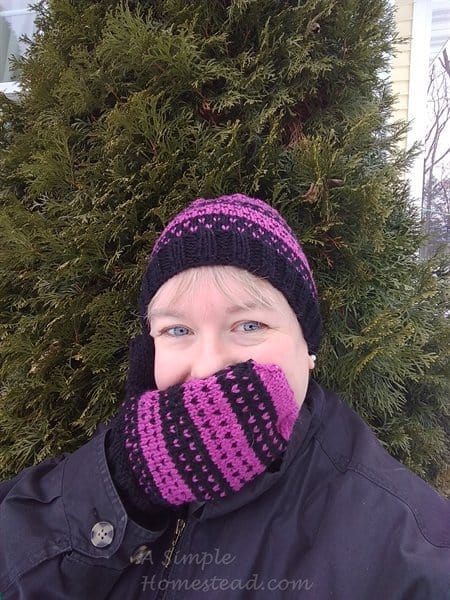 This pattern design was inspired from a project I played around with last summer. I thought the stitches looked like tiny hearts.
This looks like regular stranded knitting but it uses slip-stitches. The slip-stitch method means that you are only dealing with one color per row! That makes these two patterns great beginner projects – for someone that wants to try colorwork but is intimidated with having to deal with multiple strands of yarn.
The hat pattern comes in three sizes so you can make a set for each member of your family! As you know, I love bright colors – hence the red / white and black / magenta versions I made, however you can use neutral colors or even pastels, as long as there is a distinct contrast between the colors.
You can find the patterns on these platforms:
Do you knit all year long or just when the weather is cool?