Papa has been busy the last two weeks. If you looked at pictures from earlier this year, our deck was beginning to need some serious help.
It had a wonderful weathered look that was awesome as a backdrop for taking pictures of my finished projects.  However, as a deck, it was looking rather sad.  Not only that, but the post that was closest to the septic tanks had sunk.  I didn't really notice it, but it was bothering Papa so he had this deck refinish on his to-do list for the summer.  My job was strictly to keep little feet and paws off the deck at critical times.
The first step was to do a little remodeling. After he jacked up and created a new support for the one corner of the deck, Papa went to work changing the location of the entrance (or is it exit? I guess it depends which way you are going!)
Step 1: Remove the bench seat boards.
Step 2: Remove the first several boards of the deck to be able to access the underside.
Step 3: Add new railing support boards where the new stair entrance will be.

Step 4: Trim the new bench seat and railing boards to length.
Step 5: Take a break to teach your toddler the proper name for "hammer" (it's not a "bang") and how to use it.
Step 6: Move the stairs to the new location and open up that section.
Step 7: Close off the old section.
Step 8: Quickly get everything temporarily installed and all the furniture back in place because you suddenly have company coming over!
Step 9: Make sure you're on good terms with your neighbor who has a professional-grade power washer and ask to borrow it one afternoon. Pick the hottest, steamiest day of the year and have fun with the back-spray of the jets. Oh, and get all the yucky built-up gunk off the deck at the same time.
Step 10: Admire all your hard work for a few days, but realize you need to coat the surface with something or it will quickly return to it's original state.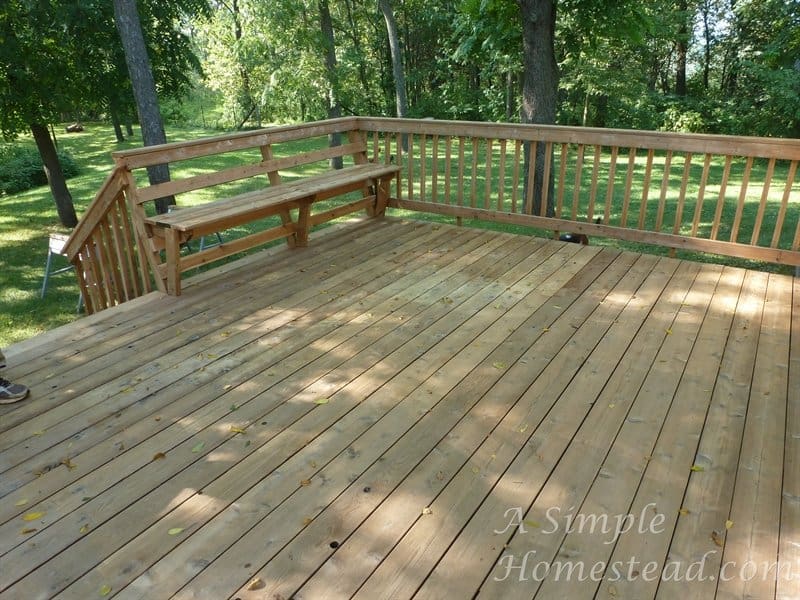 Step 11: Take your wife shopping for stain colors to be sure she's happy.
Step 12: If your railings are screwed together, remove them from the deck and place them on sawhorses for easier staining.

See how much easier this is than trying to stretch and bend in odd corners?
Step 13: Let the boards dry overnight under a forest of black walnuts.
We used Pittsburgh Paints (available at Menards) solid color stains. The bench seats and spindles are done in Carlsbad Canyon. We were originally going to have the whole deck that color, but one night underneath the black walnut trees showed us that wouldn't work. Papa was able to return the second gallon of stain and get a new one in Butternut for the top rails and decking.
What do you think? Personally, we love it.
It has a nice finished look and coordinates well with the color of the house which is French cream, with white trim and dark green shutters.
As a recap, here's a before and after photo for your viewing: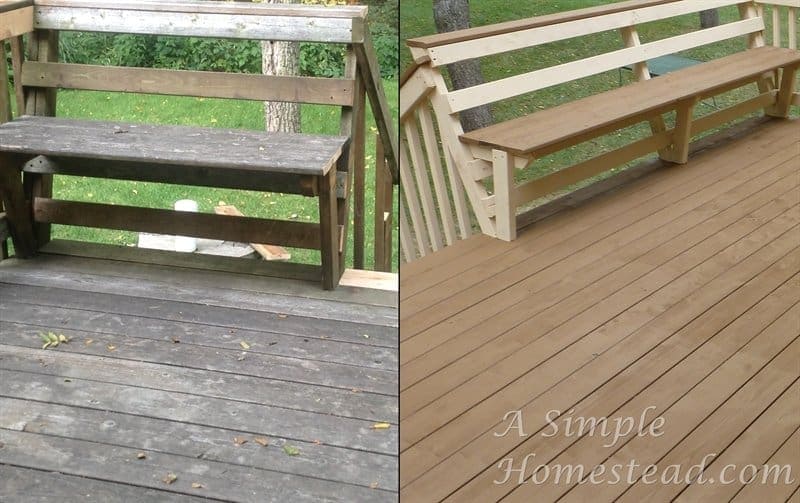 I told Papa as much as I loved the new deck, I would miss the old, weathered wood for photographing my finished projects. He had a solution for that. He saved some of the wood and will connect them together to create a nice solid surface that I can keep just for that purpose. Win-win! 🙂