This weekend we worked on some homework that Little Chick needed to finish by the end of this week — making a collage of pictures that represented her family.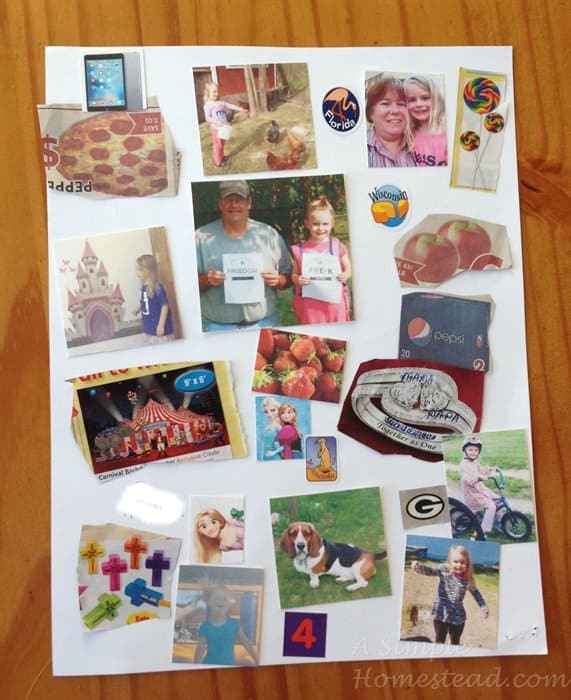 The hardest part was determining which pictures to include! I printed off several of our family pictures so I could make them smaller and wouldn't have to worry about them getting damaged. It was also suggested to use stickers or magazine cut-outs. We've eliminated most of our magazines so that was a problem. I did find a couple and we were able to use some advertisements from the newspaper (e.g. food).
I cut all the family pictures but I let her do the rest – cutting out the rest of the pictures, gluing, determining where to place them, etc.
She enjoyed that activity so much she made another collage the very next day with a few extra pictures (mostly princesses).
---
For a while I kept seeing uses for empty toilet paper rolls / cardboard rolls so I started accumulating them. And then promptly couldn't find the ideas again! A couple weeks ago I saw an idea (I think it was on Sesame Street) and last night turned out to be our first opportunity to try it.
The craft is simple. You take scissor and cut 3/4 or just a little more across the top of a cardboard tube, approximately 1.5 – 2″ down from the top. This cut becomes the mouth. You should be able to carefully bend the top up; the back will fold making it easier to open. If this doesn't happen you can cut a little more, just be sure not to cut all the way across!
Then it's time to decorate them! Little chick used washable paints. At first I wanted her to color them more, but actually since she didn't use much paint they dried quickly and we could move on to other accents.
I had only 4 sets of googly / wiggle eyes in the larger size so we started with those. I can't tell you how old the tiny little pompoms are … and we still have a boatload left over! Scrap yarn became the hair for a couple. For one I took the time and crocheted chains and looped them around – I love how that turned out! (it's hard to see in the picture)
Even though we didn't have any large eyes left, Little Chick wanted to make a couple of dinosaurs. Papa said that dinosaur eyes are relatively smaller than their overall size, so the tiny eyes worked. Those tiny eyes are just slightly larger than a pin head and rather difficult to work with!
These were so much fun to make, I just know she's going to want to try them again! Which means I need to stop at the craft store soon to pick up some more googly eyes! 🙂