Update: A friend who lives nearby caught the tornado on camera and has allowed me to share! See bottom of post for details.
Remember how I said a couple of weeks ago that I don't like storms?  I'm not very fond of driving in them either.  I made a mistake last night. We'd had a 2-minute down-pour at work at 5 pm.  It was over by the time I left, but it didn't occur to me that I might end up driving back into the storm. Or that what we had in one city might just be the edge of the storm and where I was headed was in the eye of the storm!
Most of the drive home was under 40 mph. In one section I was only going 25 mph until I had to pull over and wait a minute for it to let up. The wind was so strong, and the rain was coming down so hard, at times you couldn't see the edge of the road!
In about an hour, we got 1 3/4″ of rain! All I saw on the drive was a bit of pea-sized hail, but we had a few of these quarter-sized ones at home.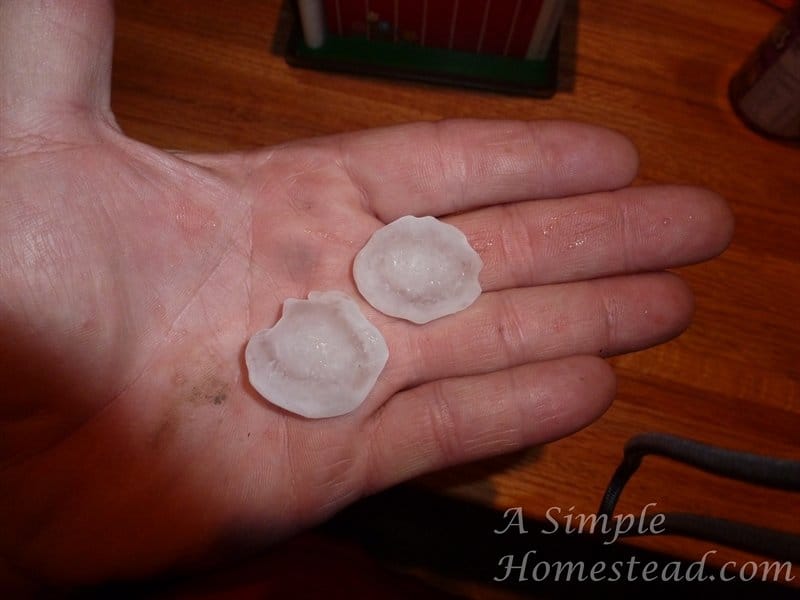 I made it home ok only to be greeted with a big hug from my husband.  He doesn't get excited very easily, but he was getting very worried because he tried calling several times.  With the noise of the wind and rain, I never heard it.   The reason he was calling?  There was a tornado spotted in the general path I take home!  I don't listen to the radio much because driving is my quiet time.  I think I might have been past that section before the tornado went through, but I'm not sure.
Here's how crazy that storm was … half an hour after I got home, the sun was shining again!
We lost a few small branches, but the garden has been thoroughly watered. The grass needed to be mowed yesterday and now I suppose with the lightning and rain it will grow even faster.
Before the yucky late-afternoon weather, Papa and Little Chick found time to pick us some blueberries at the local pick-your-own.  A little over an hour later, their clothing was wet from Sunday's rain, there was at least one full tummy, but they had two ice cream buckets and eleven pounds (only $23!) worth of delicious blueberries.  Last year, Papa canned small jars for use in pancakes or muffins.  We still have some of those left, so this year we'll just freezing – and of course, eating the berries.
Now I just have to get out and pick those black raspberries in our backyard!
UPDATE: Here's the picture my friend Colleen snapped on the way home Monday night.