These shorts were the only thing I completed all week. I spent several hours working on them last weekend … and now I'm disgusted.
I'm not going to point you to the pattern because I think it was rather awful. It was a free one off the internet. I printed it making sure my PDF options were set to print Actual Size. When I cut it out, there was a little bit of a difference in the patterns but not enough to cause me concern. It was also done up only as a 2T size, so I increased in a couple of areas hoping to get closer to a 3T. So, some of my problems might be my fault. But look at the top of the shorts! They were supposed to be a smooth line to the waist, but the crotch area was so incredibly short, I added SIX INCHES and created a layered waistband just to salvage my efforts. And you know what? They are still too short. When Little Chick sits down in them, you can see an inch or more of her diaper sticking out!
Humph.
Not only that but the front areas didn't line up with the back – at all! I ended up trimming them off so they were all the same length. I might try and fix them by ripping off the current waistband section and adding 10 or more inches. Later. Right now I'm too upset to work on them anymore.
Despite all my frustration, they do seem like they fit pretty well. I'm particularly proud of myself for getting the pockets right (at least the instructions were clear if the pattern itself was off). The other redeeming quality was that these didn't cost me anything. The chambray was part of several yards I already had in my stash – perhaps part of my inheritance from my aunt; the light blue thread was a gift from my mother-in-law last Christmas and I already had the elastic on hand.
Little Chick wasn't cooperating when I tried to get her to model them. Maybe I'll get a better picture when they've been improved.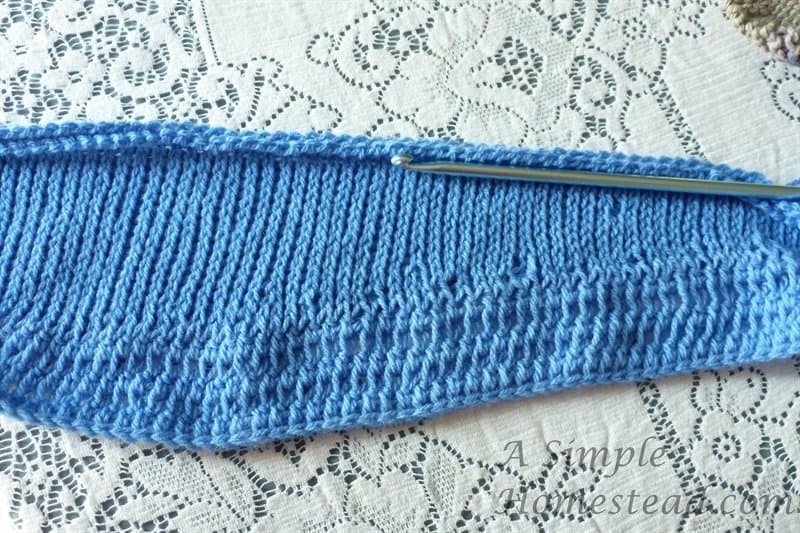 My other frustration this week was my Sapphire Shawl. Remember seeing this pic from last week?

Shortly before the weekend, I read a blog post on Leisure Arts by someone else making this shawl. They said they opted not to do the Tunisian reverse stitches (trs) in the first few rows and used another stitch instead.  I thought to myself, "What reverse stitches?"  I had to go back and look at the pattern.  Somehow I read that the first three rows were double stitches, not reverse.  *sigh*  Between that, the odd way some of my stitches were looking, and a flubbed stitch (right below the middle of the hook in the picture) … I decided to start over.  This time I'm using the new yarn I purchased specifically for this project and then chickened out using it.
The picture doesn't do it justice.  This is Berroco Vintage DK in It's a beautiful deep navy blue with flecks of purple in it.  I'm close to reaching the point where I stopped the last time and ripped it all out.  The advantage of using dark yarn?  Even if your stitches aren't exactly perfect, the color hides a variety of flaws (up to a point).  I'm really liking the way it looks.  Much better than the first time around.