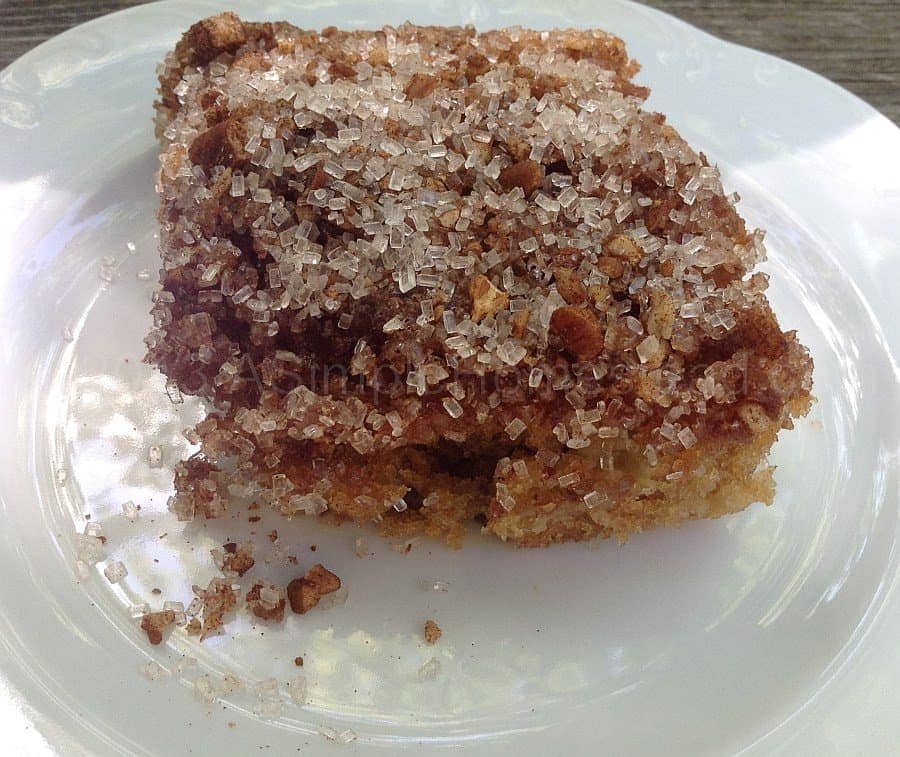 For years, Papa has talked about how wonderful his aunt Lorraine's rhubarb cake was and how he wished he had the recipe. When Father's Day came around this year, I asked if he wanted a cake. "How about rhubarb cake?" he responded. I have a couple (or one hundred) rhubarb recipes, but I thought this was as good a time as any for him to see if he could get his favorite recipe. Aunt Lorraine is almost 90 after all.
This recipe was as good as he remembered. So good in fact, we ate the first cake in a matter of days and had to make a second. We'd probably make more, but our rhubarb plant hasn't "recovered" yet – maybe later in the summer.
The first time, he thought it would be fun to use decorative sugar – the type with large crystals. I wouldn't recommend it. It tasted fine, but added more crunch than the cake needed. Regular granulated sugar works best.
The original recipe called for just 2 cups of rhubarb. We felt it needed more. Even with the extra rhubarb it still doesn't scream rhubarb flavor – it just makes it super moist (just in case you aren't a huge rhubarb fan).
Rhubarb Cake
3-4 cups chopped rhubarb
1 1/2 cup brown sugar
1/2 cup butter
1 egg
1 tsp vanilla
2 cups flour
1 cup sour milk (*see note)
1 tsp baking soda
* you can make sour milk by adding a tablespoon of lemon juice to regular milk
Chop the rhubarb into bite-sized pieces.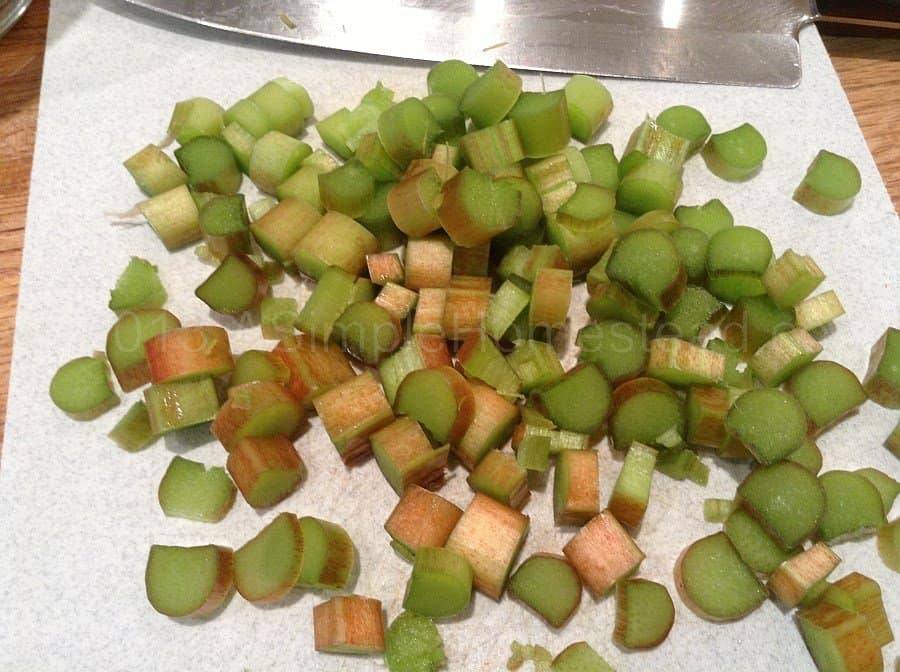 In a medium-sized bowl, cream the brown sugar and butter.
Mix in the egg and vanilla.  Add the flour, sour milk, and baking soda and blend just until combined.
Spread 2/3 of the batter in the bottom of a 9×13″ baking pan. Sprinkle the chopped rhubarb over the batter.
Spread the remaining batter over the rhubarb.
Top with streusel:
1/2 cup sugar
1 tsp cinnamon
1/2 cup nuts
Bake for 40 min at 350°F. This is very good served warm with ice cream or whipped cream.
See? It doesn't take long to disappear!