I'm exhausted. We just returned from a 4-day camping trip. I find it hard to believe that we used to do this for up to 9 days at a time! No more – 4 is my absolute max.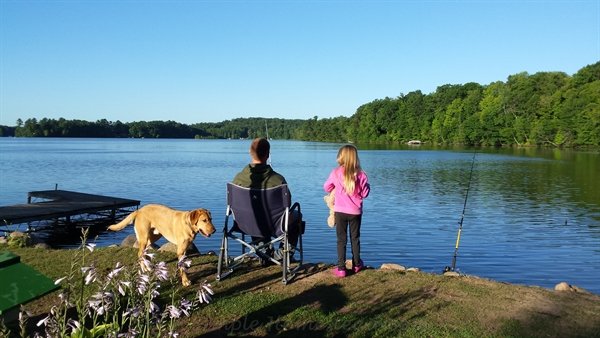 That's not to say we didn't have fun, because we did. I mean, how can you not enjoy camping someplace with a view like this?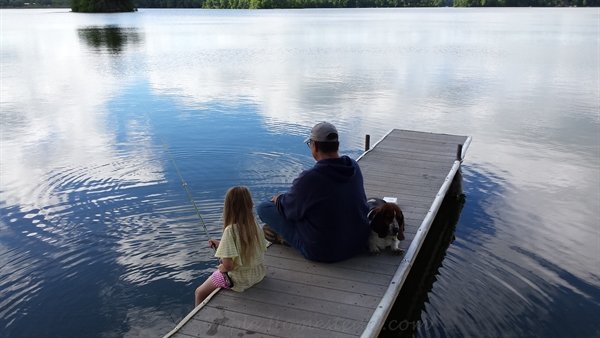 There was quite a bit of fishing going on. There usually is – or at least attempting to fish. Most of the guys cast out and hope to catch northern pike (aka Northern) or muskellunge (muskies). It's slow fishing – you cast and wait, sometimes for hours. Since we're camped right on the edge of the water it isn't a bad setup for that type of fishing.
We've had many years where they've caught little to nothing. This time, there was a huge cold front that came through on Wednesday and Thursday – lots of thunderstorms and rain. We arrived on Thurs after the rain had stopped. The fishing after that was better than we've had in a long time! Each of the guys caught at least one Northern or muskie – or those that fished. Papa only helps Little Chick fish.
Some just like seeing how many times they can get "Stumpy" on shore. He's a giant turtle they remember catching a few years back. He's grown since then – probably feeding on all the bait fish thrown out in the water and meant for larger fish, not him :-). They got him on shore 3 times over the weekend. The last time they weighed him – a whopping 42 lbs! Each time they released him off the opposite shore but he always made his way back around for more free fish.
This picture is in the shadows but maybe you can see everything that's going on how we keep "busy". Reading books, playing card games (Go Fish or Cribbage), eating … that's always a big event.
I spent a lot of time knitting, mostly on a pair of spiral striped mittens. I tried working on them two-at-a-time but doing stranded knitting AND two-at-a-time gets a little crazy managing four balls of yarn, even if they are mini balls. I eventually moved one pair to dpns to finish them.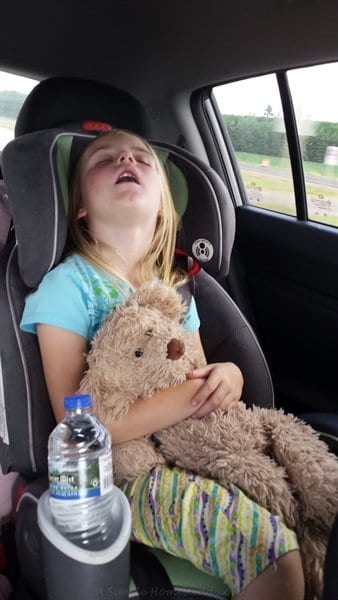 After four busy days with great weather, exercise, sunshine … this is what we all feel like. Unfortunately, someone still has to drive home and then unpack the pop-up camper and car. Regardless, it will be an early bedtime for us all…