I escaped to my outside-the-home job this morning. And I'm fairly sure escape is the correct term. Our lives got significantly fuller in the past two days.
First off, we have a new in-house family member: Finley, a two-year-old Basset Hound. He's quite a cutie. Very friendly with people – loves to cuddle and get petted. A little shy around new dogs, but that's ok. Best of all, he is fabulous with Little Chick. She thinks he's hilarious – although we may have seen just a touch of "sibling" rivalry yesterday (or it may have just been a lack of nap time). Nothing serious – just having both of them clamoring for attention at the same time.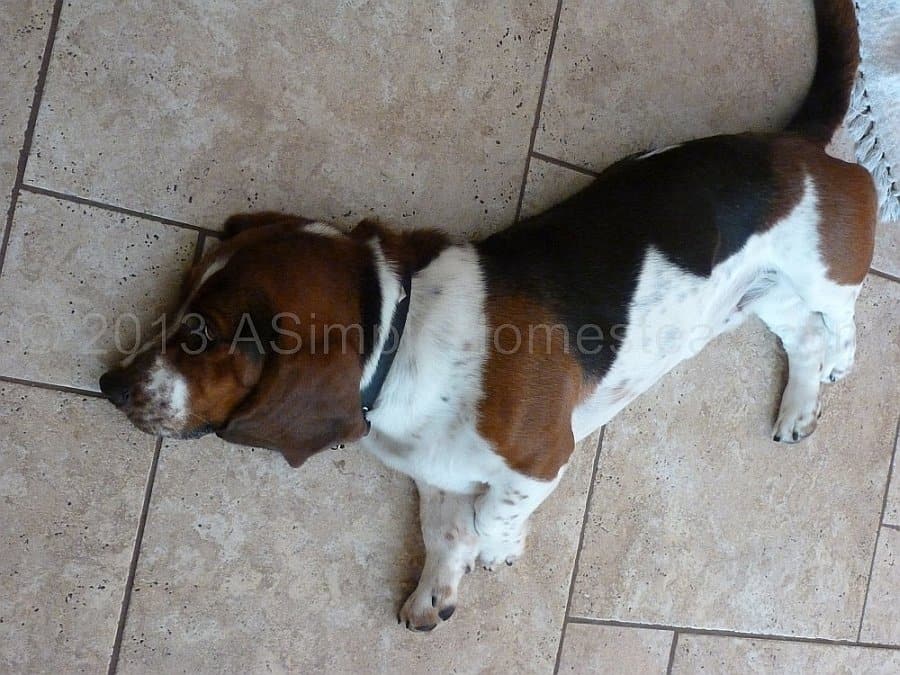 We found him through a friend-of-a-friend type of connection. The woman that had him is going to school to become a vet tech and pick him up as a rescue. She was worried about placing him because (she says) he barks and whines quite a bit. Nothing we weren't used to with Charlie. In fact, we already think that he's such a social dog that with her gone so much (school and 2-3 jobs), that's why he whined. We heard some whining yesterday but usually when someone left the house and he wasn't getting attention. I'm sure with time he'll settle and become more comfortable.
This one picture was rather a fluke.  He laid down for probably all of 5 minutes until bedtime.  I have lots of other pictures I took of him yesterday – all blurry because he wouldn't stop moving!  Having a two-year-old will take some getting used to … I mean, two in dog years.
Our other additions to the "household" will be staying outdoors. The new baby chicks have arrived!!
Nine Speckled Sussex, four (now) Rhode Island Reds along with one unknown rare breed. One of the RIRs showed up not well and didn't make it. She was cold so Papa placed her in a warm towel but she only lasted a couple of hours after we received her.
The other chicks and hens are all confused now as to the racket taking place out in the coop :).