Today I'm going to share my all-time, favorite dessert. I'm not sure why I don't make it more often. Perhaps I should from now on. Healthy? No it's not. This is the recipe to make once you've given up on that New Year's resolution to lose weight.
I have no idea where the recipe came from originally. My copy is stored in one of these lovely church cookbooks and the recipe was "donated" by my mother.
The original recipe with it's food spatters and misspellings (not my mother's fault).
However, since I can't leave well enough alone and it didn't already have MOST of my favorite ingredients … I've stepped it up a notch and I don't think I'll be going back.
You see, we absolutely love Hershey's Special Dark cocoa in our house. There are some things where it doesn't work to substitute for regular cocoa … but I haven't found many. In fact, when I went to make this recipe I had neither the chocolate squares the original recipe called for – nor did I have regular cocoa. Oh shucks. I'm forced to use dark cocoa. Papa said he couldn't really taste a difference, so if all you have is regular cocoa – go ahead and use that.
Here are the ingredients you'll need:
Homemade Vanilla Wafers – or use the boxed variety if you have to
butter
confectioner's sugar
cocoa – dark or regular will work
eggs
whipping cream, whipped. I remember my mother using Cool Whip growing up as she is lactose intolerant, but I stay clear of that substance as much as possible.
mini marshmallows
marshmallow creme – not pictured above and completely optional; I added at the last minute
peppermint sticks (candy canes)
something to pound the cookies and the candy with. I personally like to use a meat tenderizer like the Pampered Chef one shown above (not an afilliate link).
The instructions have also changed from the original. The biggest change is because this recipe comes from the days when no one had heard of salmonella and didn't worry about feeding raw eggs to people. Now that we have our own chickens and know how fresh our eggs are I'm less concerned about using raw eggs in recipes. However, I know some people would be too squeamish so I developed a way to make this recipe work and still cook the eggs.
Start by crushing the vanilla wafers. I do this by placing them in a zip-top bag and pounding them with a meat tenderizer or rolling pin.
You will then need to mix some melted butter with the cookies and press into a 9×13″ pan and place in the freezer. I know, I know… the pictures only show an 8×8″. I didn't think I'd have room in the freezer for a full pan … but trust me, make the full pan. You'll run out too soon otherwise!
While the base is cooling in the freezer, start on the second layer. Here is where I made the biggest change in the instructions from the original. You see, this recipe comes from the days when no one had heard of salmonella and didn't worry about feeding raw eggs to people. Now that we have our own chickens and know how fresh our eggs are I'm less concerned about using raw eggs in recipes. However, I know some people would be too squeamish so I developed a way to make this recipe work and still cook the eggs.
Update 1/20/2014: Mom reminded me that you could also use an egg substitute instead of raw eggs. She also has tried it with mixing a little of the butter with the melted chocolate and then tempering the eggs. Then you are able to whip the rest of the butter and sugar to make it fluffy.
I started by melting the butter in a small pan, then add the confectioner's sugar and cocoa. You need to temper the eggs – by place a little bit of the chocolate mixture into the eggs and stirring to get the temperature up. Then you can add the eggs to the hot chocolate mixture without much risk of scrambling the eggs.
I left the directions to beat the chocolate mixture. I believe it helps to smooth it out, but with the cooked cocoa version I've never seen light and fluffy. Probably because the butter is melted not just softened. The cocoa mixture goes over the top of the cookie crumbs … and then back into the freezer.
For those of you that have been paying attention … to substitute for chocolate squares, you are supposed to use 3 Tbsp of cocoa and 1 Tbsp of oil to equate to one square of chocolate. I didn't add any oil. I assumed with the butter going into that layer that we probably wouldn't need it. I didn't miss it one bit. There! I just saved you 300 calories … because, come on, you know you're going to eat half the pan yourself!
While the chocolate mixture is cooling, start by whipping the whipping cream.
Here's the second time I bumped this dessert from great to fabulous! While shuffling through the pantry to find the cocoa I ran across a jar of marshmallow fluff. Ladies and gentlemen… this is my weakness. Well, one of them anyway. I could literally sit down with that jar and eat it all myself. Hmm … not a good idea. I better save myself from myself by adding that jar to the whipped cream mixture in the dessert.
We need to add the marshmallow creme (if you're using it) and a bunch of marshmallows (I never measure) to the whipped cream and fold them together.
Go pound a bunch of old candy canes left over from Christmas. It's a stress reliever. If you saved this step until the last minute, you might be able to reuse the bag you used for the cookie crumbs for pounding. Just be careful. It doesn't take long for the candy to punch holes in the plastic. Sometimes I've played it safe and double-bagged, but I decided to live on the edge this time.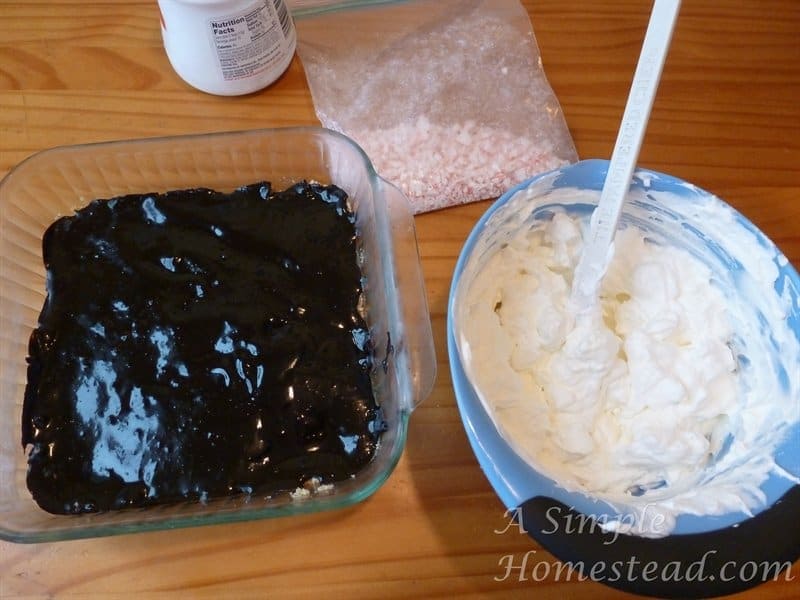 Now that we have the final ingredients ready, pull the pan out of the freezer again. It may not be completely solidified, but having at least a little bit of a "crust" on top will help with the spreading. Oh, and that marshmallow fluff? That adds some more volume to the third layer so you're less likely to have to spread a thin layer – with marshmallow chunks, on top of the chocolate layer. Spread away, and then sprinkle the crushed candy on top.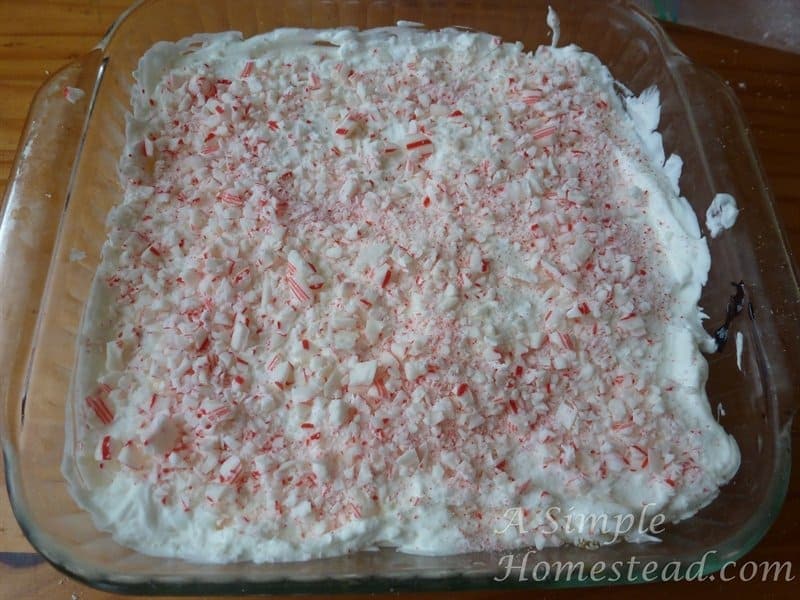 Technically you could eat it now … and the recipe says you can eat thawed, but I've never eaten it any way but frozen. A frozen, creamy, chocolate, peppermint dessert with vanilla wafers… What's not to love?!
Print Recipe
Mint Dazzler
Ingredients
2

cups

Homemade Vanilla Wafers

crushed

1/4

cup

butter

melted

1/2

cup

butter

1 1/2

cup

confectioner's sugar

3

eggs

beaten

1/2

cup

cocoa – regular or dark chocolate

1 1/2

cup

whipping cream

whipped

2

cups

mini marshmallows

1

jar or 1 cup marshmallow fluff / creme

optional

1/2

cup

peppermint stick candy

crushed
Instructions
Mix the vanilla wafers and the 1/4 cup melted butter. Press into a 9 x 13 inch pan. Place pan in the freezer while you work on the next step.

Melt the 1/2 cup butter in a small saucepan over low heat. Add the confectioner's sugar and cocoa and stir until all is incorporated. Add a little bit of the chocolate mixture to the beaten eggs and stir to bring up the temperature. Slowly add the egg mixture to the rest of the chocolate, constantly stirring so the eggs don't scramble. Continue to stir and cook for a full minute. Remove from heat and beat the chocolate mixture with electric beaters until smooth. Spoon over crumbs and set in freezer.

Whip the whipping cream. Fold in the marshmallows and marshmallow creme. Spread marshmallow mixture over set chocolate layer. Sprinkle with the peppermint candy.

Freeze.
Notes
This dessert may be served frozen or thawed.