I'm finding it's rather difficult to get much crafting done with an infant to take care of, and the craft room still looks like a tornado hit it, but I did manage to get a few items done in the past couple of months.
My sister had a birthday at the end of January. I wasn't sure what to get her – and I knew I wouldn't be able to finish my original plan, so I quickly made up a scarf for her. This is supposed to coordinate with the mittens and Peruvian hat I made a couple of years ago. It only took 3 to 4 years to get her a complete, matching set!

(sorry for the bad photo; I forgot to take a picture so my sister sent one from her phone)
I finally finished up (weaved in ends) for all the dishcloths I worked on last fall. They were awesome projects to take to all the medical appointments I had while pregnant… especially towards the end when it seemed I had at least two a week! Just pop a small ball of cotton yarn and a hook in my bag and I had a easy, portable project. A couple of patterns came from Priscilla Hewitt's Five Textured Washcloths (patterns #1 and #4).
Then there were a couple from Lion Brand.  This one is called Almond Back Loop Stitch washcloth.

The next is Bark Sedge Stitch washcloth; I think this one was my favorite, but it didn't work well with some of the variegated yarns I had.  This color worked ok.
For Christmas, I made several washcloths using the Tunisian Simple Stitch (TSS). I loved these bright colors and thought they'd be a cute addition to the "spa sets" I made for a couple of my friends.
I also made makeup remover pads to match. I really didn't have a pattern for either one of these. The washcloth I just made approximately the size of the other patterns I tried. The pads were basically the same pattern as my Simple Kitchen Scrubbies.
What am I going to do with the extras? I have no idea. My husband thinks they are too rough to use as baby washcloths, but personally I think it all depends on the pattern that was used.
And, lastly I finished a couple of doilies. This one is called "Pineapple Star Doily". Several people worked on this at the same time for a CAL (crochet-a-long) in the ThreadAddicts Yahoo group. Back in June 2010. It took me a long time to finish it – and even longer to block it (stretch and pin it).
I recently participated in a Birthstone doily swap, and sent this one off to a woman out east. The birthstone for March is aquamarine, but we could also use turquoise for our colors. In return, I received a doily from PandaMan: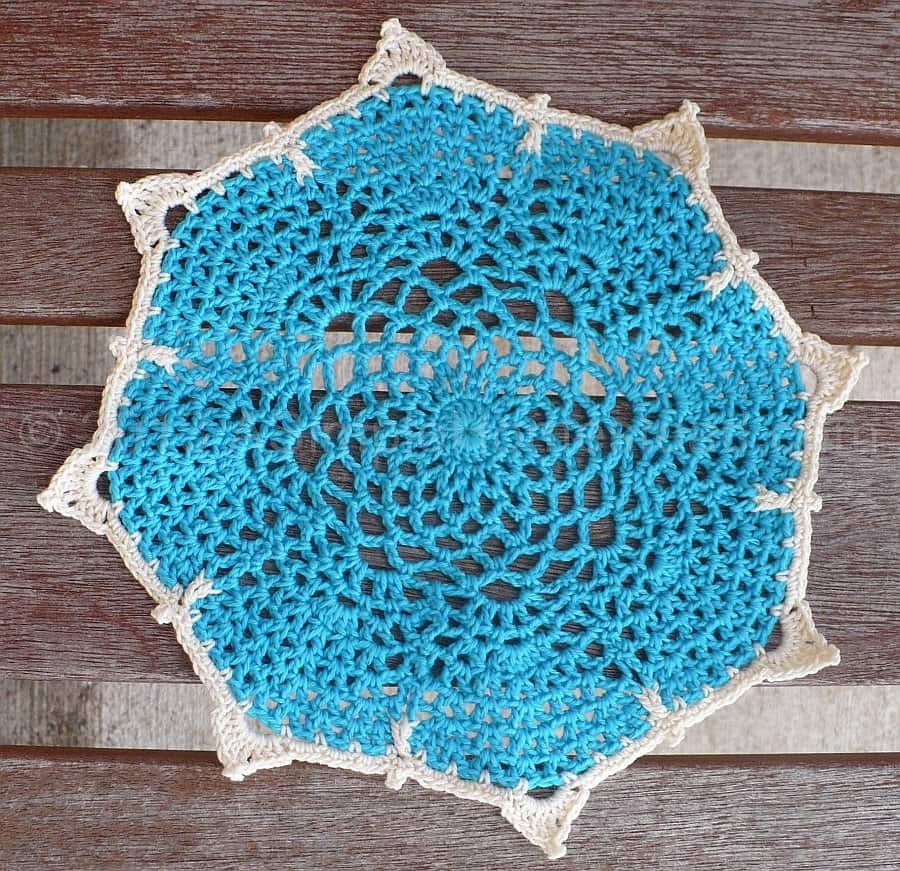 The other doily I finished is called TRISH in tribute to Patricia Kristofferson. She has designed some wonderful doilies – that I haven't been brave enough to attempt yet. This pattern was designed by James Davis (PandaMan) in her honor and looks very similar to her style. I love the look of this doily!
And what does April hold? Well, I've decided I'm going to skip making cards for friends and family this year. I have a few made up that I can use for some special occasions. I'll be lucky if I get the crafting area set up in time before I run out of sympathy cards (they're going fast!)
Doilies are quickly becoming my favorite project, so I have already started another one. It's the first time I've worked with symbol crochet, and in a lot of ways I prefer it to written directions (at least for doilies). If I find time, I should really finish a couple of projects I started months (years?) ago – along with an adjustment to a shawl I made for an aunt. But we'll see how it goes…
What are you working on?