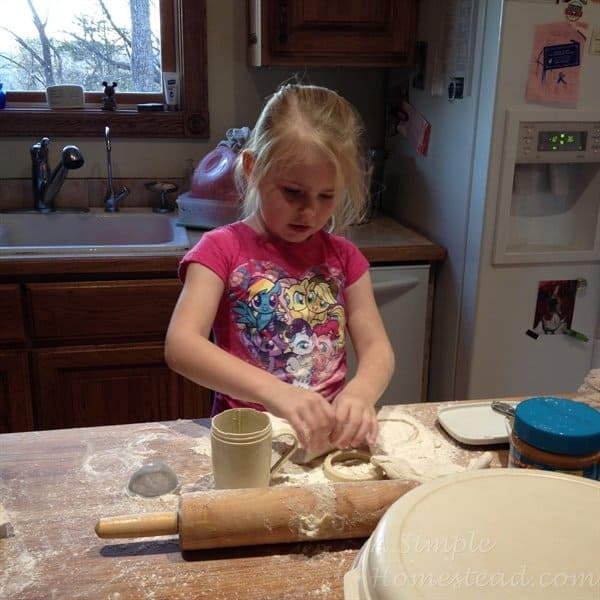 America is celebrating Thanksgiving on Thursday this week. This year, we are hosting the big dinner. Grandma N has been staying at our house the last few weeks as a prelude to our Thanksgiving celebration and will return home this next weekend. We knew there would be a smaller crowd this year and this way she doesn't have to cook.
Both Papa and I come from Norwegian ancestry and grew up with traditions that reflected that ancestry. Of course, that includes food traditions. We can live without lutefisk, but our family loves lefse. There are a couple of local places that make fresh lefse, but this year since we're hosting we thought it would be nice to make some ourselves. So, during a recent horribly-played Green Bay Packer downfall game (i.e. last week), I made a small batch. I quickly realized that I'd have to freeze most of it or there wouldn't be any left for Thanksgiving!
To me, the trickiest part about lefse is getting the right consistency. The way we make it only includes boiled potatoes and flour. Other recipes might have butter, milk (no!), or additional ingredients.
My aunt swears by one particular brand of potatoes – Kitchen Kleen. I think we used a different brand this time, but Papa learned a trick for boiling them. Rather than spend the time peeling, he made a small cut around the circumference of the potato, then boiled as usual. When they come out, the skins slip right off! Well, that is if you can stand the heat on your fingers (I can't).
The potatoes are made the day before and then put through a ricer like this one.
Then you refrigerate the potatoes overnight to cool completely.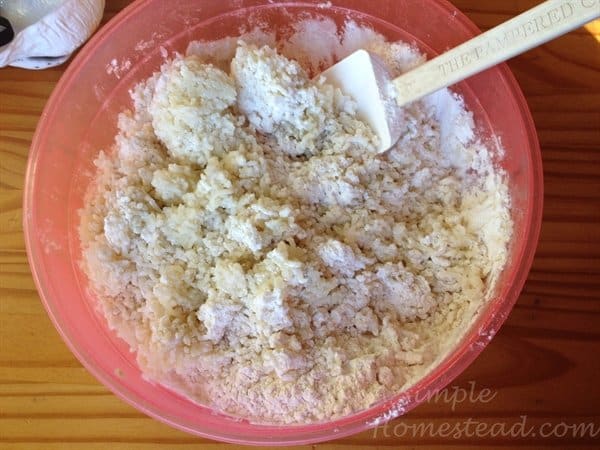 Then you just add flour. How much? It depends. 🙂 Don't you love answers like that? But it's true – it depends on the humidity, how much water the potatoes retained, etc. You want to add enough flour to make the dough firm and not sticky, but don't add too much or it will be dry. As I said, this is the trickiest part of the process.
I've found the best way to make the dough is to use your hands. Yes, it's messy. But it's the best way to determine if the dough is firm or sticky.
These are my favorite tools: a lefse rolling pin, specially made with grooves, a flour duster (you'll need this a lot!) and a pastry board with cover. The pastry board helps because flour gets into the fibers and the dough doesn't stick to it. You'd think the dough would get stuck in the grooves on the rolling pin, but it somehow seems to stick less. I can't explain it, but I tried both the lefse rolling pin and a standard wooden one and had less problems with the former. Our lefse rolling pin also came with a cloth cover – same concept as the pastry board, but I don't use that piece.
Take a small ball (smaller than I originally was making them) and roll them out … as thinly as possible.
My aunt Margaret can roll them even thinner than this, but I aim to get them at least to the point where I can see the writing underneath. If you can't get them that thin because of sticking problems, then the dough needs more flour.
I roll a few times, dust with more flour and roll again. Here's where the grooved rolling pin helped – I'd sprinkle and roll in the opposite direction of where I rolled the last time and it would incorporate the flour into the dough.
The last step is to cook the lefse. For this you'll need a griddle and a lefse stick
for turning. We have a special lefse griddle

which goes up to 500°F … except we somehow lost the control plug for it! Oddly enough, the control from our non-stick griddle works in this griddle but it only goes up to 400°F. It works but it means they cook a lot slower for those that get impatient. 🙂
The Lefse Stick
is basically just a stick that has flat sides. It makes it easier to turn the lefse when one side is done cooking. It needs to withstand the high temperatures, although you're not touching the griddle for long.
The turning stick is also handy for gently moving the rolled lefse over to the griddle. We roll the lefse around the stick and then un-curl it over the griddle a it lays down.
And then you eat it! As they cook, I pile them up under a flour sack towel. The heat keeps them warm and makes sure they stay soft.
Most of the time, we use just butter, but I also like it with brown or white sugar. Papa loves it when he can dip it in ham gravy. Little Chick apparently just loves it … it was disappearing fast! That's why it's hidden in the freezer until tomorrow night LOL!
Mmm! I'm hungry now.