Last April, I mentioned that a neighbor had given us some wool for free. The sheep hadn't been sheared in a couple of years and the fleece was in pretty bad shape. We did some cleaning ourselves but then decided it would be better to turn it over to professionals. We really did want to try the whole process ourselves, but without a good way to clean the fiber (although the screens did work fairly well), card, spin, etc. we were looking at the prospect of a long haul for doing it all at home.
Papa and Little Chick took the yarn up to Kurth Valley Fiber Mill, just outside of Whitehall, WI. Papa was rather excited about being able to see the machines and talk about how they processed the fiber. Meanwhile, I was terribly jealous about their new-found knowledge and experience.
My jealousy wasn't sustained too long. A couple months later, they called to say our fiber was ready to pick up, so we made an afternoon drive to pick it up (about an hour away).
I have to say I expected to see this large shed or building with all the equipment in it. I was surprised to see that everything fit into a fairly small old stone farm building (sadly, I didn't get a picture of the outside; I love old farm buildings!).
There were just three machines inside the building – compact enough to leave plenty of room on the other side for drying racks and a small office space. It makes me wonder why fiber mills seem to be disappearing around our area. I'm sure the machines cost a pretty penny, but outside of that it looks like you could set up a small operation fairly easily!
Although they said our yarn was ready, Papa didn't actually give them a date when we'd come pick it up so it was still hanging on the drying racks when we arrived. In their defense, I think she did actually tell him that they were drying … and we arrived the next day. That's ok – I got see this part of the process too, and learned how they roll up and make hanks of yarn! I've untwisted quite a few in my day but didn't quite grasp how they were made.
We came home with 14 skeins of wool. There are still bits of vegetable matter, but given how dirty and full of "stuff" the fleece was, I think it looks rather good. Total cost for cleaning, carding, spinning, etc. was around $165 which comes under $12 / skein, saving a little bit from what I might pay in the store.
I was drooling over how much fiber we were taking home. And I noticed that Papa couldn't seem to stop pulling skeins out of the bag on our drive back. His excuse: he was pulling vegetable matter out. Yeah, I'm sure that was the only reason!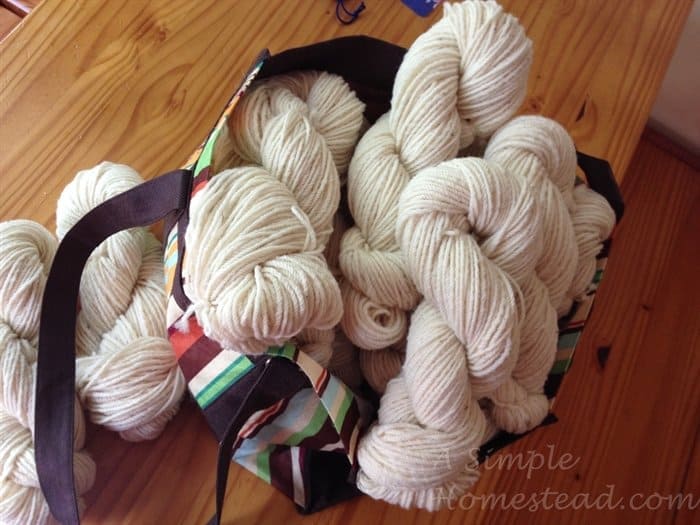 Papa keeps hinting I should make him a Norwegian-style sweater, but I'm not sure this wool would be conducive for that purpose. First of all he told them to spin it "this big", using his fingers as a gauge. He had no clue. At first I thought it might be an Aran weight yarn, but the swatch I knitted up recently makes me think it's actually bulky/chunky weight. For a Norwegian sweater, I would rather work with fingering or no more than DK/sport weight. Also, the fiber itself isn't all that even – there are thick and thin parts. I'm not sure if that's because of the weight of yarn we chose (more noticeable in the thicker yarn?), the type of fleece, or their machinery.
Regardless, I'm thinking it might be better to use this yarn for experimentation. I really would like to make a hat for our neighbor as a thank-you gift, take the opportunity to practice dying techniques, and I could also use this yarn to make Papa some new wool hunting socks (which he's also hinted at).
Look for future updates on what will become of this fiber 🙂