My mother recently sent me a link to this article: 20 Signs You're Truly, Unequivocally OBSESSED with Knitting. Just how would you rate yourself on these?
You're thinking about devoting an entire room to yarn storage. Sigh. I almost had this at one point. Now I'm "down to" a closet … plus whatever is lying around the house. But a girl can still dream…
You plan vacations around yarn. Let's see, a couple of months ago I went on an all-day shop hop with my mother. Not sure if that counts as a vacation. Last year we planned a trip to visit my mother-in-law so it was timed to go to the WI Sheep and Wool Festival. My family won't let me plan more than that.
You keep a project with you at all times – you know, just in case of an emergency. I used to carry a project or two in my car so I could knit over lunchtime. Last fall I changed my work hours, giving me just a half hour for lunch but sadly that meant losing my mid-day crafting time :-(. I never leave for a weekend away without a project … or a dozen!
You can't leave the yarn store without making a purchase. Um, is my husband reading this?! LOL
You know where all the closest yarn stores are, even if you're not in your hometown. Last time we visited my mother-in-law, I discovered there were two LYS (local yarn stores) close by. Hopefully I can visit soon 🙂 Then I just need to discover where to shop in Naples, Florida and I'll be set!
Your email inbox is flooded with newsletters about yarn. Well how else do you expect to find out about the good sales and events?! That's how I found about one of the shops down near Milwaukee – they were on a shop hop but I hadn't heard of them yet.
When it comes to notions, you have three of everything. It's the only way I can keep working on the 10 WIPs/UFOs (works in progress / unfinished objects) in my collection. I need a set of notions for each project bag (which means I have more than 3 of some things!
The vendors at the fiber festival know you by name. I haven't been to enough fiber festivals. The owners of the two local stores know my name though. I figure that's good enough
Family and friends introduce you as "the friend who knits." This past weekend while we were camping, I had two different people say something to the effect of "If you want to learn to knit, Carmen is the best person to teach you". #truestory. I did teach my friend's son's girlfriend (did you follow all that?) to knit. She already knew how to crochet, but wanted to learn to knit. She did very well in the couple hours she practiced! I love enabling others 🙂
You can identify specific yarns and color names just by looking at them. Depends on the brand. I love indie dyers and some of them have very unique patterning. Dye Monkey Yarns, KnitCircus, Marianated Yarns and Malabrigo are a few that come to mind right away. I say it's all about knowing what you like and understanding it fully! Right?
You're thinking about buying an alpaca or an angora rabbit … or a cashmere goat, or a flock of sheep… or how about a Vicuña?
You have several circles of knitting friends. This statement? Not so much. I do have some knitting/crocheting friends, but I almost prefer to knit alone. If I get around too many people I tend to move my mouth more than my hands!
You lose sleep to finish a project. Just one more row, I promise….
You advertise your love of knitting everywhere, from your car to your clothing.  I now have buttons I can add to project bags thanks to my recent purchase at Unwound Artisan Yarn Shop (They say "Yarn Chicken" and "LaCrosse Knitsconsin") (sadly, Unwound wasn't able to survive COVID-19 and closed in 2021).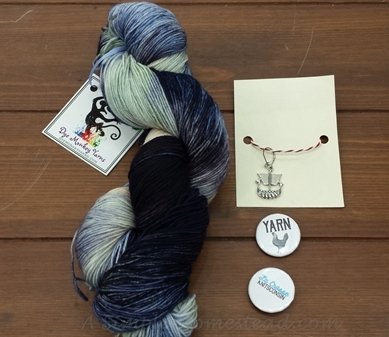 and … my sister-in-law gave me this wonderful t-shirt a few weeks ago!
Now I just need something for my car!
Your pets have names like Knit and Purl. Finally – one that doesn't apply at all! But Finley came pre-named.
Your family members know not to expect store-bought gifts from you anymore. It depends. There are some that are not considered knit-worthy (they don't appreciate it). Others are tougher to judge likes and dislikes. Then there are ones like my daughter and my sister who have a looooong list of projects they want me to make for them!! Not to mention the requests for socks I've had.
You can't watch a movie or TV without knitting. Amen.
Knitters of all levels come to you for stitch help. Yep. Goes back to the statement about being "the friend who knits".
Everything in your home is knitted. Everything? Seriously? Ok, I'm not THAT obsessive. No toilet-covers, ottomans, or cozies for everything here.
You have enough hand knit sweaters to wear a different one every day for a month. I wish. I finally made myself a sweater last year. So that's Day 1. Only 30 more to go…
So what do you think? Do I have a problem? How about you?