Disclaimer: This post contains affiliate links. By making a purchase through these links, we will earn commission that helps to keep A Simple Homestead running – with no additional cost to you. Thank you for supporting us! Read our full disclosure statement here.
This is the third and final installment in the Packing for Camping series. Here is where you will find Part 1 and Part 2.
Other items to consider
Now, remember this is not BASIC camping. You can certainly camp without all this stuff! When we camped this past weekend one of our group had recently come from a backpack camping trip. Everything they needed had to be carried in on their backpack, or they went without. However, we're more in the let's-get-away-but-still-be-comfortable type camping 🙂
I know I've mentioned rain a lot but it seems every year we get at least one rainstorm per camping trip – even in hot, dry August. In fact, when we arrived last Thursday for our camping trip, it was 50°F (10°C) and raining! It rained off and on all through the end of Friday until the sun came out and it warmed up.
I would recommend looking for a canopy. We have one similar to this one. It's great for creating shade over the picnic table when it's hot. At night, we're able to hang a lantern from the middle supports to create lighting so we can still play games or serve up s'mores. Just before our first camping trip this year, we purchased the matching screen because we expected a large mosquito hatch while there. This last camping trip, we didn't need the netting, but the canopy sure was helpful in still being able to eat in comfort while it was pouring rain! Be sure you have good, strong spikes or some type of weights to hold down the sides in case the wind picks up. We like to use steel spikes instead of the plastic ones. For our camper awing, Papa made some concrete weights to tie on.
Our camper always has a stash of clothespins so we can hang wet towels from showers/swimming or rain. We are able to just hang them from the edges of our awning, but if you don't have that, bring clothesline to string between trees! If things are too wet to dry about before coming home, that's when extra trash bags (mentioned in Part 1) come in handy; you can transport them home without getting everything else wet.
In front of our camper we lay down a plastic tarp and a cheap rug (actually a carpet remnant) to help keep the wetness from getting to our shoes. We like to take our shoes off outside so we're not tracking too much dirt and sand into the camper. Still, there always is some that gets inside so we have an old broom – the handle broke off so it fits perfectly in the camper.
You'll need something to sit on unless you plan to sit at an available picnic tables. That won't help if you want to sit around a fire ring at night. We have folding camp chairs – at least 3, although we used to bring 3 even before Little Chick as our previous dog "insisted" on a chair LOL. This year Papa bought me a chair that comes with its own canopy. I'm not convinced I like it.
I would recommend bringing at least a few basic tools along in case of breaks or you need to rig something up – such as a screwdriver, hammer, wrench, etc. We use a rubber maul to pound in ground stakes. One trip we realized that old stand-by duct tape would have come in handy. A shovel can be useful; we have a special folding shovel stored in the camper. It's mainly used to scoop dog poop :-).
A few miscellaneous items we include are: a favorite stuffed toy (aka Mr. Bear), hats for sun shade, sunscreen, insect repellent, medicine – which came in handy for July's fever incident. I also have a mesh laundry bag to separate out the dirty clothes from the clean.
Completely a non-necessity, but this year Papa added some colorful rope lights to the edge of our awning. I know they make battery versions of rope lights too. I have to admit, it was rather nice to be able to come back to the camper without a flashlight (it gets DARK when there are no street lights!). The lights weren't bright enough to draw in the bugs. Oh! A fly swatter – for those pesky flying insects (like mosquitoes) that sneak into your camper or tent.
I can't remember if I mentioned these in the first post, but I make sure we pack facial tissue, paper towels and/or rags and ziptop bags or containers for leftovers. If you bring containers, make sure they are waterproof. Some don't seal tightly and if your ice turns to water in the coolers, your food will turn to soup. Baby wipes make for a quick cleanup of hands or surfaces.
Remember your pets! We make sure to bring dog food and treats, food and water dishes and a couple of leashes. We have one leash that is retractable for easy walking and we use a steel cable when we have to make sure he stays on our campsite. He's spoiled at home be able to wander and doesn't know the rules 🙂 If you have a swimmer and there is water nearby a water dummy or other toy will be well appreciated. We used to bring one with our other dog Charlie, but Finley's Basset legs are far too short to make him a good swimmer.
My last "necessity" is one that we added only a couple of years ago: our first summer camping with Little Chick after she was potty trained. At one of the campgrounds we go to, it's a bit of a hike to get to the bathroom. Plus, it's a pit toilet – often very stinky in August.
Not something I really wanted to negotiate. In the dark. With a toddler.
So Papa built us a night-time toilet. Sadly I don't have a picture of ours, but apparently it's common. Just search for "5 gallon bucket pool noodle toilet" for pictures. We have pretty much the same setup: take a 5-gallon bucket, line it with a kitchen trash bag, place a split pool noodle over the rim for a comfy seat. What I didn't see in any of the articles I read was what to put in the bucket. The first few times we added kitty litter. I mean, that's what kitties do, right? Plus, there are odor reducers in kitty litter. What I didn't like about that method was the intensely sweet smell! What's up with that?! (or was it just the brand we bought?) This year we tried some wood (specifically cedar) shavings we had from a tree cut down. I liked that much better. We keep the bucket inside the camper but you don't smell it. Well, at least not in 3-4 days. We lay the bucket cover over the pool noodles when not in use which probably helps. Plus, we only use it at night. Even so, for Mama that is every night … even if I stop drinking at dinner time! Oh, and don't forget the toilet paper! I've packed that even before we had our indoor toilet as you never know if the campground will run out!
Don't forget the activities!
Papa's favorite activity while camping with a group is to play Cribbage, so we keep an old Cribbage board and deck of cards stored in the camper. (Side note: If you like playing cribbage, we highly recommend investing in a set of these metal pegs! They are SO much better that the plastic pegs!).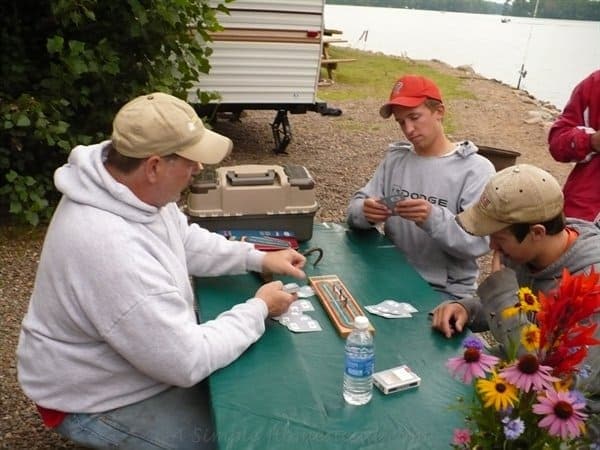 Other compact games like Spot It! are good. This year we resurrected a camping favorite called Farkle that just uses dice. We used to call it 10,000 (ten thousand), but apparently that's a different game – and we were using farkle rules. It was a great game as Little Chick could play. Adding to 31 (cribbage) is still a bit beyond her. Maybe next year. In years past, we used to also play dominoes with our friends. There are several versions you can play. Our favorites were Chicken Foot and Mexican train.
This year Papa did more reading than cribbage-playing. We have made it a habit to try and read to / with Little Chick each night, so books are on the packing list.
I have found that bubbles are a bit hit – with "kids" of all ages! You're outdoors anyway 🙂 I also like to bring pen and paper on the trip. Well, let's face it – I always carry along a stash of markers and pens in my bag so we can always color or draw. I know there are some fun pen/paper games you can play but I've forgotten them (any suggestions?)
My activities are usually taking lots of pictures – which only requires my phone and the phone charger. That's the only reason I bring the phone – I usually don't have any cell service anyway. Of course I consider it mandatory to bring along some knitting and crochet crafting projects … or a dozen.
If you plan to fish while camping, you'll need a fishing license, bait or lures, a fishing pole and perhaps a net. We bring along a filet knife and ziptop bags if we plan to keep and eat the fish (that doesn't happen often; we do a lot more catch-and-release).
Need a good laugh?
Being out on the actual water will require life jackets. On our last trip, we found a place that would rent us canoes and kayaks and they brought life jackets as well. It took some prodding and pleading to get Little Chick to try out a kayak with me, but once she did she didn't want to come out of the water! I wonder if Santa can fit a kayak in his sleigh this year?
In truth, you probably don't need to pack a lot of activities. After all, it's nice to just sit back and relax or go exploring the world around you!
A "before you leave" checklist
On our camping list I have a few items I never want to forgot to take care of before we leave the house. Locking up is automatic so I don't list that, but I want to make sure I check the oil in my vehicle and water the plants, especially if we'll be gone for a week. I also add a note to grab the checkbook to pay for our campsite and "get cash" for those extra items – like meals on the road, buying extra ice when it's hot, renting equipment, etc.
Whew! I know this ended up to be several long posts,
but do you have any suggestions I missed?
Want a printable version of the full list? Sign up for our newsletter for a Camping Checklist and a blank list you can fill out yourself! (Note: the Camping Checklist doesn't contain everything listed in these posts – just a selection of ideas. I would recommend printing the blank list and coming back to read these posts to make your own unique list!)