Yes, I know I posted a homestead update just a couple of weeks ago but it seems like so much has happened since then!
Summer Storms
I didn't mention in that last update, that we were supposed to be camping that weekend. Earlier in the week the forecast was for mid-90s all weekend. And with all the rain we've had this summer, we knew the mosquitoes would be bad at Buckhorn State Park. So we wimped out and cancelled our plans – even though it would mean not seeing my college friends again.
According to our friends, the weather was hot (Friday), stormy and wet (Sat) and the bugs were terrible all weekend. Yes, we may be wimps, but we were comfortable! 🙂
And I'm glad we weren't in a camper when the storms of July 20th hit! (although Buckhorn had only minor storms). At 9am, it was as dark as you'd see at 9pm in the summertime! The winds whipped up, causing tree branches and sticks to hit the windows. After Wave #1, I said we would have to do some major stick-picking-up during the week.
A couple hours later, Wave #2 hit – which actually might have made it easier for us. Sticks and branches COVERED the yard! Papa devised a plan to rake everything into piles and we used Little Chick's sled to haul them over to the ditch.
Our damage was limited to small branches, which was fortunate. Our mailman showed up at 10am (instead of 2pm) because he had to reverse his route. So many trees were down across roads in town that he couldn't get through!
County Fair
Later that evening we went to the county fair. The weather never seems to be very good that weekend – hot and/or rainy. They evacuated people from the fairgrounds three times on Sat due to the weather! But I bet the animals were thankful for the cooler weather.
This is the weather I like!
The stormy weather did do one thing – it pushed the hot, steamy temperatures away. The past couple of weeks have been gorgeous! I've tried to get in as many walks outdoors as possible…
One left…
Blondie is the only hen we have left. A week ago, something snatched Brownie, just as she was headed back to the coop. Papa now has a live trap set near the coop – and Blondie doesn't leave it. We do still have the babies. I guess I have to start referring to them as pullets and cockerels, since we've been hearing one try to crow in the mornings. It's hilarious!
Mary, Mary, quite contrary…
For many weeks now, it felt like our garden hadn't produced much, but with such a late start for everything this spring, it's only now taking off!
Our Sugar Sweet cherry tomatoes are finally getting ahead of what we can eat. The larger tomatoes are beginning to ripen. Every couple of days I go out and pick more lettuce leaves. I can't tell you how happy it makes me to pick my own lettuce, after trying (and failing) for so many years to grow it! And the cucumbers are going like gangbusters. We are picking cucumbers every couple of days as well, otherwise we end up with monsters!
Homestead update: Preserving the harvest
With only an acre of land (and very little of it usable), we can't grow everything that we like to preserve. But we can certainly process things while they are in season!
This last week, Papa canned 18 quarts and 6 pints of peaches to add to our root cellar. He also froze a couple of trays of peaches.
We like to purchase Fay Elberta peaches from a local co-op/warehouse place, Rochester Wholesale Foods. They buy foods in bulk and repackage them in simple containers, thereby passing on the savings to the consumer. I ended up buy three 17 lb cases of peaches – but most of the third case was for eating (by us and my parents).
RWF is a dangerous place to shop as they have all sorts of goodies. When I stopped to pick up the first two cases, they had pints of blueberries for 99¢. I realized that I couldn't pick blueberries for that price (plus, it was HOT) … so when I went back to pick up the third case, I bought 8 more (plus the two from before) pints. My method of preserving is to freeze them on trays first and then vacuum seal them into small 1-cup servings. I ended up freezing close to 20 one-cup bags of blueberries. (From those RWF trips, I also came home with a bag of rice, dried cranberries, fresh local sourdough bread …. and a bunch more I can't remember!)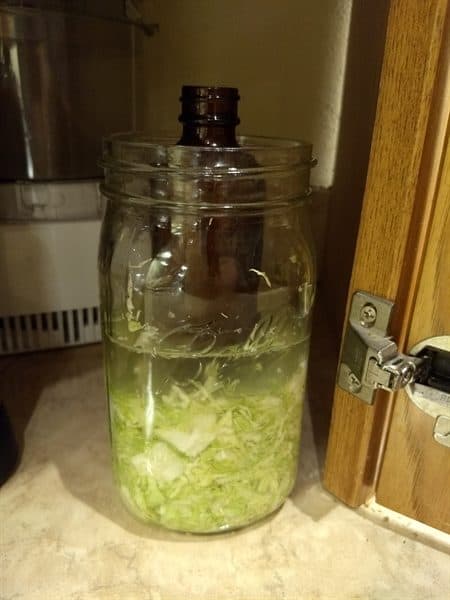 With all the cucumbers we have producing rapidly, Papa decided to try his hand at fermenting pickles. He thinks they taste ok, but I'm not impressed. I'm not sure if something went wrong with the process, or if the herbs he used were old/bad. We may have to try again.
He also made a mini-batch of sauerkraut with a small cabbage we received from a friend. I believe it's done already but I haven't tried it. I don't like canned sauerkraut, however I'm hoping that like most things, fresh / homemade is much better.
VBS
Little Chick had a c r a z y week last week. Summer school started in the mornings (8-11:30am). She's taking Spanish, pottery and cooking for kids. We were teasing her that she was going to learn how to cook Spanish food in clay pots.
In the afternoons, (Mon-Thur) she then had Vacation Bible school until 5pm! It made for long days, especially when also had the last Rookie ball (coach-pitched baseball) game on Monday night (to 9pm) and the VBS counselors over for dinner on Tues.
This year, our church once again hired to have camp counselors from Sugar Creek Bible Camp run the VBS program. They have a lot more energy than our youth director (who is retiring this fall) and the kids love them! We don't have many kids in our church right now, which means most of the kids participating in VBS either belong to a church elsewhere or none at all. I think it gives them a good view of what church can be…
Tea party
Last weekend, we pretty much collapsed from the busy week. Little Chick suggested that she and Mama have a tea party. We had apple coffee cake, cinnamon raisin toast, fresh fruit – and of course, tea. We make up the table with at least some linens and use the fancy tea cups. I love these little tea parties! It's a great reminder to take life slower – and for a chance for the two of us to catch up without electronics interfering (except for the picture I had to take LOL!)
Reclaiming old jeans
The one ambitious spot I had last weekend was to finally fix a favorite pair of capri jeans that I had. A hole had worn in one leg and it was starting to increase in size with each washing.
I had originally planned to make a flower over the hole, but 1) the hole had gotten larger than I anticipated so I thought the flower would be too big and 2) when I tried to make a round sun … it ended up an oval. Little Chick suggested it looked like a lemon. That made me think of adding other embroidery sections with other fruits! I was happy when Papa asked if I had just ironed or sewn on patches to the jeans – and was impressed when he learned they were all hand-stitched. I think my favorite is the watermelon!
…. and Done!
Whew! You made it to the bottom! I hope you enjoyed this week's update… I promise to be back soon with a tutorial I wrote!