I had originally planned to write this post at the end of June … somehow it's now the MIDDLE of July. This summer is flying by too fast for my liking.
Our first bit of news is that we have Chicks!
Baby chicks
They arrived three weeks ago already and so they have already developed some of their feathers and are growing quickly. Oddly enough, I remember this phase as the ugly stage, but our chicks still look awfully cute.
A new home
Just this week, Papa moved them from what has become the brooder coop (the old coop), into the main coop/run.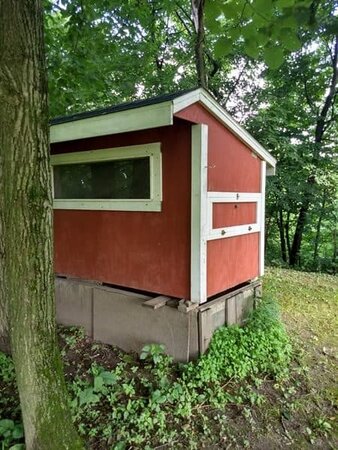 He partitioned off one section with chicken wire. That way the little chicks could still be seen by the older two and they could get used to each other.
The first night, Blondie and Brownie didn't want to go in to roost. They were freaked out by all the changes – and perhaps by the small moving creatures in their coop. The second night was a little better, although the chicks still huddled in a corner as far away from those big monsters as possible.
We know they weren't huddling because of the cold. It's been hot and humid almost every day since the start of July. This week, each day is forecasted close to or above 90, never dropping below 70 at night. They are plenty warm (as am I!)
Papa also created "skis" for the coop and had Little Chick help him move the coop to a new location (with the help of his pickup truck)
He wanted it farther east – closer to the old coop / brooder. I'm thinking we should dig up that soil that was under the old coop and turn it into compost for next year!
Easy smoker
Did you notice that cinder block and wooden box near the coop?
This was one of Papa's other recent projects. The cinder blocks allowed him to place rebar supports in the middle – to hold grill grates. Underneath is where he put a small mesquite charcoal fire. In the back the cinder blocks were turned sideways and he had a small board covering it to regulate the amount of air getting to the fire. That way he could produce low heat and lots of smoke. This setup worked really well to smoke three pork shoulders for pulled pork earlier this month.
Why did we need to smoke three whole pork shoulders?
It's party time!
I recently celebrated my 50th birthday! It happened to fall on a Saturday, so we said we just had to have a party. But I made sure people knew it was an excuse to have a party. I really didn't want or need presents (although I did get some flowers, a bottle of wine and a couple small gifts).
We invited my family and Papa's mother and sisters, in addition to several neighbors and friends. It was great to see everyone together – which is why parties are so much fun! We brought the chicks out for a while so people could see them. Little Chick was allowed to invite three friends and their families, so she had a great time too.
We couldn't have asked for better weather. It was lower 80s, party cloudy, with a slight breeze to keep the bugs away (mostly gnats; the mosquitoes didn't come out until this week – and BOY, are they out now!!!)
Growing and Preserving
In June, Papa put up 12 pints of strawberry jam – one for each month (Little Chick wrote the months on them so we'd stay true to that) and 4 pints of strawberry / rhubarb jam. I'm looking forward to picking buckets of blueberries soon.
Our garden is growing well. For once, I was actually able to grow lettuce and spinach!! That empty area is the spinach. We had many harvests from the plants, but they got so spindly that I pulled them up this week and reseeded.
The lettuce still looks good and soon I hope our cucumber plants will take over that bed. There are also a couple pansy plants – for some color 🙂
The peas plants are turning brown, but we've also had multiple harvests there. Usually Papa pulls them up early and we reseed as well but this year he is thinking of letting the pods dry – for next year's planting and for pea soup.
We bought several Sun Sugar yellow cherry tomato plants again this year; they are just starting to ripen now. They are a great indeterminate plant, so we feed off of them all summer.
In comparison, my pepper plants are tiny. And my cayenne pepper never got taller than 6″. However, I learned a trick this year: every 10 days or so, heavily spray the leaves with a mixture of 1 Tablespoon of Epsom salts mixed with 1 gallon of water. I forgot to put Epsom salts in the hole when I planted both my peppers and tomatoes this year, but this seemed to work.
I have two large purple peppers almost ready to harvest, one "orange" one that is still green and at least 5 ripening peppers on that tiny cayenne plant. Not to mention there are other blossoms, so there may be more peppers later!
What's happening at your place? Feel free to comment below…