My company recently merged two locations into one building. They had planned to do this all along ever since they built a new distribution center a few years ago – eventually. This fall, management was approached by another local company to buy our old building and that put a deadline on our move. Unfortunately, that move ended up taking place on the coldest, windy-est day in January! Brr.
Since this move was taking place and they needed to reconfigure our office arrangements anyway, they bought new (to us) furniture and cubicles.  That meant they needed to find homes for the old furniture.  Managers who had their own offices had really nice desks but most of them needed to have the two pieces connected at 90° – which meant they took up a lot of room.  I found one that wasn't in great shape, but it still looked decent, and more importantly, could be independently used as two separate desks.
They held an auction for the desks – the nicer desks had a minimum bid of $100, some – like the one I wanted, started at $25 and some started at $1. I sent a picture of the one I wanted Papa to approve to use in my craft room. He consented – and lo and behold, I won at the minimum bid!
My main craft table is currently a white folding table – the kind that has a textured surface. That's not so great for paper crafts when you are folding and working with paper you want smooth. It also doesn't have any storage.
My only other table is a little microwave cart that I was using for a sewing table. It's short and has very limited space and storage.
The new desk parts would take the place of both of these tables – offering storage for supplies, fabrics, and a nice large work area!
Except …
Once we got the desks loaded on Papa's truck he announced that he didn't think we'd be able to lift them up the stairs and around corners. After helping him lift it back off the truck-bed and into the garage, I had to agree with him. Those desks are SOLID and extremely heavy!
I thought maybe we might end up turning around and selling them right away. But Papa had another plan: build a craft room down in the basement. It would be easier to move them down than up. Plus, he's been talking about building a craft room down there for several years. The biggest issue would be that we had just recently talked about building a room in that same space and making it an exercise room. So … why not do both in the same room?!
The plan then was to build a room that would be large enough for the desks and my craft stash.
We'd use puzzle-piece foam flooring so we'd have some cushion and insulation for exercising (it's a little dusty and dirty right now). There will be a corner shelf above one of the desks where we plan to put an old TV/DVD player combo so we can watch exercise videos.
Papa's been hard at work on this new room – I can tell he likes having projects like this! In less than a week he had it framed up and then he mudded and taped the joints.
When he worked in construction he owned a texture spray gun, but that apparently got loaned out and never returned. However, he read on the internet that you can get a type of orange-peel finish if you just thin down the joint compound (mud) and roll it on the walls and ceiling with a regular paint roller. I think it turned out great!
This past weekend he painted the room. He calls it robin's egg blue. We were able to use up some old paint in the house by mixing a large amount of off-white with some brighter blue.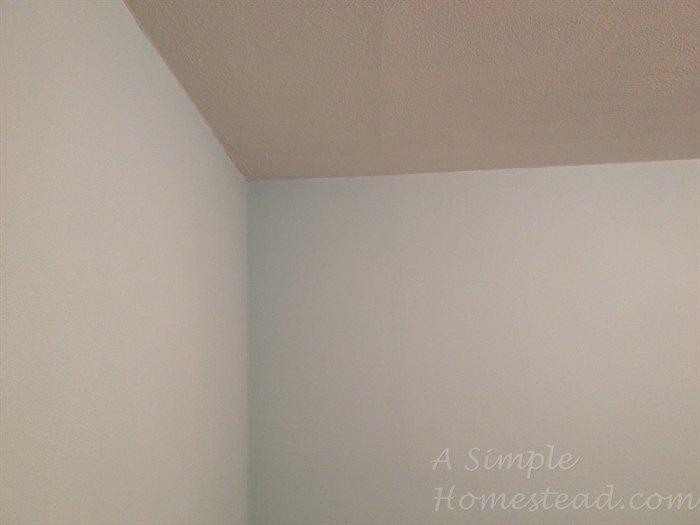 Most of the flooring was installed just this week, but we need to find some more – he bought out everything the store had on hand! We just need three more boxes.
In truth, the flooring probably covered a good 1/3 of the cost of this new room. But it will be well worth it if we start to see our waistlines shrink!
Now, here's the interesting part. Little Chick and I are leaving for our annual trip to Florida to visit Nana and Da (Grandma and Grandpa) soon, so Papa will have uninterrupted working time for the next week! He has plans to install a baseboard – which will help hold the flooring down. I'm guessing he'll get a friend or two to move the desks downstairs. I hinted he needed to install some shelves for my crafts too – we'll see if that gets done. I got tired of waiting for shelves in the current craft room and put them up myself. I'm looking forward to seeing what he gets done while we're gone!  And then, maybe I need a week to myself so I can get it all organized!
We're thinking the current craft room could turn into a playroom for Little Chick. Someplace that can house her toys – especially the large ones like the play kitchen, the castle Papa made for her last year, etc. Maybe we can reclaim our living room again :-).
I'll keep you posted as to how the new room turns out!