I'm finding it hard to believe it's almost the middle of July already! It seems like we just put the garden in a couple of weeks ago and I should still be planting.
Actually, our garden is looking a little sparse right now. We've already harvested the 1st crop of peas that were planted and the second planting hasn't come up yet. All that's visible at this point are a few beans, onions and some yellow cherry tomato plants I started from seed. For some reason the carrots never popped up, although I think we may have had too many gardeners not knowing what the other was doing this year and the seeds may have been dug up :-(.
Papa managed to freeze several bags of peas from the first crop. That was surprising; for a while we weren't sure we'd have any left! The rabbits around here have been breeding like … well, rabbits. So we made sure we had a fence up around the garden (only deters them; some are still finding their way through). The fence also deterred some other thieves: a certain little girl loves to eat the peas straight form the garden, as well as this pea-snatcher! He would live on peas (and carrots) if we let him.
The chickens are all doing well and laying more eggs that we can keep up with. Since neither the neighbors, nor Mama like to have them completely free-range, Papa set up a deer fence off the chicken yard that extends their grazing area even farther. Both the wood fence and the deer fencing are easy to move when they've eaten down an area. I never realized how invisible deer fencing looks; I keep thinking the chickens have escaped!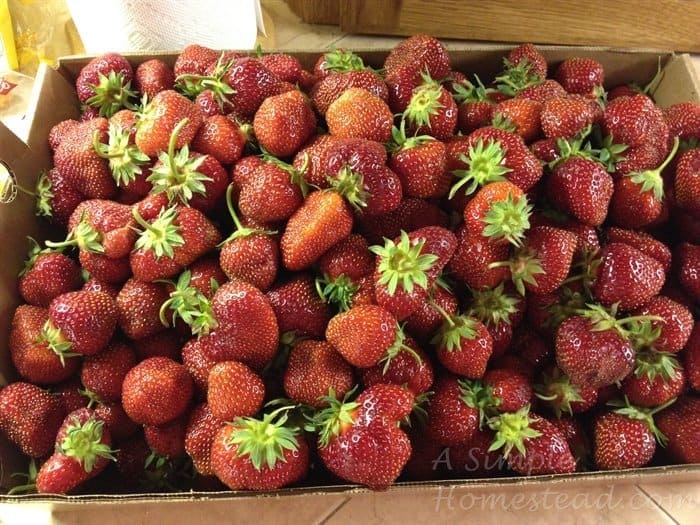 Our little patch of strawberries finished off rather quickly. We got enough to eat … well, for Little Chick to eat. Papa and Little Chick went to the local pick-your-own place to gather larger quantities for jam. Strawberry jam seems to be the fastest disappearing jam in our household. We also have some whole strawberries in the freezer. Good for adding to homemade yogurt!
I thought we were going to have a huge amount of rhubarb this year. This is how it looked at the beginning of May. Now? It's about half this size and looks sickly. Either we've had wild animals or insects attacking it (can't find any evidence of that) or it's time to move this plant away from the black walnut trees too! Fortunately my aunt had an over-abundance of rhubarb this year so we had some to taste.
We should have a great apple crop this year! The apple tree we moved last year (also away from the black walnut trees) blossomed for the first time in 5 years but we don't see anything forming. That's ok – blossoms are a good sign. On the other hand, our Haralson apple tree is overloaded with little tiny apples. Unless we want to do a lot of canning / juicing this fall, we may not even have to go buy bushels of apples – what we have at home may be sufficient!