Remember last fall when I talked about how we hiking on the McGilvary-Seven Bridges Road trail? It was such a beautiful day that I kept bugging the family to go back and do it again. But I knew we had to pick the right conditions. During the spring/summer months it is probably loaded with mosquitoes since stagnant backwaters exist for hatching. Our temperatures had cooled down enough this week that we all jumped at the chance to head out!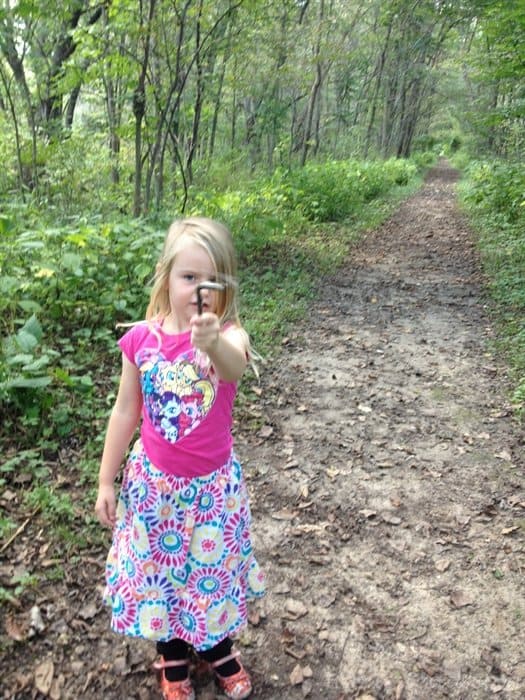 Except … we forgot that it had also rained several inches earlier in the week. We made it somewhere between the 3rd and 4th bridge when we encountered an obstacle … water.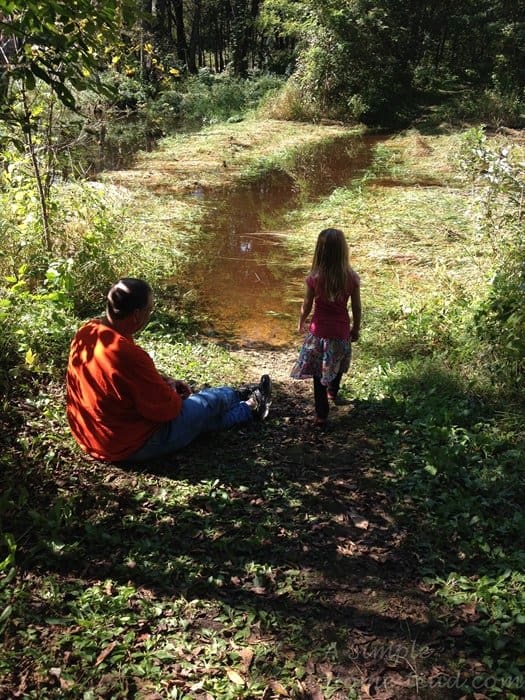 We spent about 10 minutes deciding if we should try and continue on or turn back. Papa took his shoes and socks off and waded across and declared it not too deep. Still, I wasn't sure if I wanted to walk on what looked like pointy rocks. We finally decided that since we were wearing old shoes, why not wade through with our shoes on?! So that's what we did. We all rolled up our pant legs and Little Chick took off her skirt (she had pants on too) … and walked through the water.
Then we encountered another flooded pathway. And another. And ano… well, you get the idea. We crossed 4 or 5 of those before we finally reached one between bridge 4 and 5 that seemed deeper. I said I was tired of wading, and reminded Papa that we still had to walk back through all those waters.
Last year we were only able to make it just past bridge 4 because they were rebuilding some of the trail. This year we still didn't make it to bridge 5 – although we came close. Maybe next year we can finally get all the way out to the end of the trail (just past #6).
We did have one "casualty" along the way. Just as we turned back, I managed to find a mud sink-hole.
I stepped down and sunk to my knee. Startled me more than anything and thankfully I wasn't hurt. It was just a foot-sized hole but somehow I managed to find it. And here I was being more concerned about slipping and falling on the mud. At that point I was thankful we still had 4 more streams to cross so I could clean off before arriving at the car. Not sure if that sock will ever come clean though LOL!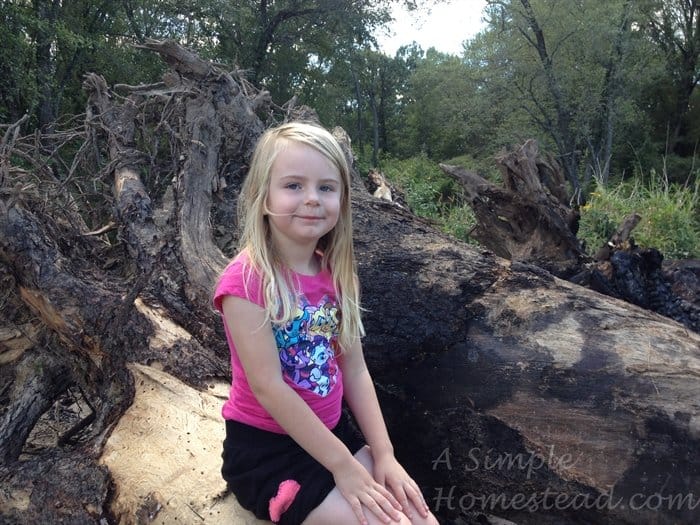 You know what? The whole thing turned out to be a fun adventure. We didn't walk quite 3 miles that day and it took us over 1.5 hours to get back to the car – but we have memories and thoughts of returning again soon. However, next time we'll pay attention to when it rains!