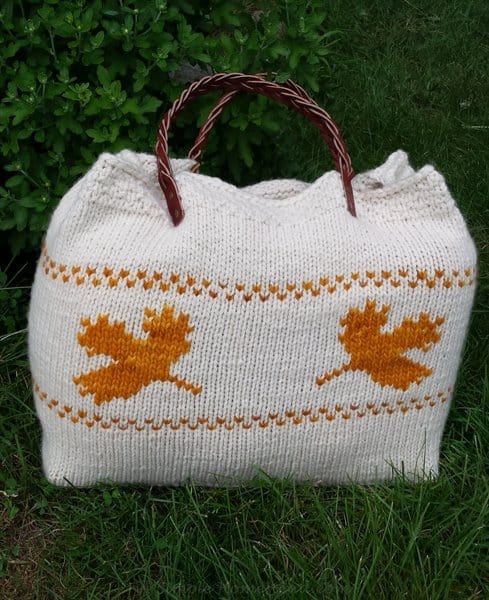 I love autumn. Cooler temperatures, harvesting the garden, picking apples, finding the perfect pumpkin (and eating the seeds), digging out the warm woollies … the list goes on and on. And of course, there is the beautiful changing colors in the trees.
This Harvest Leaf bag can't be worn, but it does make a great tote bag for taking to fall events! It is made using two strands of worsted/Aran wool – or you could use chunky or super-chunky yarn instead. I made mine with 100% wool and debated whether or not to felt it to make it more sturdy, but I decided I liked it as-is.
This is a great project for those that might be new to stranded knitting as there is just a few rows in this project. The leaves are created after the bag is finished using a technique called Duplicate Stitch. It's much easier than trying to manage different colored strands while knitting the bag.

Another great feature of the bag is that the bottom is knit flat and then stitches are picked up along the other three sides. The rest of the bag is knit in the round. That means: NO SEAMING! Once you reach the desired height, you only need to weave in the ends and add the leaf motifs on the sides.

Papa came up with this ingenious way of creating a nice squared and stiffened bottom: he connected fiberglass rods with plumbing corners to create a frame. A thin board rests on top of the frame. It "floats" on the bottom of the bag so they are easy to remove when it comes time to wash the bag.

Papa also created these wonderful braided leather handles for the bag. My pattern testers all wanted similar handles so he's working on making more and they will soon be available in the Shop.
Buy pattern on: