Yesterday was the beginning of fall. Today we are recovering from close to a foot of rain in the last 60 hours, with cool temperatures and the threat of more rain on the way!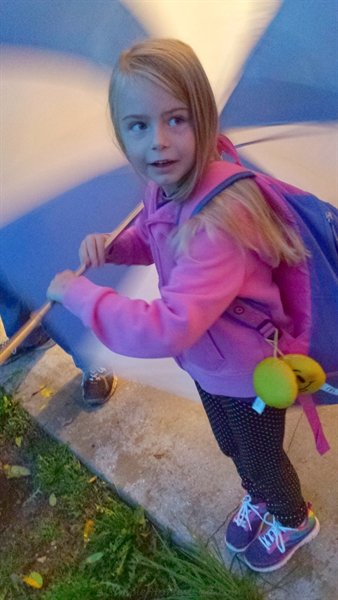 Thankfully we've had temporary ponds and big puddles but no flooding (unlike nearby areas). However, seldom-used umbrellas had to be found, sweatshirts and jackets have been pulled out of storage, and trying to get up while it's dark and stormy is not easy.
Fall is definitely here to stay and in a few short weeks it will be even colder with sn*w on the ground!
Actually, I love fall – I love the colors in the trees, the cooler temperatures, cozy sweaters, pumpkins and apples … I'm just not a happy camper when I'm cold, tired and wet – especially when it's all three!
Fall does make me think of warm soups, thick hearty breads, and other comfort foods, so I'm sharing our favorite chili con carne recipe today. This one comes from our 1950's Betty Crocker recipe book (with a few modifications). The recipe book that has been so well loved over the years that the spine is coming apart!
It's a one-pot dish, which even though I don't often have to do the dishes (Papa does them 🙂 ), it's still a great feature. We make ours in a nice deep pot that might be as old as the cookbook! It's one that Papa's grandmother used for making yellow pea soup and other meals like this.
This chili recipe is so thick you could practically eat it with a fork.  We still use a spoon but often have nice thick, fresh bread or cornbread on the side.  Yum!
The original recipe called for kidney beans, but we've never been a big fan. So we always substitute black beans instead.
It's a stick-to-your-ribs kind of recipe but it's not overly spicy. After all, you're talking about a recipe that us northern USA, Norwegian-Americans enjoy. Spicy for us is a rare exception. 🙂
Print Recipe
Chill-Chaser Chili
Ingredients
3

Tbsp

olive oil

1

lb

ground beef

1 1/4

cups

minced onion

2

cups

or one 14-16 oz can cooked kidney or black beans

1 1/3

cup

or one 10.5 oz can condensed tomato soup

1 1/2 to 2

Tbsp

chili powder

1

Tbsp

flour

3

Tbsp

water

1

tsp

salt
Instructions
In a medium stock pot, add the olive oil, ground beef and minced onion. Cook over medium heat until beef is fully cooked and onions are softened.

Add the beans and condensed tomato soup (do not add water!) and cook for 10 minutes.

In a small dish, combine the chili powder, flour, water and salt to make a paste. Blend into the soup.

Cook over low heat stirring frequently for 30-45 minutes.

Serve hot with crackers, chewy bread or cornbread.