We've had lots of fall activities in the past couple of weeks but sadly we've also been dealing with stomach bugs and severe colds as well.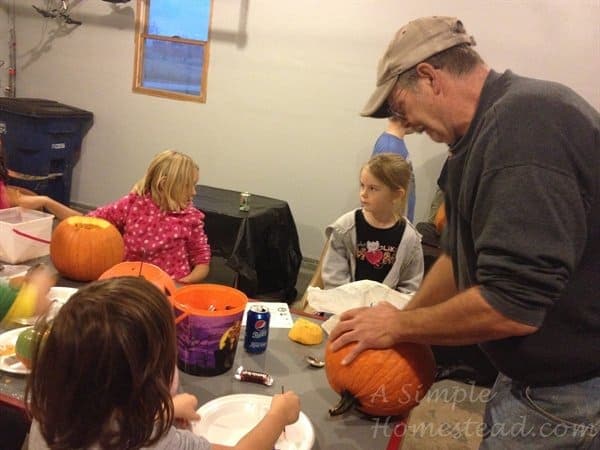 A couple weeks ago, we were invited to a neighbor's house for a night of pumpkin carving. They had tables and everything else we needed set up in their garage for easier mess cleanup. There was a bit of light-hearted bickering as to whether or not the hosts got to keep all the pumpkin seeds (they said it was "payment" 🙂 ) and then we got down to work.
Little Chick was having a tough time picking out what she wanted to carve on the pumpkin or if she wanted to paint it. I finally resolved to have her draw a face on a piece of paper for us and then we transferred that to the pumpkin. Once Papa helped her carve it, she went to work painting. It looks a bit creepy but she named it Twilight Sparkle (after My Little Pony) … which makes sense with all the purple.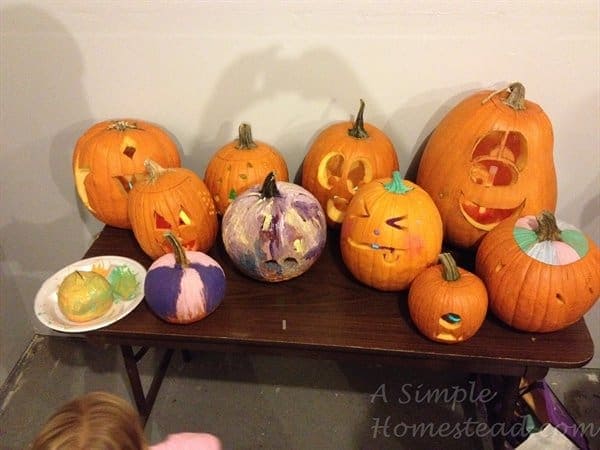 Everyone did a great job. It was tough for the judges to pick their favorites. Little Chick won second prize. The prizes were all candy – nothing big; the bragging rights were bigger LOL!
A few years ago my mother went on a knit and crochet pumpkin making spree – I think because I gave her some orange yarn from my stash. This year, I needed to buy some orange again … so Little Chick said I needed to make another pumpkin. Why? I'm not sure. But I complied. It was a fun and quick little project.
Pattern: Autumn Pumpkins
Designer: Jan Lewis
Yarn: Red Heart Super Saver
Colorway: 254 Pumpkin (of course!)
My Ravelry page
I was having a difficult time nailing Little Chick's costume decision down. It changed almost daily. Time was running out if I was going to make something. Papa to the rescue! A local consignment shop is closing down and he found this lovely red dress for her. She said it looked like Queen Miranda – Sofia the First's mother. With a tiara, wand and red shoes already in our possession, that was easy!
Papa really wanted to help out with our church's Trunk or Treat this year and planned to use an old scary mask costume he had in storage. His costume was also fixed.
That just left what Mama was going to do…
We have been watching a LOT of Phineas & Ferb, probably because it's "new" (to Little Chick), and frankly I like watching it too. I thought a Perry the platypus costume would be easy enough to make up.
I also found these cuties. Little mini Phineas & Ferb amigurumi. They were pinned to my costume for the day and now they are something LC can play with! Except … she's informed me that I need to come up with a pattern for Candace (their sister). Uff da.
Pattern: Phineas & Ferb amigurumi
Designer: Vivianne Russo – Philae
Yarn: various scraps – including the Pumpkin mentioned above
Colorways: too many to mention
My Ravelry page
All I really needed to purchase for my costume was a teal shirt. I was thinking a cheap t-shirt, but Papa went and bought a nice-looking moisture wicking one (he said that was all he could find?!?) I wasn't sure I wanted to go around with Perry on my front all the time, so I used a piece of teal fabric and painted the face on that.
I guess I forgot – the other expense were different colored fabric paints as I just had black and white before. But they can be used for other crafts now too.
I lightly tacked on the fabric panel to the shirt so it could be removed later.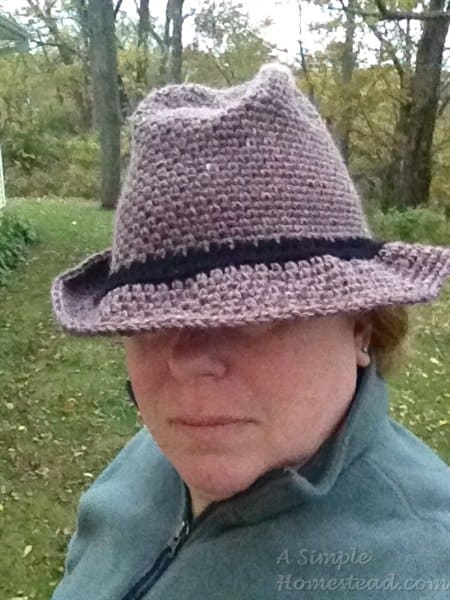 Actually, the first piece I made was the fedora hat. It looks ok in this photo but I made the mistake of washing it. Which softened up the crocheted fabric, so the brim was floppy and it didn't stand up like I wanted. I kept stressing about it until I reminded myself it was only for one day (well, two – I wore it to work on Friday too)
Pattern: Novi hat
Designer: Lthingies
Yarn: Caron Simply Soft Eco and I Love This Yarn!
Colorway: 0005 Twig and 30 Black
My Ravelry page

What really finished off the costume was the tail – crocheted with the same pumpkin orange color!
Trick-or-treating lasted 40 min longer than last year – including spending time at church coloring a picture and eating a hot dog. Last year she didn't want to get out of the car; everything was too scary. This year we hit the trunk-or-treat and walked around a full block before returning. She got plenty of candy – no need to get buckets full, and Mom was perfectly willing to go home to a warm house 🙂