My original plan this year was to try Lasagna gardening – especially since I wanted to increase our garden space and lasagna gardening is a good way to start from scratch. However, about the time I was thinking seriously about the garden, a neighbor found a good source for a soil/compost mix. He picked up a whole trailer bed full for less than $50. Then he offered us the loan of the trailer so we could do the same. What a deal!
I had already convinced Papa to allow our two 4′ x 8′ raised beds to "breed" and become twice that many. He picked up the lumber, painted the untreated wood and was all ready – except he wanted to move the original beds just a bit. After 5 years, the wood on those beds was rotting away so they didn't withstand the moving. That meant he had to build two fresh ones and paint those as well!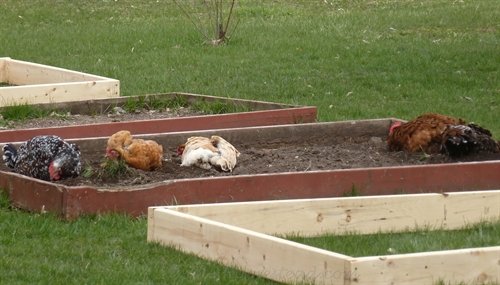 More building meant it doubled our cost for this year. The good news is they now look the same, because there was quite a difference in color between the old and new.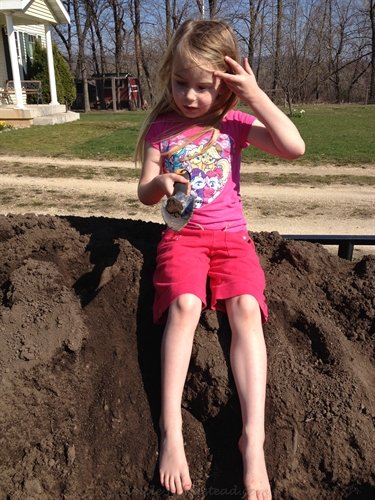 He picked up the soil one Friday afternoon and then he and I toiled for several hours in the sunshine, shoveling dirt into the two new beds and adding to the old. We even had left over soil to cover some low spots in the yard, around the house, and to create a new chicken dust bath area. And then we encountered the whole salmonella debacle and I did nothing for a whole week.
Did I mention our garden beds were double the cost we originally planned? Yeah. Well, once they were in place Mama said something to this effect: "you know, it would really dress things up to have a white picket fence surround those raised garden beds". The scary part? Papa was willing to do the work!
So, he went back to the lumber yard and came home with over $150 in wood and paint. It took almost a full week to get all the painting done. He wanted to get most of it painted before assembling. Good plan, but we should have gotten better paint – i.e. one-coverage paint. The fence has been installed but we'll have to go back and put another coat on it. He's hoping most can be done with a paint roller to speed up the process.
The fence is only about 30″ high; not tall enough to keep out determined chickens (who are "grounded" to the run anyway for our neighbors' sake) or deer or even squirrels, but we stapled deer netting around the inside that should help keep at least most of the rabbits out.
The garden area really is CUTE! Little Chick loves the gate … the latch might outlast her interest in playing with it :-). Papa's decided he's no longer in the same shape he was in (literally and figuratively) when he worked in construction. It was so much exhaustive work that when he was finished he announced it was all an early Mother's Day gift. That works for me!
I almost forgot! Before Papa built the fence, he created a box to hang on the southern side of the deck – where we could plant herbs! My very own herb garden – whoo hoo! Actually, I think he is even more excited than I am – because he didn't wait for me to plant; he and Little Chick took care of it one afternoon. It may be on the south side of the deck, but with all the trees in the back yard it will be partly to mostly-shaded in the afternoons which should offer some protection from the sun. I just hope it won't be too affected by the black walnuts back there.
Little Chick even got into some soil fun. We had a plastic tub in the yard where we used to plant flowers. Last year, we quickly outgrew our fairy garden(s) with all the wonderful ideas, so this year the fairy garden will be in the yard. We found a ceramic painted house, a picket fence and arbor, her hay bale from Norskedalen's Threshing Bee and a few other fairy garden trinkets. They even have a little pond (one shallow container we used last year for fairy gardens). Now we just need to get some pretty flowers and shade "trees" for the fairies! No fairies spotted yet, but there have been quite a few princesses playing in the dirt!