I realized after I posted the other day, I talked about our new garden beds but didn't really explain how they were built!
For the frames, my husband purchased 1×4 lumber. We wanted them to be 4 feet wide, so he cut two 4′ long sections for each of the beds needed. We also wanted them to be 8′ in length. But you can't cut them 8′ long, otherwise there is nothing to nail the sides together. The width of the end boards needs to be taken into consideration.
This is where I think the lumber industry is screwy. 1×4 should mean the board is 1″ tall and 4″ wide – right? Wrong. When the wood dries and is planed, the actual dimensions become 3/4″ x 3 1/2″. But they still call it a 1×4. Whatever.
So the height of each end board is 3/4″ – and we have two end boards, so the sides need to be cut to 8 feet + 1 1/2″ so they can be nailed together like this:
These are "floating" on top of the grass. We don't have them embedded in the ground in any way. That made it easy to replace the two rotted frames – we just pulled the old up and set the new frame down around the dirt.
For the new garden beds, we first put the frames in place where we wanted them settled. Then took some cardboard boxes and laid them out inside the frame. The cardboard will decompose but for this year it should help prevent grass from growing up into the garden beds. After the cardboard, we just threw the 50/50 top soil/compost mixture on top, screeded with a spare board to make sure it was even all around, and raked to make it nice and level … and pretty.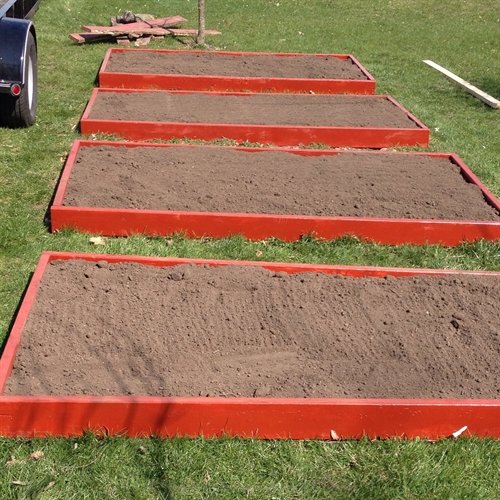 The first couple years we did our gardening square-foot style, Papa installed nails along the perimeter at each 1 foot interval and ran strings from side-to-side to each nail to create an actual grid. The last couple of years I've just eye-balled my plant placings or at the most, run a spade through the soil approximately at each 1′ interval to help with those middle sections.
The nail/string grid idea is great, but we also have someone that likes to do a balancing act on the edges of the garden beds, and we didn't want to risk having her cut by a nail.
Now, I'm not even going to pretend I know all the steps Papa took in building that fence. I know there was a lot of math going on … and re-calculations because the numbers didn't sound right. I also know he had it figured out how much lumber to buy knowing he was going to cut 30″ pickets and determined how many pickets were needed. He also created a guide to use while installing each vertical piece. You may be able to see it in the picture of him – it's a piece of wood the width he wanted between each piece, but then there's an offset piece nailed to the top that slid behind the previous piece so it would be held in place. That left him both hands free so he could use one to hold the next piece and the other for the screwdriver. (side note: just how much time is saved each year by electric screwdrivers?! Inquiring minds want to know!!)
The first section of fence went rather slowly. But we also had to cut down a few pieces because the ground was higher – and we wanted the tops of the fence posts to be even across the top. It was either cut those strips shorter, or do a lot of digging to even the ground. Cutting sounded a lot easier!