Some bug hit me after our trip to Florida – I've been achy, a bit stuffy with a sore throat, and just generally feeling blah.  It's almost like the start of the flu but it doesn't get worse – just hangs on.  It's been negative temps every morning this week and on top of that, we have something planned for every. single. weekend. this month.  Altogether, it's enough to just make me want to curl up and hibernate for a few weeks!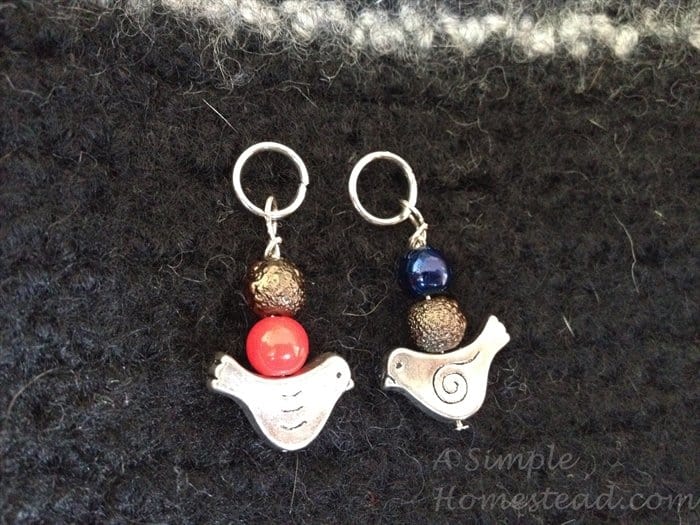 Even if we're not allowed to sleep through the next couple of months, weather like this is great for staying indoors and crafting. Unfortunately, my craft room is still in shambles – most of the supplies are in the guest bedroom and Papa is still working on getting the new room finished. So, I'm pretty much restricted to portable crafts like knitting and crocheting – or using my jewelry supplies.
I wasn't all that happy with the last few sets of stitch markers I made. Some of it is self-perfectionism, but I also felt I needed to go back and relearn the basics of wrapping wires to create loops. One weekend day** my family left and I had the house to myself. Good time to sit down and do some uninterrupted stitch marker-making as there was no one around to walk off with half-finished stitch markers or disappear with the beads I needed.
** ok, so it was Sunday and I was playing hooky from church because I didn't feel well – sorry, God!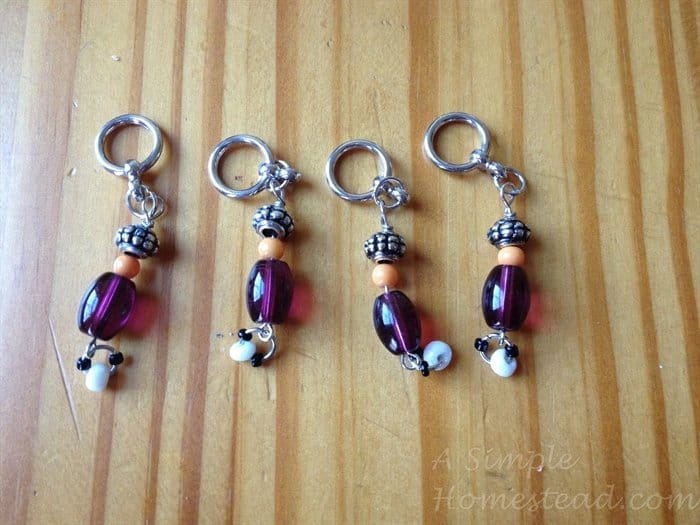 I wasn't sure how the purple translucent beads would pair up with the orange ones, but oddly enough I think this set is my favorite. I sent these off to a Ravelry "friend" as a prize for a contest I hosted.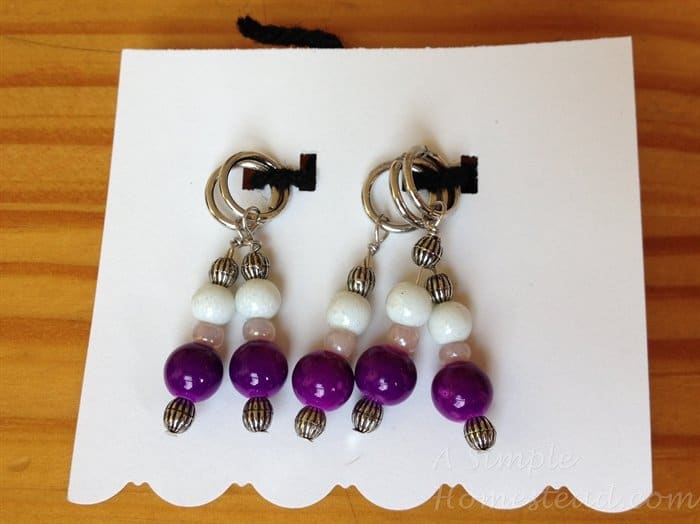 These were a prize to another contestant in the same contest. I was experimenting on how to package them up and came up with the idea to tie them to a small piece of cardstock with yarn. I think it turned out rather cute. Not sure I'll do the fancy edge again, but it did give me a chance to play with my fun scissors!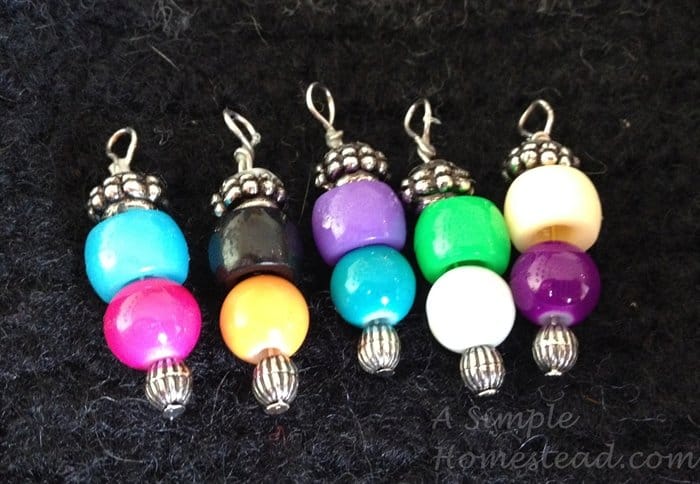 It wasn't until I snapped my pictures that I realized I never added top loops to these fun-colored ones. I guess I still have some more work to do.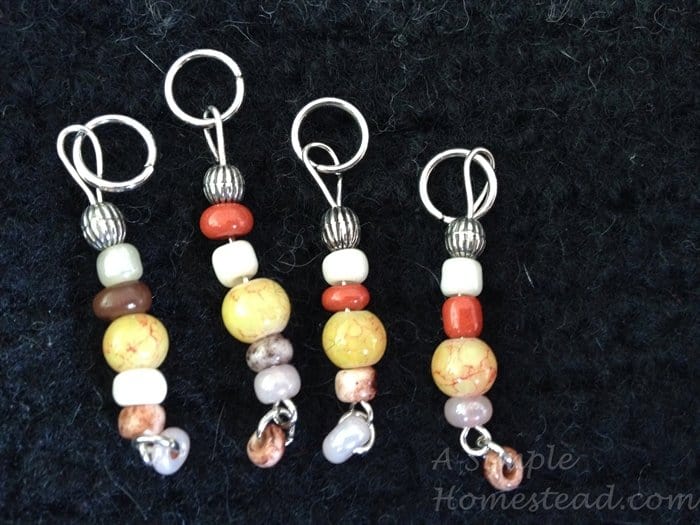 A co-worker and I are trying to get a stitch and um, chat group together for one lunch hour each week. So far, we can't get management's approval even with a name change (they haven't said no yet, just no word back/actual approval). Recently she offered me a boatload of fun buttons that she had meant to use in baby/child sweaters but her baby is now 17.  A few minutes later, Papa and Little Chick surprised me by showing up in the lunchroom as they were out running errands.  For the rest of my lunch hour, Little Chick played with the buttons and was definitely interested in keeping them.
They were such a hit that I wanted to do something special in return. I made two sets of stitch markers for her. The neutral colored ones just above and these clear ones. They're actually buttons (not ones she gave me), but I couldn't see ever using them as such. However, the way they're built they work great for this purpose.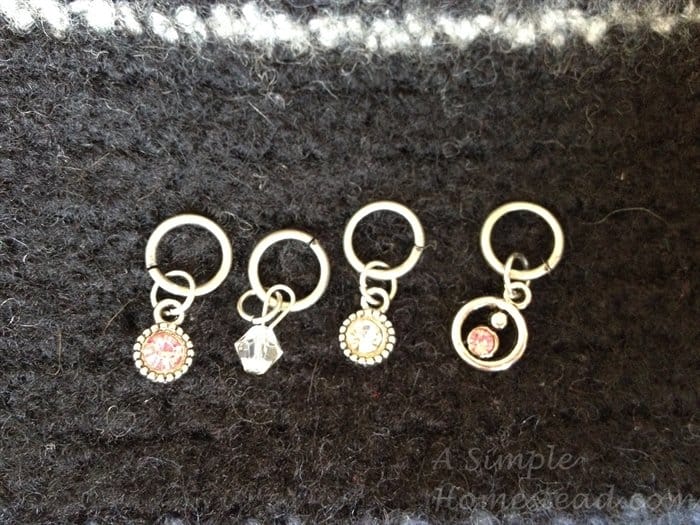 The few sets I haven't given away already are in storage in case I need a quick gift. There were a couple of sets I snagged for myself. The bird set at the top of this post was another favorite of mine; I only had two bird beads anyway. I also kept this miscellaneous small dangle set … there was only one each of them so I'm glad they fit together so nicely. The camera washed out the color from the light pink beads.
The only fiber-related project I've been able to finish in the last few weeks is this red hat. There was a KAL. There was some stash yarn. There was frustration with the Sweater Project. I don't need another reason to make a hat. This one actually fits me perfectly so I've thought about keeping it. Not sure I need another hat though so it may go to charity.
When working on the hat, I really didn't care for this yarn. Even though it's only 50% cotton, it has the same non-stretchy feel that cotton has. Once finished though, the hat is wonderfully soft … and it makes me rethink my dislike of the yarn 🙂
Pattern: Consummate V's Hat
Designer: Noriko Ho
Yarn: Cascade Yarns – Avalon
Colorway: 04
My Ravelry page

What are your favorite crafts to do when the weather (or your health) don't cooperate?