It's beginning to look like Christmas in our household! I waited until the last minute (of course) to figure out what to do for an Advent calendar. Last year we used one my mother had picked up that contained 25 different ornaments. This year though with Little Chick getting older, I wanted to make sure we "marked" each day with some sort of activity and not just let the time go by.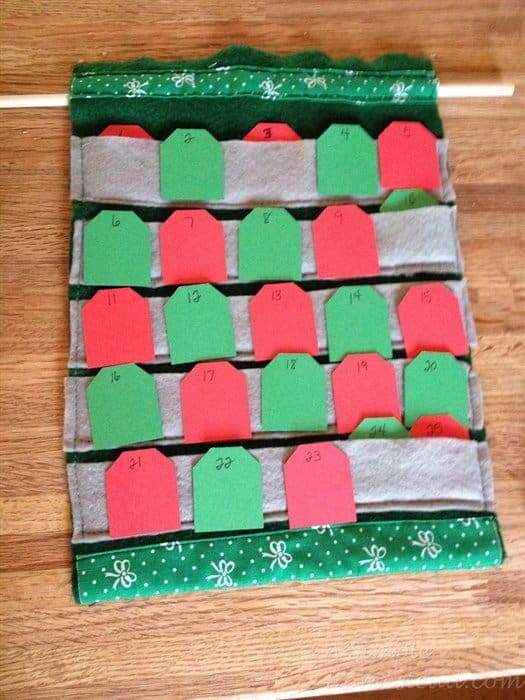 I managed to whip this up in just a couple of hours. It might not have taken that long, but I originally tried to sew 25 individual felt square pockets to the back … but as "sticky" as felt is, they still moved around too much and were horribly uneven. Each day has been marked with some sort of activity. This is what we've done for the first five days:
Day 1: Decorate the tree
Day 2: Watch a Christmas movie (we ended up watching an old VHS tape my sister and I used to watch with Frosty the Snowman and Rudolph: The Red-Nosed Reindeer
Day 3: The Nutcracker
A local college had a late-afternoon abridged version of this ballet on Wednesday. Our daughter's first cultural performance! We weren't allowed to take photos during the ballet so I only managed this snapshot.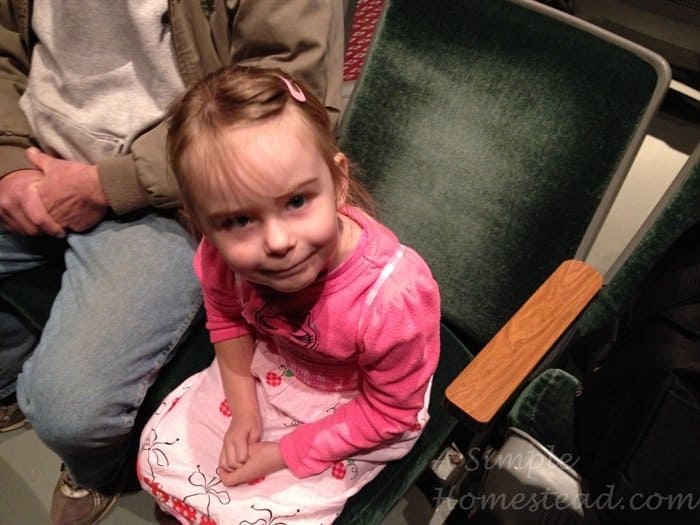 Yes, my daughter is wearing a sundress over a sweatshirt. She wanted to wear the dress and Papa made her wear a sweatshirt and pants to stay warm. But I digress…
The performance was only 1 hour long, which was plenty for a squirmy girl. When asked later what she thought of The Nutcracker? "It was Fantastic!" Oh, she's growing up so fast.
Day 4: Make a paper chain. We made just a short chain (thanks to short attention spans) and added it to the tree. Papa commented that our tree was missing candy canes so those were added last night also. Most were put up high so they'd last more than a day!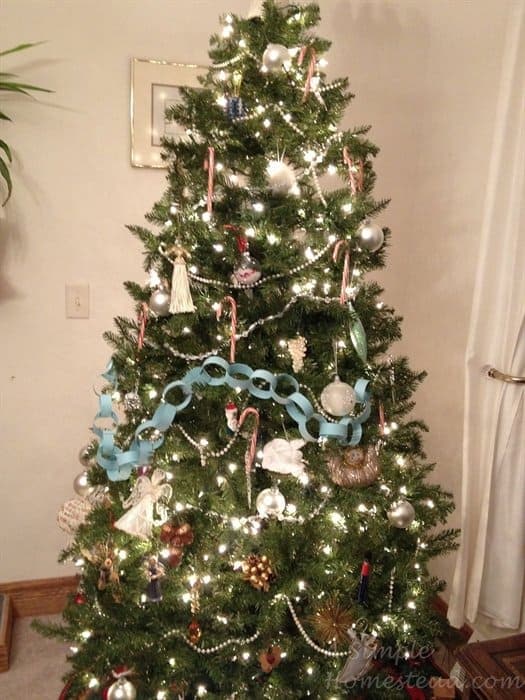 Side note: Does anyone else buy candy canes at the end of the season and eat them all the following year? I love chewy candy canes!
Day 5: Hot chocolate with peppermint (tonight). We've had hot chocolate (or tea) in front of the fireplace many times in the last couple of weeks, but it's such a wonderful activity we had to do it at least once more!
Meanwhile, I've been trying to work on some gifts. Unfortunately, I can't show at least one because I know she reads this blog (Hi Sis!) So I'll just have to show you a non-gift instead. I don't really have a purpose for this hat yet other than I love making hats and it was part of a knit-a-long.
Pattern: Jane + John – this hat is "Jane"
Designer: Ela Torrente
Yarn: misc worsted my aunt gave me this summer; it might be Red Heart Heathers but I'm not sure
My Rav project page
The color in the picture above isn't accurate – it's really closer to the one below and is quite pretty.
I'm also working on an Anna-style cape (from Frozen) for my daughter. Seems like "miles" of stockinette to work on. I'm getting to get point now where I might have to work on it at night when she's asleep or she'll figure out what I'm doing.
I was sort of at a loss for my husband for Christmas since we nixed a bigger gift to each other this week. I swore I wasn't going to buy any more yarn until 2015, but I ended up picking up these colors yesterday which I think should work for Green Bay Packers.
(Actually, these colors aren't exactly accurate either … stupid fluorescent lights!)
I'm thinking of making him a headband / ear-covering and maybe some fingerless mitts, but I'm not sure when. During my lunch hour?