Sometimes it feels as though I'm not spending enough time working on crafts, but when I look back, I've actually accomplished more than expected.
My daughter is growing like a weed and I thought it would be great if I could figure out how to sew up duplicates of her favorite pajamas – and maybe even enlarge them for the future. I grabbed an old flannel sheet that had a tear – so I could practice without using "good" flannel. I used the favorite as a template, cut up a pattern, and sewed them up. I didn't completely finish them because I wanted to just test it out. Plus, the old flannel was worn thin in places and looked awful. Now that I've learned a few tips … next stop, "real" jammies!

Around February I got the itch to start making another doily. I found a cute but simple looking Japanese pattern called 26-224-AMI Flower-patterned doily (free). I thought about using this as a project during my travels to Florida – but I actually finished it before I left! So I quick blocked it up and gave it to my sister when we met.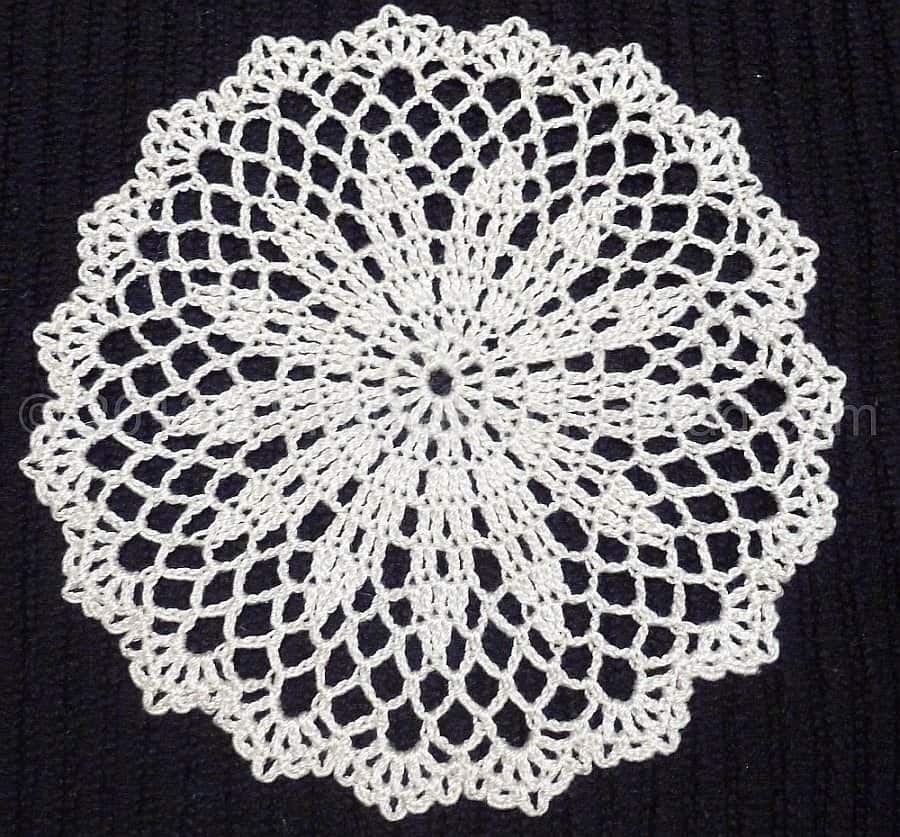 The next project is a little sad for me. Last year around this time I began working on a cardigan sweater for my daughter in a slightly larger size so she wouldn't out-grow it right away. I had completed all except one front placket and the sleeves, but sometime during the latter part of 2012, I had to move the project … and lost the pattern. I think I found the same pattern online, but I was sure I was making a 3T and the online pattern didn't have that size. A month ago, I ripped it all apart. I couldn't guarantee the size and because if it was a 3T, my "sprout" will soon be out of that size anyway.
Despite all the growing going on in our house, Little Chick is still short enough she needs a stool to stand at the sink to wash hands and brush her teeth. Our problem was that the stool we had had these hard non-skid ridges on the top that were difficult to stand on with socks or bare-feet. We improvised for a while with a towel on top, but I knew we needed a better solution. So I found some scrap fabric, determined the dimensions, stuffed a folded-over old t-shirt in the middle and sewed it up. It has elastic straps to go over the legs of the stool and to keep it from sliding off.

And now for something completely different … Little Chick and I made these together. I had bought some felt, 1" magnets and wooden letters. She helped me paint the letters and I assembled them to go on our fridge. I started off being precise with one color per letter, but she smeared all hers together and it created a cool marbling effect … so I followed her example and replicated it. Looking back, maybe I should have used more felt colors than pink and orange.
I also "finished" another The Gift Doily, but I'm only going to show a part of it so you can see the colors. It hasn't been blocked yet so it won't lay flat and looks strange. Actually this picture looks strange anyway – it's supposed to be a lovely moss green on the outside. Looks more grey here.
Whew – it's starting to sound like a lot of crafting. But remember when I said I didn't feel like I was getting anything done? Time to do some quick projects … washcloths!
I found a pattern that was printed out in my pattern stash … and then had a hard time locating it again online to link to it. You can find it in the archives at Brenda Stratton – Washcloth. I made two of these in different yarns – one with a finished edge and the bottom one left as-is (which I like better).

When I was pregnant with Little Chick and had to go to all sorts of prenatal appointments, I made a bunch of dishcloths.  I made this pattern before – it's quick and simple, and I like the pattern so I made it again.  It's called Almond Back Loop Stitch washcloth.  I like this colorful one more than the blue one I made previously.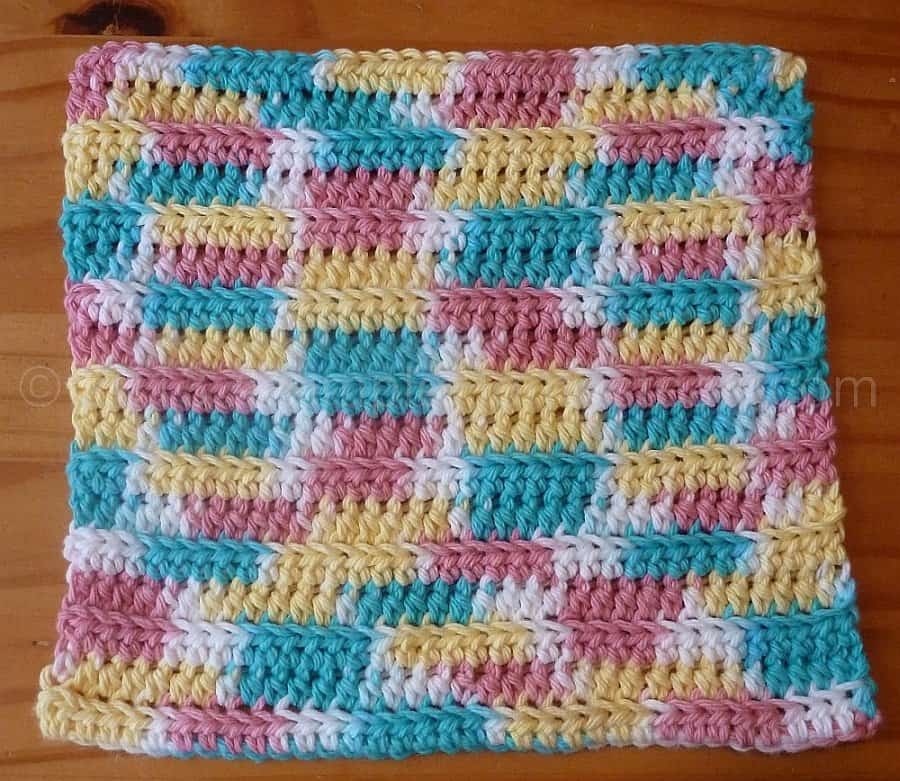 The last dishcloth I made is a design I came up with myself. Just a simple lace design in knit. I'm currently having it tested and hope to publish it as a free project soon. I call it Sick of Winter Washcloth.
Off to do some more crafting…