My latest design. I started and was able to finish it during our extended camping weekend last week. I wanted to get it done in time to submit it to Darn Good Yarn for their design contest which ends this Monday, August 12. As I mentioned in a previous Finished Object Friday I used some of my birthday money to purchase this silk blend yarn. I thought it was going to be really soft given that it was silk, and it felt that way in the hanks. But truthfully when you start working with it, it's not as soft as expected.
This was a bigger challenge for me to design because I've never really worked with yarn that has such a variety of thicknesses. Some sections are as thick as worsted or maybe even chunky yarn but others are as thin as fingering.
This is the finished project:
(I really need to lose that double-chin; or find another model).
What was the hardest part about making this? Finding the time to work on it. Even though I was on vacation, I do still have a toddler, we were exceptionally close to lake water, and my husband spent most of the time playing cribbage. The other difficult part was coming up with a name. I chose Potato Lake Rustic Cowl because I started and finished it while camping at Potato Lake and it's a rustic looking cowl to me.
I like how this turned out. The color of course is one of my favorites. I just might not wear it for a couple of months because it is rather warm.
The pattern is fairly simple – I created a loop on circular needles and did a variety of knit rows with alternating lace rows which you can see better here.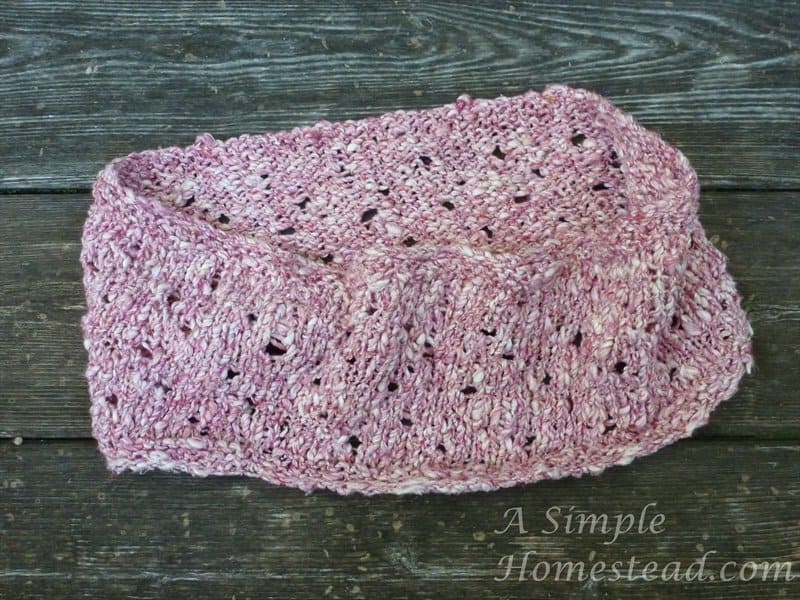 I opted not to block it because I hate blocking, but also because I think this pattern probably looks better in it's "rustic" form. Now I just have to decide what I'm going to do with the other 5 hanks of this same yarn. This pattern only used up one!
I mentioned in the same previous FO Friday post that I had also received some Schachenmayr to use in another design contest. I'm getting close to finishing this design as well.
I'm struggling to come up with a name for it. Any ideas? (It's a hat in case you can't tell).