Last night I made four more wine bottles. The pictures don't do them justice because I think they turned out really well. Now I just have to figure out who the recipients will be! 🙂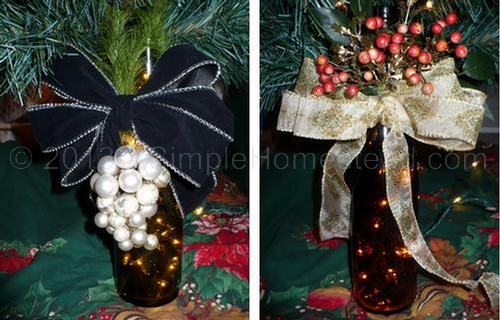 A little more detail on how these were made. One of the worst parts of the whole process was getting the labels off the bottles. Some came off easily and others had to be scraped and lots of Goo-gone.
I purchased a special 1/2″ glass drill bit from Fleet Farm ($10). You must keep the drill bit lubricated otherwise it gets too hot – Papa managed this by using a wallpaper tray filled with water and submerged the bottle so it was just under the water line. You can't apply a lot of pressure – just take your time and work the hole. Let the drill bit do the work for you. He shattered one bottle in the trial-and-error period, so you might want to start with a bottle you don't care about.
I used sandpaper to dull the sharp edges around the hole. When inserting the lights, I also temporarily taped the edges with masking tape to protect the lights and the plastic coating on the wires (and my fingers).
When purchasing lights, they need to be individual lights. The ones with the connectors to another set of lights won't fit into the hole that was drilled. I found I liked the white lights better than the colored ones – but then that's true for Christmas trees and outdoor lights too.
The best ribbon for making the bows is the kind with wired edges. They hold their shape better when you're trying to form the bow. The other decorations can be whatever you like. I found I really liked the "berries".
Oh, and be sure you have plenty of hot glue on hand!!