I haven't posted recently because I've been trying to stay away from the computer so I keep working on Christmas gifts.
One of the few projects that I can actually show is I've been experimenting with making lighted wine bottles. I bought a drill bit for glass, and Dave tried it out a week ago. The trick is that you have to keep the bit lubricated, so he put it in a bin with water. I had already bought the lights and decorations last year and always have plenty of ribbon on hand. My friend Kathy showed me how to make the awesome ribbons. Here's the first one I made:
Here's an afghan I'm making … but I can't say who it's for … yet!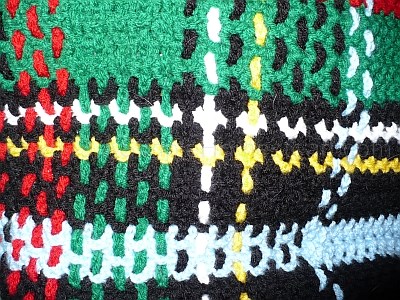 Another Christmas teaser…

And yet another Christmas project:

And a final present.

In addition to working on those, I've also been working on a couple of things to take a "break" from the presents. I volunteered to test these granny square patterns for Donna Mason-Svara. The pattern for each is for sale at http://SmoothFox.etsy.com. The first granny is called "Fox's Little Boxes".
This second one is called "Fox's Granny Square". I thought this one was more complex to make than the first one, even though it might not look it. Both were great pattern though.
Ok, enough playing … back to work! I'll try and remember to post full pictures of the presents once the recipients have received them.