January went by in a blur! Granted, I spent the first two weeks under extreme stress trying to prepare for a major install on the 12th, but still…!! Basically, to me this past month was all about stress, weather and crafting. The latter is the only part that hasn't been stressful.
Anyone living in the US would have heard, or experienced this past week's "polar vortex" so this isn't news, but for anyone else let me give you a idea of what we've been through. You see, January started off brown and mild. We even had a 54°F (12°C) day early in January along with rain, but very little snow. In a matter of 10 days we had two major snowfalls, one of which was 7″ (18cm) and then we were hit with cold.
The cold snaps that usually follow snowfalls are what make me dislike winter – but this was extreme! School was called off this past Monday due to snow and then Tues through Thurs due to life-threatening cold. Wednesday I took a vacation day so I wouldn't have to risk going into work. I think we reached a high of -10°F (-23°C) that day. Thursday morning I drove into work and my car read -36!! (-38°C) It was INSANE. So many people couldn't get their vehicles started. I heard that places in the area that sold batteries were overrun with customers. Papa even had trouble with the temperature gauge in his truck.
That glow in the background? It's a heat lamp, not a fire. We stopped using a heat lamp years ago for our chickens due to safety concerns and also because we felt it was bothering them to have a light on 24/7, but for these 4 days we felt it was necessary. Papa even put some added insulation in their coop and left them locked in their coop – not that they'd want to come out and walk on the snow anyway! They survived the cold just fine.
Finley didn't seem to mind the cold except for yesterday when finally it seemed to register that his paws were getting cold when he went outside. Otherwise he was ready to take his usual walks down to the neighbors to visit and wander around the woods looking for something to bark at.
And now he's gonna hate this weekend! We're going to have a complete switch (for a couple of days) and it's going to jump above freezing and maybe even rain! Finley hates walking in mushy ground. We'll see how much of our snow disappears before it all freezes back again.
We've been eating a lot of soups and rolls in our house – warming, comfort foods. Someday I plan to post the recipes for these. (The rolls recipe is: Soft Buttery Dinner Rolls)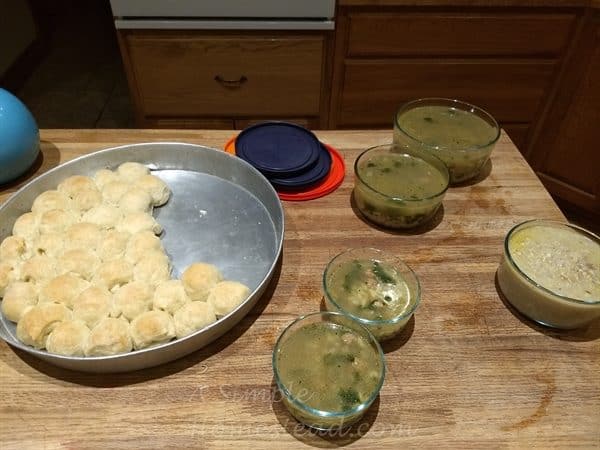 The soups are healthier than all the snacks and sweets we seem to also be making! The scale doesn't like me of late :-(.
I think the weather was starting to get to all of us. Not only was Little Chick home from school for four days this week, but the extreme temperatures meant that Papa couldn't send her outside to play! One night I caught him putting googly eyes on all the pictures downstairs. He wanted to see how long it would take her to find them the next day (it was immediate). I just about bust a gut laughing. It's creepy and hilarious at the same time!!
Little Chick was home for 4 days a couple of weeks ago too – she was sick from Tues – Thurs and then then school had Friday off. She's spent far too much time watching the same tv shows over and over again and watching videos on her ipad. But she's also been drawing up a storm! This is just a sampling of what we've seen come from that creative little brain of hers! (Anyone want to send us a case of paper?! Extra markers? Printer ink for coloring pages? LOL)
I've been knitting and crocheting as much as possible but I'm not ready to show several of my projects. I made a pair of simple colorblock mittens for Little Chick which seem to be growing sideways and shrinking length-ways the more she wears them. I also finished this cute little hedgehog.
It's identical to one I made Little Chick a few years ago. This one is going to a friend of hers that is celebrating a birthday this weekend; she saw LC's and wanted one herself. It should be a good surprise because she asked for it months ago 🙂
ETA: I forgot to mention that this is a free pattern from Purl Soho which you can pick up here: https://www.purlsoho.com/create/2013/02/10/whits-knits-knit-hedgehogs/
When I was home for that "temperature" day, I taught myself brioche knitting! I had tried once before and it didn't click (I don't think instructions on that pattern were very good). And because I have no fear, it's not like I started with a simple one-color brioche. Nope, it's two-color and in the round! I'm understanding now why people like brioche so much. It's soft and squishy and actually, once you get the hang of the stitches, it's not too hard!
Next week, I plan to show you something I made for Little Chick to help her be creative. And once I get some curtains sewn up, you'll get to see Little Chick's new bedroom (it's awesome!). If you want to be notified about blog post updates as well as receive other tips, links and coupons, be sure to sign up for the newsletter! (You can select which topics you want to hear about!)
What did you accomplish in January?
[mc4wp_form id="4638″]