Yesterday was our church's annual rummage sale. It gets bigger every year! And to think that everything they sell is donated – it's wonderful. The money goes towards scholarships for area college students. In past years our contributions have been to donate and to shop. This year, Papa decided he would help even more and spent most nights over at church unloading and helping to set up. There was a LOT to set up – they had a semi-trailer full and it took until Thursday to completely unload and organize it. Friday there were people helping all day to finish organizing and pricing all the items. It's a lot of work. That doesn't include the big clean-up on Saturday afternoon either.
My assistance was to spend the weeknight nights with Little Chick so Papa could get out of the house 🙂 and then shopping on Saturday. Twice.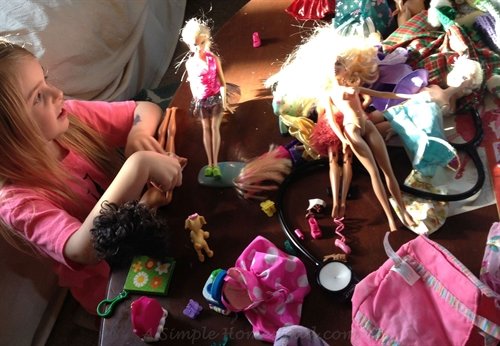 They opened at 7am but I know better than to go that early … it's a zoo! We arrived shortly after 8am and there were still a lot of people. Little Chick had spotted some dolls in the toy area the day before so we stopped there first. She snagged a gallon sized bag with two new Barbie-style dolls, some clothes and accessories. Later, they joined the other dolls and played dress-up on the (disaster of a) living room table most of the day.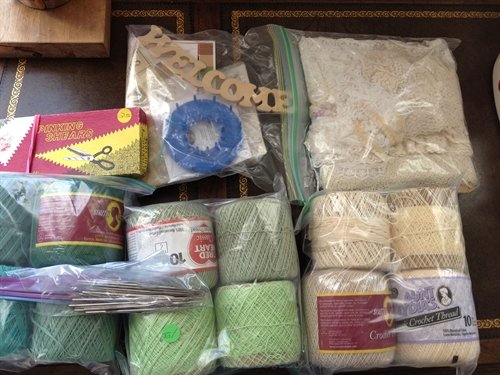 Normally I walk up and down the aisles, looking for items that capture my eye. This time – right outside the little room that had the toys were craft supplies! Awesome. They had several boxes of various crafts and approximately 8-10 bags of thread with 4 spools in each!! Some were full spools but many were partial ones. Of course, I wanted to take them all home but I stuck with just 3 bags, each $1 each. Such a bargain! There was a small bag of steel hooks, perhaps 20 or so in fair to good condition that had to come home with me too. I have wanted pinking shears for a couple years now but couldn't justify the expense given how infrequently I thought I might use them; these were $2 and marked as needed sharpening. Papa lubed them up and sharpened the edges and they're as good as new. Nice heavy ones.
The fifth bag you see is a funny story.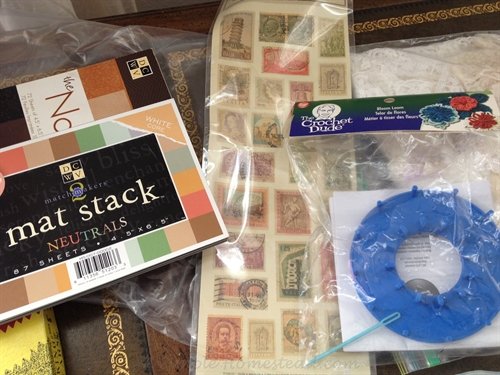 I purchased it because I saw The Crochet Dude flower loom in there. I didn't look much further than that. When I got it home though, it suddenly occurred to me that I'm pretty sure that loom was donated from *our house* – because I'd never used it. It turned out ok though because what I didn't see in that package were two small neutral paper packs and a stamp sticker set. Even better! I'll just re-donate the flower loom again next year (unless I get a request to "donate" it to a friend).
Did you notice earlier that I said I helped by shopping twice? From 1 – 2pm, they have a $1 bag sale: you can fill a bag for $1 (anything that can't fit into a bag is either $1 or free). I just had to go back and see if there was thread left. There was just one bag with neutral colors – which I like. I may have also "liberated" a stash of straight knitting needles which later turned out to also include an afghan crochet hook. I found some little plastic boxes, a couple plastic looms and a mesh bag that held "friendship thread" and lots of colorful buttons.
I was happier than a woodpecker in a lumber yard 🙂
I've always felt there was quite a bit of wasted space on those cardboard inserts from thread brands like Southmaid, Aunt Lydia's and Red Heart. So for a few of the spools that had less than half left, I used my ball winder and was able to put them into small snack-sized bags for easier storage. I've been meaning to do that with my older stash too, but these were easier because they were out and accessible.
I certainly didn't need more thread, but it's hard to pass up such a wonderful find.
How about you? Found any good crafting bargains lately?