This is an exciting week. Little Chick is "Top Banana" at school. She has waited months for it to be her turn. For a 5-year-old, it's equivalent 1/10 her life! Top Banana's wear yellow for the week, they get to hold the door when everyone enters, they get to pick up name clips, and have more responsibilities than I can remember right now. We also get to bring Curious George home, so he can have adventures at our house and we write about it.
While it's not a requirement that we bring treats every day, I had been hearing a lot of the the same treats being served so I'm guessing the teacher is running low on supplies and ideas. Monday, we took dirt cake. It was a huge hit – after the kids realized it wasn't real dirt. We even had plastic flowers and gummy worms for the dirt cups!
Last night I decided we should make caramel corn. Little Chick didn't agree. Probably because she loves butter popcorn with plenty of butter on it. I let her have some … and then got the bright idea to make colored popcorn! I've seen recipes that use drink mix but discovered most require two packages of the same flavor; we only had two packages and they didn't sound like they would be good together!
Then I found a recipe with gelatin (aka Jell-O). I was in luck as it only required one small box (3 oz) to flavor and color a batch. But then we had the trouble that Little Chick and I couldn't agree on whether "berry blue" or "raspberry" would be better.
In looking at the over-abundance of popcorn I had popped, it occurred to me that it might be a TAD more than 10 cups. I think it was closer to 30! I won't say just how much of that we could have polished off if I'd added copious amounts of butter. And be "we", I mean Little Chick and I; Papa isn't a fan of popcorn. 🙂
I know the recipe calls for 10 cups of popcorn, but I always like to make mine a bit light on the coating. It's less likely to end up gooey and you get more end-product that way! I used somewhere between 14 and 16 cups for our blue batch, and there was plenty left over for a batch of red.
The blue didn't turn out very "blue" but I didn't want to add any more food coloring. Besides, taste is where it's at, not the colors! I had to keep tasting it last night to determine whether I liked the blue or the red better #BecauseImFive. In the end, I had to go to bed before the final decision was made.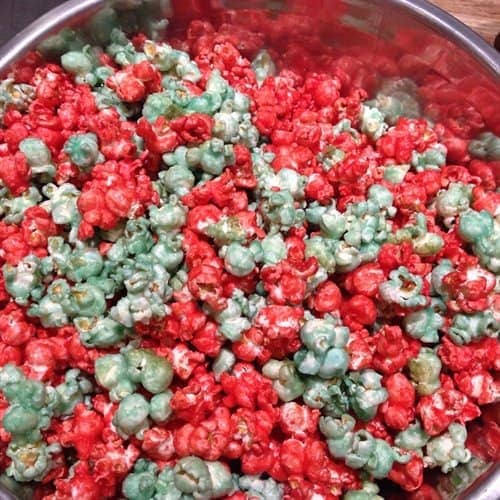 I could have left the two colors separated, but I think it looks even more fun with them mixed together. You can easily mix and match flavors and colors – spring would be fun with lemon (yellow), orange and lime (green). How about Christmas colors? Or a brighter blue with the raspberry, mixed with white-chocolate coated popcorn for patriotic occasions. I might even try lemon and lime for a Packer party next fall … then again, who needs a party?
All I know is, I'm hoping there won't be any left when I get home tonight or I'm going to have to do a lot of extra walking this week!
The recipe is quite simple – melt some ingredients together, bring to a boil, pour over the popcorn and gently bake. The original recipe called for 1 Tbsp corn syrup but risked making without – because I didn't have any! I must have used it up for my Homemade caramels this winter. I don't think this recipe needs the corn syrup; usually it's added to prevent crystallization but as long as you don't stir after it starts to boil, that will help too.
I baked this version a long time (30 min) at a low temperature. I wanted the coating to get nice and crunchy and wasn't interested in having it stick together either in clumps or forming it into popcorn balls. If your goal is stickier popcorn, I would bake for only 10-15 minutes. If you look closely, I had a few spots where the blue popcorn started to brown a bit; it really needs to be watched carefully during the last few minutes of baking so that doesn't happen although it still tasted fine.
What color(s) of popcorn would you make?
Print Recipe
Colorful popcorn
Ingredients
10

cups

popped popcorn

or a bit more

1/2

cup

butter

1 stick

3/4

cup

granulated sugar

3-

ounce

package fruit flavored gelatin mix

Jell-O

3

Tbsp

water
Instructions
Preheat the oven to 250°F. Line a jelly-roll pan with parchment paper or generously grease to prevent sticking.

Place popped popcorn in a large bowl with enough room for stirring.

In medium, 2-quart saucepan, combine butter, sugar, gelatin and water. Stir and bring to a boil; boil for 4 minutes but do not stir. Watch carefully – if it starts to brown, remove from heat immediately!

Pour mixture over popcorn and stir until kernels are evenly coated.

Pour colored popcorn onto jelly-roll pan and bake for 20-30 minutes, stirring every 10 minutes. Watch carefully for the last few minutes to be sure it doesn't brown.

Remove from oven and let cool completely. Break into clumps if necessary.

Store in an airtight container.