Like many households, pizza is a favorite meal of ours.  It's such an easy meal to whip together and what little kid doesn't like it?  Little Chick went through a phase where she would only eat the toppings.  As a toppings-person, I find that completely understandable.  Then this week she's only eating the crust.  Why?  Because she's two.  'Nuff said.
A few years ago I was getting disgusted by the rising price of pizza delivery in our area – and our rural area's limited selection.  As for frozen pizza?  Eh, I can handle it once in a while but wouldn't consider it my first choice.  Finding a pizza crust recipe that was quick and easy was a Life Changing Event.  Now we hardly ever order pizza from a restaurant … and never buy frozen.  Why bother, when we can make and bake a fresh pizza in the same amount of time?
The original recipe came from Robbie's Recipe Collection: Thin Pizza Crust. If you let it rise a little bit (see notes below), it reminds me of a certain "Hut" pizza chain's Hand-tossed style crust.
Thin Crust Pizza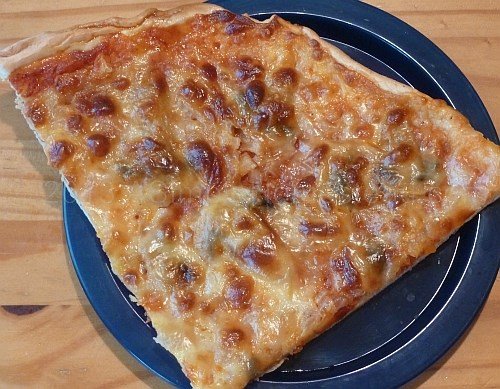 Ingredients:
1 package active dry yeast (equivalent to 2 1/4 tsp yeast)
1/4 tsp sugar
3/4 cup 110°F water
1 – 3/4 cups of all-purpose flour
1/2 tsp salt
pizza sauce
mozzarella cheese
your favorite toppings: pepperoni, sausage, onions, mushrooms, green peppers, olives, etc.
Place a baking stone in the oven and preheat to 500°F.
In a KitchenAid mixing bowl, combine the yeast, sugar, and warm water.  Let the sugar and yeast dissolve, letting rest for 8 minutes.
During this time, prep all your toppings for the pizza to save time later: pan-fry uncooked meats, chop vegetables, and shred the mozzarella cheese.
Add the flour and salt to the yeast mixture. Mix together with a regular beater until it comes together as a dough. Then, switch to a dough hook and let it knead for 2 minutes. Let it rest for a minute and then knead again for two minutes.
Press the dough into a circle on a flour-dusted or cornmeal-dusted pizza peel; if it helps you can use a rolling pin to get it thin and even. Or press into a well-greased pizza pan. Add a thin layer of pizza sauce and your favorite toppings. Top with shredded or thinly sliced mozzarella cheese.
Bake in a 500°F oven for 8-12 minutes or until edges are golden brown and the cheese is slightly browned and bubbly.
Time: Approximately 20-30 minutes for prep and baking time.
Notes:
The baking stone is not required. I've also used a baking pan, but the bottom won't have a nice crispy crust.
The mixer is also not required but would mean you would have to manually mix well with a heavy spoon.
Turning on the oven when you start the dough usually gives it enough time to preheat.
This dough does not need time to rise as we want it to be a thin crust.  If you prefer a slightly thicker crust, give it a few minutes after you roll it out before placing toppings on the crust.