I've learned in the past year or so that I am Sugar Addict. Not something I'm proud of. I tried once before to give up sugar and failed, but one of my goals this year was to try again. I want to at least cut down the amount of sugar ingested, because let's face it – cutting it out completely is nearly impossible because sugar is incorporated into to so many foods these days. Cooking from scratch often helps. Baking for birthdays does not.
Not that I can blame Papa. After all, his birthday only comes once a year. He claims he doesn't need anything, so cooking or baking for him is about all the special treatment he gets (other than additional hugs and kisses). So when the man asks for Pineapple Upside-Down cake for his birthday, his wife indulges … both in making and helping to eat it (sigh).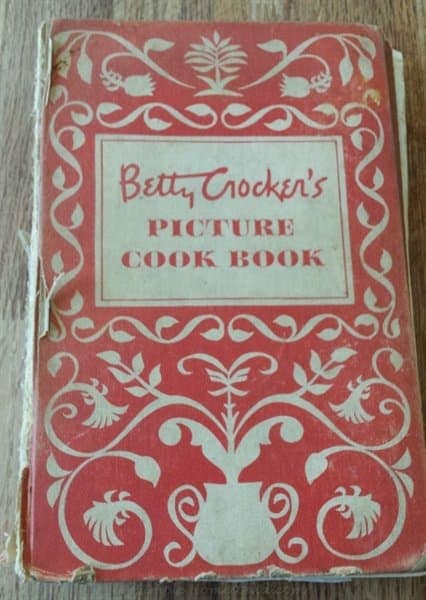 This recipe was adapted from our trusty used-so-much-it's-falling-apart Betty Crocker cookbook from 1950. It's such a wonderful classic cookbook, not filled with instructions that start with "open one can of…". Hee, hee … except this one does start like that! But it's opening a can of pineapple, so it's still Real Food, in my opinion.
I'd call this a one-pan recipe if it weren't for mixing the cake batter separately. But it's so easy to make!

First you start by melting butter and brown sugar in a pan. Then you add the fruit and nuts, after taking it off the heat. Normally we get pineapple rings, but I decided to try chunks this time. I think it turned out rather pretty – and we probably had slightly more pineapple per cake slice this way. I had grabbed a 20 oz can of pineapple; I used only about 2/3 – 3/4 of the can (so approx. 16 oz) and the rest of the juice and fruit went to our fruitaholic, bottomless pit (aka "Little Chick").
There are no maraschino cherries on our cake, because we typically don't keep them supplied in our household. However, they do add a bit of color and fun when used. Technically I suppose the nuts might be optional, but in our household they aren't – it's that whole idea of pecans + brown sugar + butter = praline. Yum!
I believe the cake would be considered a type of sponge cake, although Betty doesn't call it that in the cookbook. The most important part about the whole cake-making process is beating the eggs. In this case, you can't just beat them until they look mixed. They need to be beaten until they look frothy and actually start to thicken a bit. (Wow. Check out those pale looking store-bought eggs! I can't wait until the chickens are laying again!)
Once the other ingredients are added to the eggs, the batter needs to be gently poured over the pineapple. Waiting to start the cake batter while letting the pineapple mixture rest will help. It allows the sugar to set a bit – especially if you have a cool house like ours. Then adding the cake batter won't disturb the sugar.
Pop the pan in the oven and wait for 45 minutes for that sugary deliciousness to finish!
Flipping it over onto a serving plate while it's still hot can get a little tricky. Our tip is to use large oven mitts to protect your hands. I'm not much of a As Seen on TV kind of shopper, but a few years ago we were introduced to the Ove' Glove and wouldn't want to live without ours now.
You can get by with just one, if you place your hand in the center of the serving plate while flipping.
We love to eat this cake for breakfast, lunch, dinner, snack-time. Oops – that's just me. I mean, we like to serve it with whipping cream and slightly warm.
Print Recipe
Pineapple Upside-Down Cake
Ingredients
1/3

cup

butter

1/2

cup

brown sugar

one 16-20 oz can pineapple slices or chunks

2

eggs

2/3

cup

granulated sugar

6

Tbsp

juice from fruit

1/2

cup

pecan pieces

optional

1

tsp

vanilla extract

1

cup

all-purpose flour

1/2

tsp

baking powder

1/4

tsp

salt

optional: maraschino cherries
Instructions
Preheat oven to 350°F.

Drain pineapple slices or chunks, keeping 6 Tbsp of juice in reserve.

In a cast-iron (or other oven-safe) pan, melt 1/3 cup butter over low heat. Sprinkle the brown sugar over the butter; stir and heat until sugar has melted. Turn off heat. Smooth brown sugar glaze.

Arrange pineapple neatly over the melted sugar. Sprinkle with pecan pieces. Optional: arrange a few maraschino cherries among the pineapple pieces. Set pan aside to cool slightly.
Cake Batter
In a medium bowl, beat the eggs until thick and lemon-colored (approximately 5 minutes). Gradually beat in the granulated sugar. Add the pineapple juice and vanilla extract. Sift together the flour, baking powder, and salt and mix in all at once.

Gently pour the cake batter mix over the pineapple/sugar mixture. Bake in a pre-heated 350°F oven for 45 min or until a wooden pick inserted in the center of the cake comes out clean.

Hold a non-plastic serving plate on top of the pan (the plate should be larger) and quickly but carefully turn the pan and plate upside-down. Keep the pan upside for a few minutes to allow the extra brown sugar mixture time to drip down.

Serve warm with whipped cream or ice cream.
Disclaimer: The links above may be affiliate links. If you purchase any products after clicking on these links, at no additional cost to you, A Simple Homestead will receive a small commission for making you aware of these important resources.