It seems hard to believe that it's been four whole months since I last released a pattern. That dry spell is now over as I'm now bursting with energy and ideas again!
Let me introduce you to Crevices Hat.
This hat is so named because it reminded me of craggy rock cliffs. My prototype hat was made using some luscious KnitCircus Ringmaster speckled yarn I picked up early last December. How could I not buy this fun colorway, especially with a name like "Mischief Managed"?!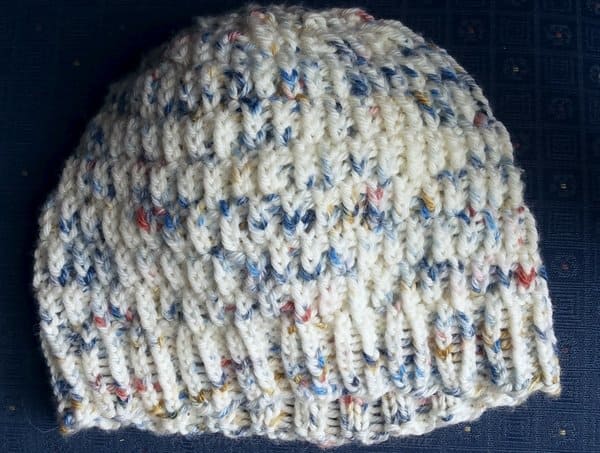 I had never really used speckled yarn before and wasn't sure what to make with it – other than a cowl, and my closet is getting full with those :-). My closet is also overrun with hats too, but I don't care… I love hats! I think this is the perfect pattern for speckled yarns.
The texture looks complicated but it is just a two-stitch repeated pattern – easy enough for beginner knitters.
I originally planned to release this design next Friday, but my testers were all super-quick and one even made three of these hats! Not all their patterns are linked up yet, but you should check them out! Not only does this hat look great in solids and speckled yarn, but the tester's versions were done in neutrals, self-striping sock yarn held double (to equate to worsted-weight), a bright speckled yarn, and even two colors for stripes!
I hope you enjoy this hat pattern as much as I did making it!