I can't believe I'm going to show this picture. I'll just make it as small as possible.
This was me a week ago. Well, January 4th to be exact. You see back in December I signed up to do a three-series walk/run sponsored by the local YMCA. One walk per month for the next three months. I knew it was a risk to sign up for winter walks because it could be frigid in January … and February.
Who knew that we would have -15°F wind chills for the very first walk!  They weren't going to call it off unless it was -20°F … but tell me please:  What's the big difference between -15 and -20?!  It's still dangerously cold.   I decided to skip the December walk and play it safe.  If I remember correctly, Little Chick and I made cookies instead.
One skipped, two to go. I was worried the second walk would result in the same problem as we had horribly cold temperatures the week before. But Saturday dawned to a balmy +25°F and so off I went.
There was plenty of wait time … which was good because I started looking at the other walkers / runners and decided to shed a layer. If I hadn't I would have been too warm.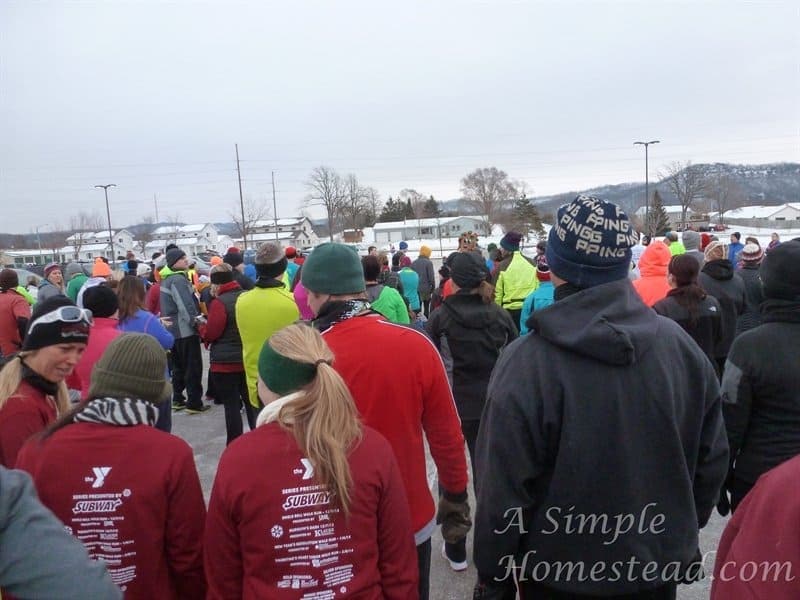 I'm not sure how many participated, but I'm guessing it was a couple hundred. Not bad for January.
And just so you don't think I showed up and took a picture of the start and finish lines, here's an action shot 🙂
I still can't believe I walked a full 5K. As I said it had been terribly cold and I hadn't walked at all in weeks. But the miles actually went by rather quickly.
I managed to stay toward the front of the walking pack and was only passed a couple of times. I managed to finish 1 full minute less than the 5K walk I did last May, which I think is saying something. Walking in January isn't like May. It's cold, you're bundled up in multiple layers, and it just happened to snow a little bit the day before so the sidewalks and streets were slippery and you had to take it easy in some spots.
Now I have to concentrate on the 3rd and final walk in February … and then I signed up for the Festival Foods Grand Half Marathon at the beginning of May. I'm not doing the Half Marathon … at least not this year :-). Last year I walked the 5K. This year I'm hoping to run all or at least most of it. I'm going to have a lot of work to do between now and then…