Unlike last week when I had a massive amount of year-end projects to show off, today I just have one.
Shortly after the new year started I began working on a smaller replacement of the Strib hat I made for one of my great-nephews. You know, one of those that ended up to be so big they barely fit me, let alone an eight-year-old?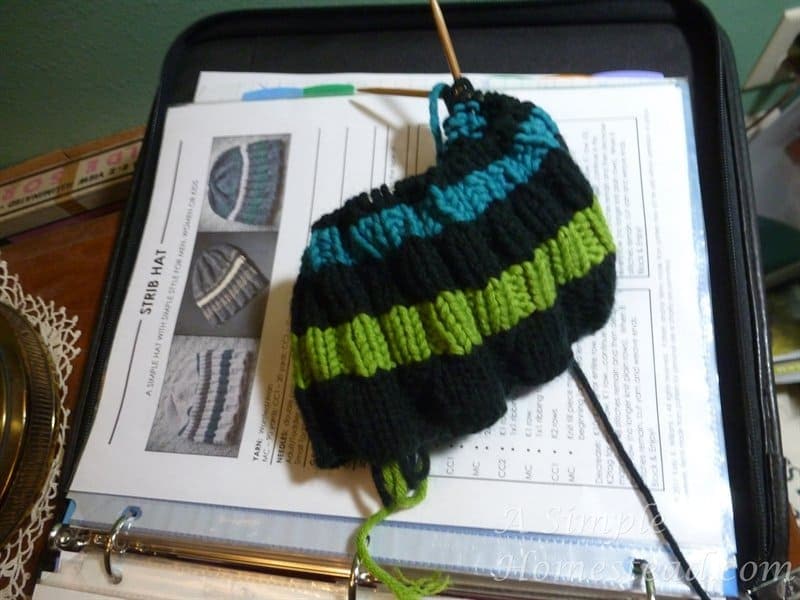 The hat makes up quickly … unless of course you keep getting interrupted, which seems to happen a lot lately. Still, I managed to get it finished this past weekend and ready to mail out. Except we got hit with extremely cold weather so I didn't make it to the post office until yesterday. It's a shame really. I bet he could have used it this week (not that he had school Mon and Tues).
I really like this pattern. It's not evident when you first look at it, but the ribbing changes throughout the main section. So you only end up working a few rows before you're either changing the color and/or you are changing the ribbing pattern. Great for someone that gets bored easily with the stockinette stitch.
Pattern: Strib Hat
Designer: Kelly Williams
Yarns: Caron One Pound; Berroco Comfort Chunky
Colorways: 503 black; 5725 Teal and 5740 Lime
My Rav project page