There is something about summer and the hot weather that comes with it that makes me crave chicken on the grill. But to me, the meal just isn't be complete unless it also has baked beans and homemade coleslaw. It's the ultimate summer meal.
The meat may be a rotisserie chicken from the grocery store, the beans may come from a can, but the coleslaw is always homemade! Because this is our absolute favorite. Other recipes we've tried use too much vinegar, or mustard, or something we can't identify. This coleslaw recipe is consistently good (unless Mama doesn't measure the onions and adds too many! 🙂 )
Now, "homemade" can be a relative term. We often also cheat and buy bagged coleslaw mix with the cabbage and carrots pre-shredded and ready to go. However, if it's readily available, I prefer to buy whole cabbage. A small head of cabbage can end up being twice as much shredded cabbage as those 16 oz bags! Oddly enough, there's still enough dressing for double the amount of cabbage.
I love how simple this recipe is too. You add all the ingredients minus the cabbage/carrot mixture into a bowl and mix. Then you dump on top of the cabbage mix and stir (or you make in a large bowl and dump the cabbage on top). For a little exercise, pop a tight cover on the bowl and shake instead! Easy peasy!
If you use green cabbage – either pre-shredded or not, it will seem like there is not nearly enough dressing for the coleslaw. Just wait – there will be. The acid in the dressing will begin to break down the plant to soften it and more "juice" will appear. For some reason, red cabbage doesn't soften as nicely; while it's a fun color, I don't recommend it for this coleslaw.
After the mixture has been refrigerated for a while, I pull the bowl out and give it another shake or stir again to make sure all the cabbage has been integrated with the dressing. After a couple hours of refrigeration, it's ready to eat!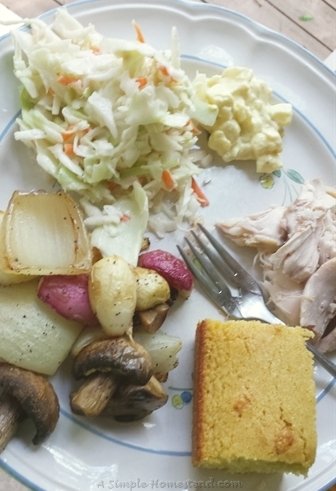 I think this picture is rather funny. Usually my plate has a small pile of chicken and a large pile of coleslaw. I love it that much. Recently we tried roasting some vegetables to see if we would enjoy roasted radishes (we don't care much for raw). They were good, but I think I'd prefer roasted in the fall instead of a 90°F humid day. Which reminds me – I should plant some radishes again soon so we have some for this fall!
Print Recipe
Mom's Favorite Picnic Coleslaw
Servings:
10
– 12 servings
Ingredients
1/2

cup

mayonnaise

or 1/4 cup mayonnaise + 1/4 cup plain yogurt

1/4

cup

granulated sugar

1/4

cup

milk

1/4

cup

buttermilk

2 1/2

Tbsp

lemon juice

1 1/2

Tbsp

white vinegar

1/2

tsp

salt

1/8

tsp

pepper

2

Tbsp

minced onion

8

cups

finely shredded cabbage

approximately 1 head

1/2

cup

shredded carrot

1-2 medium carrots

OR one 16 oz bag pre-shredded coleslaw mix
Instructions
Chop and/or shred the cabbage and carrot into a large bowl and set aside.

In a small bowl, combine the mayonnaise, sugar, milk, buttermilk, lemon juice, vinegar, salt, and pepper. Whisk until smooth. Mince the onion, add to the dressing and stir.

Pour the dressing mix over the cabbage and carrot mixture and stir until well combined. Cover and refrigerate for at least 2 hours before serving. Stir at least once during the resting time.
Notes
Instead of fresh buttermilk, you may use powdered buttermilk. Instead of combining the powder with water, use more milk for a creamier texture!