Did you know it takes approximately 25 hours to create an egg? That's why most hens lay one egg every 1 to 2 days. But when you have multiple hens, that can lead to a lot of eggs!
Don't scrub your eggs. This will remove the protective coating on the eggs the helps maintain freshness. Gently remove dirt and droppings with your fingers under warm water.
Store the eggs in cartons, pointy side down.
Eggs can remain unrefrigerated for days as long as their protective coating is still intact. However the government disagrees (see selling eggs below). Since we sell some of our eggs, we make sure they are placed in the refrigerator within 24 hours.
You can also freeze eggs! I haven't tried this, but there are some good tips you can find at Incredible Edible Egg.
Keep in mind that egg production will be the greatest during warm months and when they have the most daylight. So once you're used to all those eggs … winter comes and production will drop.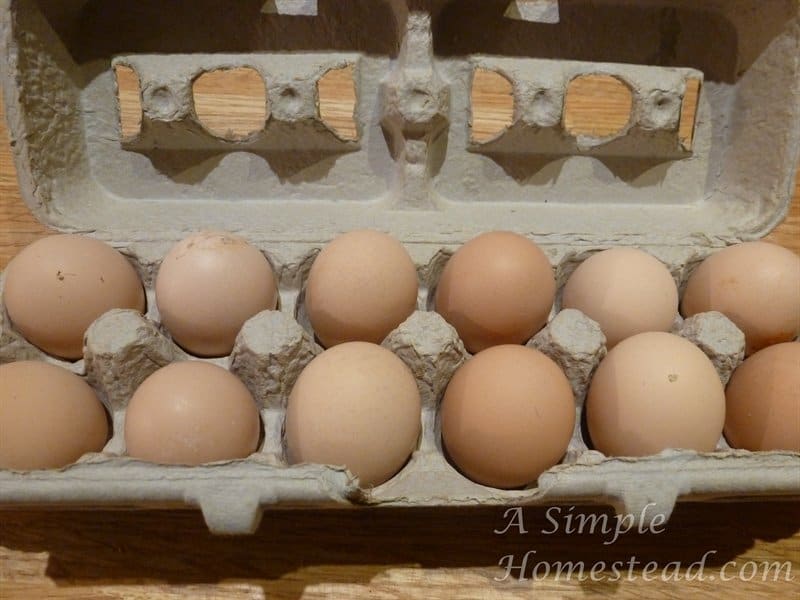 Selling Eggs
You can sell extra eggs. Be sure to check for state laws governing any sales you might have. Some rules pertain only to "on premises" sales. To sell directly to the consumer from a farmer's market or door-to-door, you might need a Mobile Retailer's Permit. If you want to sell to retailers or restaurants there may be other regulations and permits such as a Egg Processor's Permit.
Here in Wisconsin they are working through a bill to ease the rules for small farmers (less than 150 layers). If it passes, you can sell at farmer's markets without a food processing license as long as you mark the cartons as containing ungraded eggs, keep eggs stored at 41°F prior to sale, mark the date of packaging and don't allow sales more than 30 days after packaging.
It's a good idea to label the cartons with your name and phone number. Some states require new (non-branded) egg cartons to be use; but some of that may be to prevent angering the companies where the egg cartons came from originally. Make sure you don't label your eggs as "free-range" or "organic" as those can throw up red flags if you aren't certified.
Remember, there is no minimum to the amount of income you report to the IRS. However, you can subtract from your taxable income any expenses you had including feed, housing, electricity, water, vehicle expenses (related to the business), etc. With just a few hens you probably won't be making any gross taxable income.
If your land isn't marked as business property (i.e. a farm), you may also want to check into whether or not your insurance would be affected by selling eggs.
Of course, I'm not an expert and am still learning about the rules in our own area. If in doubt, please check with the authorities. Just look up your state name and "egg sales law" or contact your Dept of Agriculture or county extension office.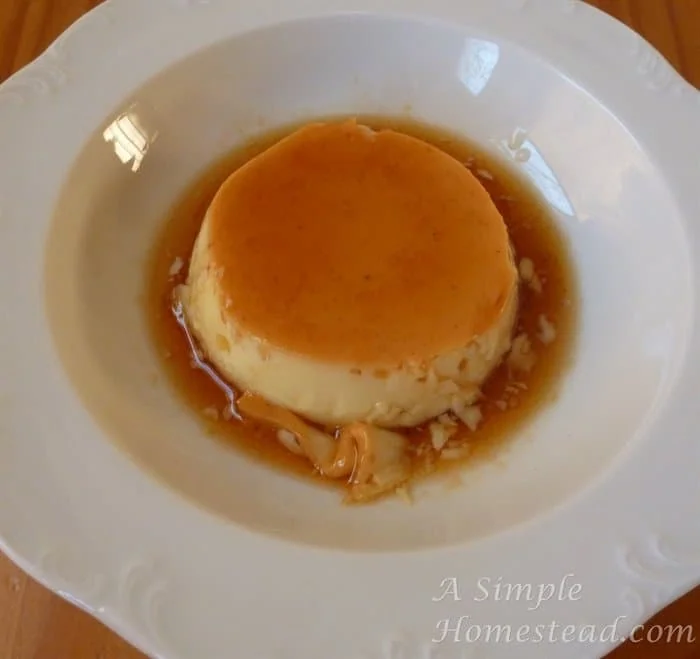 What's the best way to use eggs? Why by eating them of course! After all that's why you have laying hens, right? There are literally dozens of ways to use your eggs: fried, poached, scrambled, hard-boiled and then eaten as-is or made into deviled eggs, egg salad; added to potato salad, chef salad. One-dish meals such as omelets, skillet suppers, frittatas, crepes. And of course, there are all sorts of baked goodies that use eggs – like Caramel Custard and Quiche. Homemade angel food cake is wonderful – especially when you use the leftover egg yolks and make lemon curd!
I ran short of time this week, but over the course of the next few weeks I plan to share some recipes we really like, along with a few new recipes I've been itching to try.