I haven't updated what's going on at our place for over a month!
The chickens are all doing well, however we are now getting ZERO eggs. Opal stopped laying – maybe because there's too much commotion with 20 youngin's in her area. The five "teenagers" like to free-range. We don't let them out – they've figured out how to jump the netting themselves. It's ok; they stay close and return home each evening on their own.
If we can figure what to do with them, two of our teenagers will be leaving … with their heads or not. We had forgotten just how annoying it could be to have roosters right outside our bedroom window. Winter might be better as there is less daylight, but I seem to recall that doesn't stop the 5am crowings. Especially when you have more than one rooster so they feel the need to "battle" to see who's the better fowl. I was rather fond of the little black rooster in the middle of the picture and he does have a nice crow, but he has an attitude many times his physical size and won't leave the hens alone – even the little ones.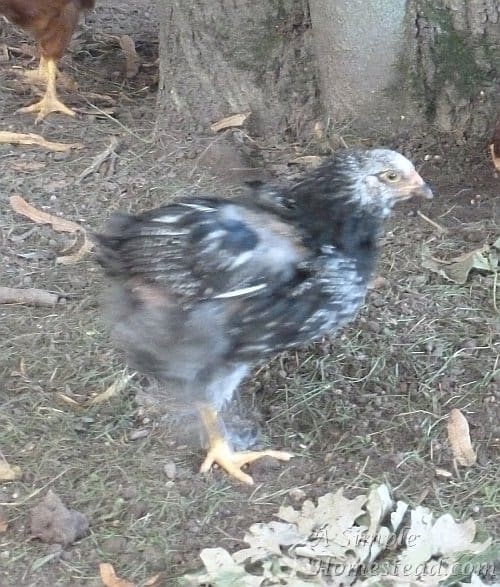 We'd still have one rooster left even if these other two go. He was our freebie when we ordered the bigger batch. He's a Brahma (still very difficult to get pictures of them standing still!).
Our "baby" chicks are almost at the point where they are difficult to tell from the slightly older batch. It will still be a while before we see eggs from them … probably late October *sigh*.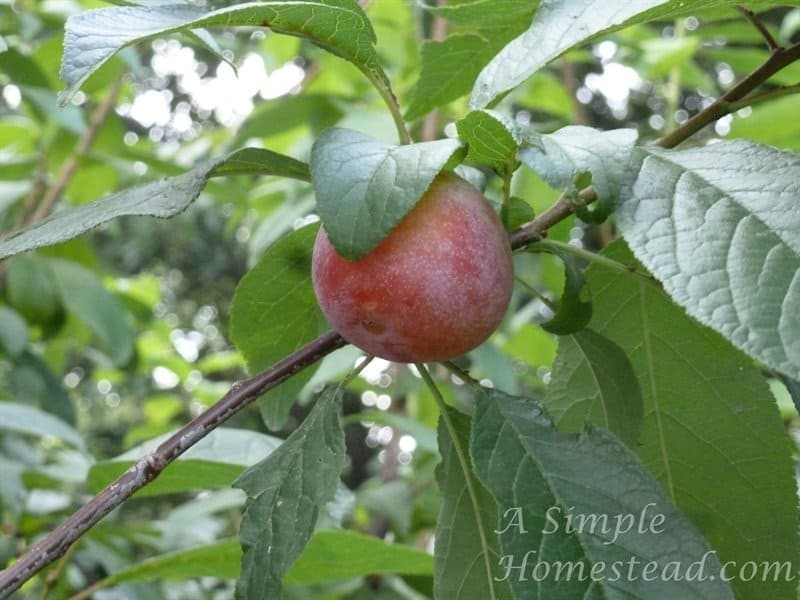 I managed to sneak a few wild black raspberries out from the bushes before they all dried up. It was a great year for berries, but a terrible year for picking. See the number of berries in the bowl? I picked twice that amount. That's it. Between being so busy and having extremely hot and humid days where I couldn't dress up in full biting-bug-proof attire, we missed the prime opportunities. I might not have even picked this many, but have I mentioned we have a Fruitaholic in our house? She'll eat any fruit, any time, all the time.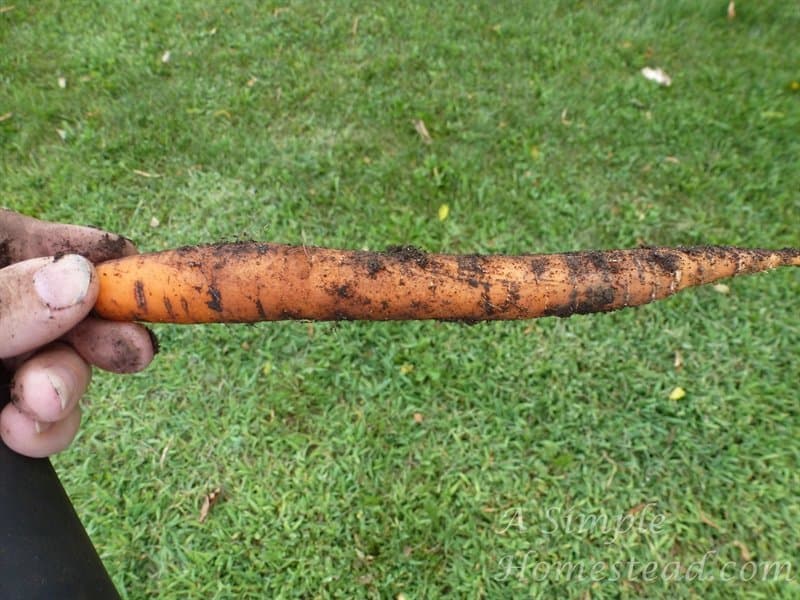 One of our plum trees is producing a good crop this year. We're just now getting lots of ripe plums. Our plum trees produce golf-ball sized plums, but they are so sweet and juicy, I don't mind that they are small.

We've started picking a few carrots from the garden this week. In an effort to eat healthier, I've been eating more carrots but had forgotten just how much sweeter the home-grown ones are than store bought. It won't be a struggle to eat more in the next few months! We still have plenty of carrots in the one bed. The second planting the Papa did still has a long way to go before they'll be ready. Hopefully our winter won't come too early this year.
It's hard to believe that it's August and we're just now getting our tomatoes in. We've been eating the few cherry tomatoes – pretty much as they've ripened. Most of the time they've never made it into the house (see my note about the Fruitaholic above; we've had to caution her from picking the non-ripe ones. She's that eager!). The Roma and eating tomatoes look like they will finally ripen within the next few days to few weeks.
We'll be getting some grapes this fall, but not as many as hoped. Remember that big storm/tornado that came through last month? The hail that fell damaged quite a few grapes. Does anyone know – should we be removing them to prevent bug or disease damage to the other parts of the plant? That just occurred to me know as I was looking at the photo.